Land Rover Range Rover (2002 - 2013)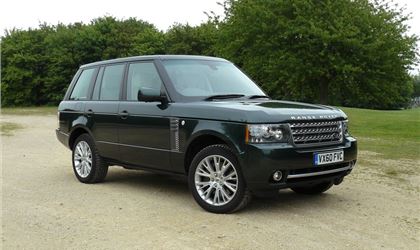 SVAutobiograhy Dynamic 5.o V8 Supercharged
reviewed by Anonymous on 5 June 2021
2
Tax/Insurance/Warranty costs
2
Cost of maintenance and repairs
1
Experience at the dealership
5
How you rate the manufacturer
Expensive but worth it
Expensive to buy and to run, but the comfort and power give so much pleasure! 16mpg is quite painful but it is not a car you can drive with a light foot. The growl of the 5l supercharged engine when you put your foot down brings a smile to your face. No comparison to the more economical but unremarkable and silent PHEV. Supremely comfortable, endless gadgets, great safety features. I might even try the Park Assist one day; sounds great but pride in my own ability to reverse and parallel park has prevented me! It handles well, on road and off. But at this price you probably won't be driving over rocky terrain very often. Its not a car to throw around corners: as soon as you start it up and settle back in luxury, you relax. This one has executive rear seats... the 2 side ones are very comfortable but the middle seat is laughable and best suited for a small seven year old, and even then, one that can put up with some discomfort. Leg room in the back is not great. I wish I had held out til I found a long wheel base. The boot space is pretty good. The controls and screens are not the best design and I often have to faff about scrolling through screen after screen to get where I want to be. Dedpite the myriad of gadgets and features, this is (I think) one of very few models that comes with a full size spare. Simply ridiculous to put a space saver in a car of this quality and price. I would not feel safe pulling 2½ tonnes any distance on a space saver. Call me old fashioned! All in all I really get a lot of pleasure from driving this car and don't regret buying it. I recommend it highly. But don't expect good service from Land Rover just because you've spent £100k plus, that is not something they excel at!
reviewed by Anonymous on 4 July 2020
reviewed by Gumtree 4x4 on 3 January 2018
reviewed by BW Hobbs on 18 September 2017
reviewed by Anonymous on 9 September 2017
reviewed by harry paice on 9 September 2016
reviewed by Mark Skinner on 30 August 2016
reviewed by minimad on 16 June 2016
reviewed by mikeb3 on 16 June 2016
reviewed by rosco964 on 27 November 2014
reviewed by trowyastronomy on 24 November 2014
reviewed by jdf1 on 6 October 2013
reviewed by Anonymous on 27 September 2013
Write your review
About this car
| | |
| --- | --- |
| Price | £55,100–£86,925 |
| Road Tax | L–M |
| MPG | 18.6–30.1 mpg |
| Real MPG | 96.2% |
Just reviewed...