Hyundai Genesis (2015 - 2017)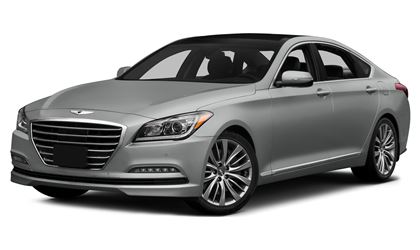 Saloon 3.8GDi 8 spd Auto 4dr Saloon
reviewed by NickNike on 8 September 2018
4
Tax/Insurance/Warranty costs
4
Cost of maintenance and repairs
5
Experience at the dealership
5
How you rate the manufacturer
Superb drive and gorgeous asthetics.
One of the reasons I purchased the car was that they sell well in the USA. If it's a good car, the Americans will buy it and if it is a lemon, they slaughter the market for the car. The success in the States gives me the confidence I need. The car is a fabulous design, and a real eye-catcher. I get loads of remarks about the styling. Only 5 dealers sell the Genesis, so it's pot luck if you live near one, as I do. The dealers have been enjoyable to deal with, and I particularly like the 5 year free servicing. In 18 months I have had two problems. The radio was changed, and a sunroof seal needs replacement./ All under guarantee and minor stuff really as most off the radio worked anyway. The engine is thirsty but I enjoy the benefits of the extra power. I think life is too short to quibble about fuel costs, and most of the manufactures seem to air on the side of optimism when it comes to mpg. The car is luxurious inside and has all the gizmos and latest technology. I particularly like the blind side monitoring that shows bikers who have crept up on you from nowhere. The drive is rear wheel with a 52/48 loading on the front/rea wheels and produces balanced performance. It is a big car, but corners like a small sports, being very flat and assured. The 3.8L engine makes the car go like a rocket if necessary, and the V6 configuration runs silky smooth. The interior is very quiet. I can get out of this car after a long drive feeling refreshed. I think the smaller the car and engine, the more fatiguing they are. The cost is considerably less that Mercs and BMWs with similar spec. This is my fourth Hyundai, an they have all started first time, never broken down and always passed their MOT. Hyundai have advanced considerably over the last 20 years, and deserve all the success they can get. The Genesis is competition now for the expensive German manufactures and outsells the Lexus in the USA. I can highly recommend this car if a dealer is not too far away.
reviewed by Anonymous on 28 April 2018
Write your review
About this car
| | |
| --- | --- |
| Price | £51,655 |
| Road Tax | M |
| MPG | 25.2 mpg |
| Real MPG | 101.9% |
Just reviewed...