Audi S8 (2012 - 2017)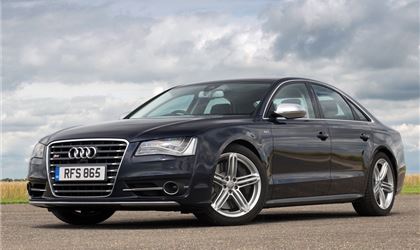 S8 4.0 TFSI 520ps Quattro Tiptronic 4dr Saloon
reviewed by bigbikes on 4 January 2017
5
Tax/Insurance/Warranty costs
5
Cost of maintenance and repairs
5
Experience at the dealership
5
How you rate the manufacturer
Brilliant !
Previously I had a 2014/14 plate A8 3.0 TDI.
The S8 is the car I should have bought in the first place, beats the standard A8 in every respect except fuel consumption as you would expect, even the ride quality is superior, which is a great surprise given that the wheels are larger and the tyres lower profile and I have the active suspension set on Dynamic which is the hardest setting as I found the front of the car a bit "floaty" or under damped over bumps on the standard Auto setting.
Just as well that petrol is cheaper than diesel, but, to be honest, fuel consumption was not my first priority as I only now cover about 6,000 miles per year.
So if you are in the market for a very fast, very sure footed fun car which will cope with the UK's crumbling road net work try one out, you will not be disappointed I think.
Audi also offer an excellent PCP deal on these cars, it was cheaper for me to buy new than pay cash for used, go figure !
Write your review
About this car
| | |
| --- | --- |
| Price | £78,225–£100,510 |
| Road Tax | L |
| MPG | 28.0–30.1 mpg |
| Real MPG | 78.6% |
Just reviewed...