Audi A3 e-tron (2014 on)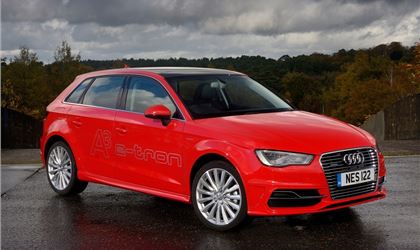 1.4 TFSI 150 e-tron
reviewed by Anonymous on 1 May 2021
5
Tax/Insurance/Warranty costs
4
Cost of maintenance and repairs
4
Experience at the dealership
4
How you rate the manufacturer
Almost perfect apart from dreadful road noise and compromised boot space
If your motoring consists mostly of short local journeys with the occasional long trip and you like a car with a bit of a sense of occasion about it, this car is in a league of its own, in my humble opinion.

It has an electric range of 20 to 25 miles depending on weather- range is noticeably shorter in the winter. On a long run, when cruising at ahem normal motorway speeds, you will get 45 to 50 mpg. The published averages for plug-in hybrids are absolutely useless, since they imagine a completely arbitrary mix of short and long journeys.

The interior it has the typical Audi bank vault feel with a few surprise and delight features. The B&O sound system is spectacular except for the fact that it's impossible to set the balance so both the front seat passengers perceive equal volume left and right. If you set it up for the driver, the passenger only hears sound from the nearside. Weird. The MyAudi app is also rather flaky. In winter, you will get several extra miles of range if you pre-heat the car, which is a feature of the app. Unfortunately 50% of the time you get an error message saying the car cannot be reached. Yes I know it's a first world problem. The boot is rather small so that the battery can be accommodated beneath the boot floor. You should definitely check out the boot to confirm that it meets your needs before buying one of these cars.

The Achilles' heel of this car is road noise. On Britain's broken tarmac it varies from being annoying to deafening above 30 mph. With the original fitment Pirelli tyres it was worse but is scarcely improved by fitting tyres with a quiet noise rating. I've tried Michelin Primacy 3 and Goodyear Efficient Grip Performance 2. These make it slightly quieter but it's still far too noisy.
reviewed by Henry Andrews on 14 August 2020
reviewed by Anonymous on 31 August 2019
reviewed by Anonymous on 8 August 2019
reviewed by Anonymous on 10 June 2019
Write your review
About this car
| | |
| --- | --- |
| Price | £35,340–£36,455 |
| Road Tax | A |
| MPG | 156.9 mpg |
| Real MPG | 75.3% |
Just reviewed...