All-electric BMW i4 on sale now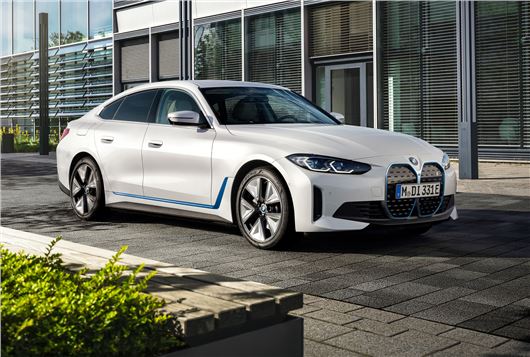 Published 01 October 2021
Electric BMW will rival the Tesla Model 3
i4 will cover up to 370 miles on a single charge
Prices start at £52,000
The BMW i4 is available to order with a starting price of £52,000. The i4 will most likely reach showrooms in 2022 and be a rival for the Tesla Model 3, which is more than £10,000 cheaper.
So it's not a bargain, but the i4 is the German carmaker's first attempt at moulding everything you like about a modern BMW – stylish design, luxurious interior and sharp driving dynamics – around an electric powertrain.
Stylish design? Well, we'll let you decide.
Upfront, you get the love it or loath beaver-tooth grille that first appeared on the new 4 Series. It's not as striking now and, on the i4, it gets a flush finish with a panel that can open to provide cooling to the motors when needed. Aerodynamics feature a lot in the design.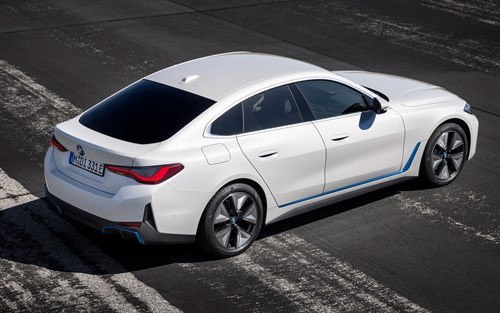 Thus, the BMW has a slippery profile with a coupe-like roofline reminiscent of the Tesla Model S and door handles that sit flush in their housings. You can also go for 17-inch wheels with plastic inserts that help them cut through the air more easily and add 6 miles to your total range. Standard 17, 18 and 20-inch wheels are also available.
Around the back, you'll find a rear diffuser that's stuck on the end of the BMW's completely flat floor, which again helps lower drag. The diffuser, lower section between the wheels which houses the battery and the opening grille are finished in iBlue highlights to press home the i4's perceived eco-friendliness.
If the exterior confirms BMW's wayward styling of late, the interior proves it still knows how to make a great cabin. Save for a massive infotainment screen, it looks like a conventional BMW's with expensive materials on show everywhere you look.
The huge display is actually two screens – a 12.3-inch digital instrument binnacle and a 14.9-inch centre display – made to look like one.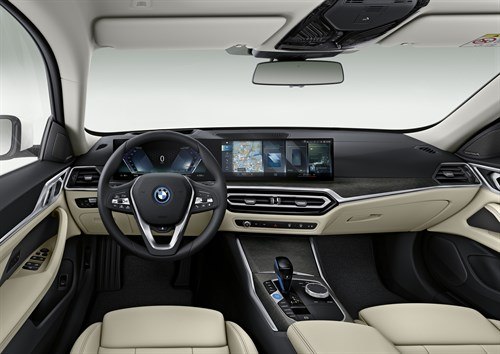 It points towards the driver in true BMW tradition and comes with Apple CarPlay and Android Auto fitted as standard so you can project your phone's apps, for things like music playback and navigation, onto the car's big screen. A small but revolutionary update is the i4's ability to project your phone's display onto the display behind your steering, not just the one in the centre of the dashboard – very handy when you're following the sat-nav.
The second big revolution is just how roomy the i4 feels. It's about the same size as a 3 Series, but BMW says you get significantly more legroom in the front and the back. You also get five full-sized seats rather than two seats and a three-seat bench with a middle chair that's only fit for your enemies.
Boot space is actually slightly down on what you get in a 3 Series – 470 litres plays 480 – but the i4's hatchback lid will make it easier to load bulky items into. It works electrically so no need to worry about hulking it open.
The big news with the i4 is, of course, that it is electric – you get two models to choose from, the eDrive40 and the M50.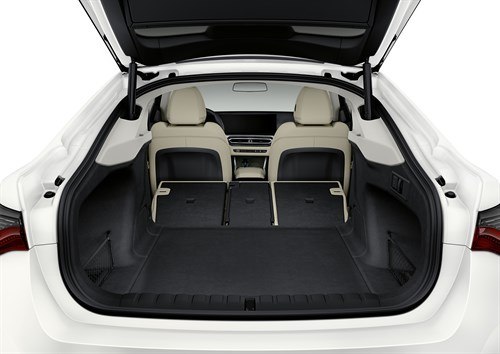 The eDrive40 is best thought of as the long-range variant – it will go nearly 370 miles on a single charge. It's rear-wheel drive with a single electric motor pumping out 340PS and 430Nm of torque. It's enough to get the BMW from 0-62mph in 5.7 seconds – as quick as a Ford Escort RS Cosworth, in case you're wondering – and onto a top speed of 118mph.
On the other hand, you'll find the M50 performance model (shown below in blue). It gets sportier looks and adds a motor at the front to make it four-wheel drive, with a combined output of 544PS and 795Nm of torque. It gets from 0-62mph in 3.9 seconds and has a top speed that is limited to 140mph to preserve the battery. The M50 has a 320-mile range at best.
The M50's four-wheel drive can shuffle power to the wheels with the most grip far quicker than a mechanical system and it has been set up to be extremely dynamic. It also has bigger brakes and adaptive dampers that let you switch between a soft and firm ride.
To get all the M50's power, you need to stick its drive select system into Sport which activates the car's Sport Boost. It unleashes all 544PS and 795Nm of torque for ten-second bursts that are long enough for overtaking but short enough that the battery doesn't chew through all its juice far quicker than you'd anticipate.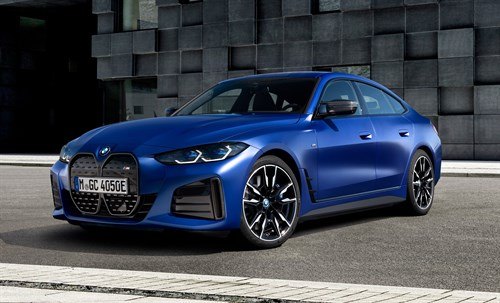 Whether you choose the eDrive40 or the M50, both come with rear air suspension and an accusative windscreen which should make them very comfortable on the motorway. Meanwhile, a stability control system that's wired directly to the ECU – and that can be switched off entirely – is said to make for fast and safe handling. Both models can also tow up to 1600kg.
As mentioned, the eDrive40 has a near-370-mile range, the M50 makes do with 320 miles. Both are powered by an 84kWh battery, which comes with an eight-year/100,000-mile warranty.
Range is accurately predicted by a readout on the car's infotainment screen and it can plan long-distance journeys taking account of fast chargers on route. The i4 has a charging speed of up to 205kWh meaning you can put in 100-miles worth of charge in as little as 10 minutes using a public charger. Charging at home – which makes sense because the electricity is cheaper – takes 8.5 hours from a wall-mounted 11kWh charger.
Regenerative brakes, which are applied automatically when you take your foot off the accelerator, deal with 90 per cent of the car's braking and they're predictive. They're linked to the car's sat-nav and can slow the car automatically for sharp bends and junctions.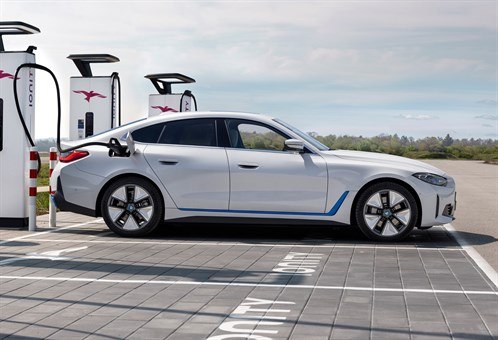 The i4's heat pump is another range preserver. It scavenges waste heat from the powertrain and uses it to keep the battery at its optimal temperature. It increases range by up to 31 per cent in cold weather according to BMW.
Interestingly, BMW reckons the i4 will cost you 30 per cent less to maintain than a conventional model over 125,000 miles. Its motors are almost maintenance-free, there's no engine oil or exhaust to replace and the regenerative brakes mean the car's pads and discs last much longer than a conventional car.
Along with the electric drivetrain, the i4 has autonomous driving features that are new to BMW. Features like an active cruise control system that automatically stops for red lights before making off again when they turn green. Like any other system, it can also drive the car autonomously in the lane and in queuing traffic.
Another new feature is the i4's next-gen auto park. It can find a space that will fit the car and steer you into position, but in the i4 also operates the accelerator and brakes completely independently.
We'll have a full review of the new BMW i4 in the coming months.
1
How much will the BMW i4 cost?
The BMW i4 will be in showrooms from 2022 with a £52,000 starting price.
2
Is the BMW i4 fully electric?
Yes, the BMW i4 is fully electric, you get two models to choose from – the 340PS eDrive40 or 544PS M50.
The BMW i4 has a top speed of up to 140mph and gets from 0-62mph in as little as 3.9 seconds. 
Ask HJ
I want an electric car to replace two diesel cars. What do you suggest?
I drive a 2011 Ford Galaxy auto, mostly for transporting grandkids to school and long motorway journeys. I have a 2007 Fiat Panda for local runs around town. I get 44mpg and 60mpg respectively, both diesel engines. Choosing a new car has been a nightmare for me, so any good advice welcome. I want one car - possibly a good quality used car. Ultimately, I would like electric, I just feel they are too expensive at the moment. My total yearly mileage is usually 11,000. My budget is £15,000-20,000.
You can certainly get a good electric car within budget. How about an MG ZS EV? It's a versatile electric vehicle with a range of 163 miles. Prices for a new one start from £25,495 but you can pick up a nearly-new one for less than £19,000. If you'd prefer something more premium (but less practical), consider a BMW i3. If you're not ready to make the jump to an electric car, we'd recommend a hybrid model. A Toyota C-HR or RAV4 could be a good choice. Or a Kia Niro.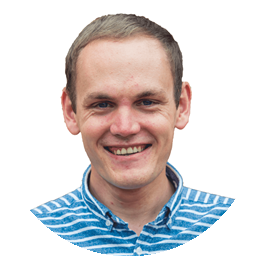 More Questions
Ask HJ
Can you suggest a reliable family car replacement for our 15 year old Honda Jazz?
We're looking to replace a 15 year old Honda Jazz - which we bought on your recommendation and it has been perfect for us. But, sadly, it will need a lot of money spent on it to pass this year's MOT. We do a lot of very short trips, about a mile or less, but also need to drive 30-40 miles at weekends and occasionally go further to visit family. We do need space for 2 growing boys (14 & 11 years old). We're happy to buy secondhand and have a budget of about £15,000. Reliability is important to us, and a few modern touches like Apple CarPlay would be great. My wife would love keyless entry! With short journeys, should we look for a hybrid? The annual mileage will probably be about 6000 miles. What would you recommend? Many thanks.
Can you charge a car at home? If so, an electric car might work for you... it'd certainly be well suited to your regular short journeys. Consider a Nissan Leaf, BMW i3 or Kia Soul EV. All three would make a good introduction to EVs and should be practical enough for your needs. If you can't charge a car at home, it sounds like a hybrid would work well. We'd recommend a Hyundai Ioniq – it's a bit bigger than your Jazz and your budget will get a 2018 model with the remainder of its five-year manufacturer warranty. Consider a Kia Niro, too, particularly if a crossover SUV body shape appeals.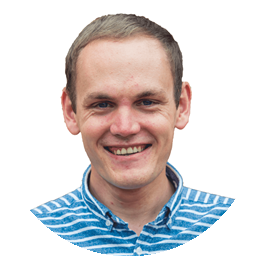 More Questions
Comments
Author

Russell Campbell
Latest