Volkswagen ID Space Vizzion previews electric estate car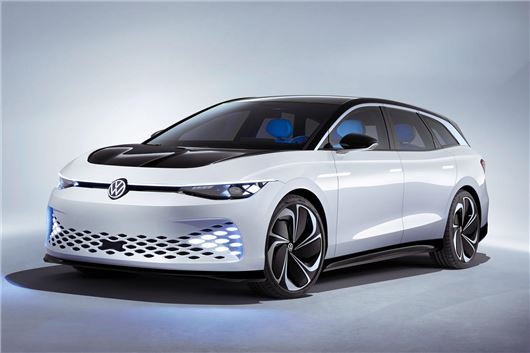 Published 20 November 2019
Volkswagen has previewed its all-new electric estate car which is set to go on sale in 2021 with a range of 367 miles.
The ID Space Vizzion concept car will reach the market in production form in 2021, following the ID.3 hatchback, and is likely to be the first pure-electric estate car on sale. While prices are yet to be confirmed, it'll be pricier than the ID.3, which is expected to start from around £27,000 in the UK.
It uses a 82kWh lithium-ion battery to power a 205kW (279PS) electric motor located on the rear axle. There's also a four-wheel-drive version, with an extra 75kW electirc motor on the front axle to produce a combined 340PS.
Volkswagen says the concept car will reach 62mph in 5.4 seconds when all-wheel drive is specified. Maximum speed is limited to 109mph.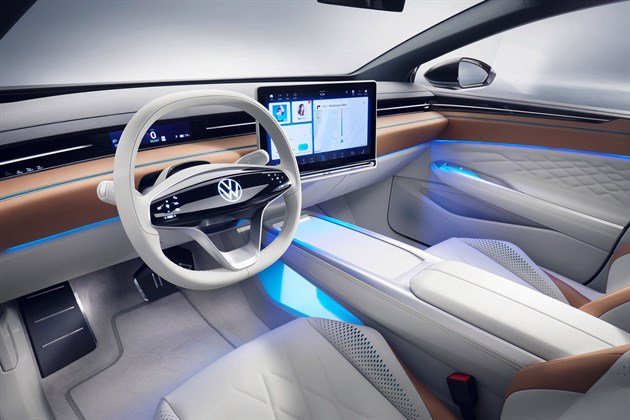 Where appropriate chargers are available, the Space Vizzion can charge at a rate of 150kW, taking approximately 30 minutes to reach 80 per cent capacity.
The production model will sit alongside the similarly-sized Passat in Volkswagen's range, and will be available as a saloon or estate model. Based on the same MEB platform as other Volkswagen ID models, the batteries are located under the floor to save space.
The lack of a combustion engine means the layout can be configured to provide much more space. There's room for 586 litres of luggage in the boot with all four seats in use (five are optional).
Unusually, the right-hand steering column switch no longer operates the windscreen wipers. It acts as a gear lever, allowing drivers to select between neutral (N), drive (D) and energy recover (B) modes. 
A 15.6-inch touchscreen infotainment system dominates the dash, providing access to everything from the sound system to climate control settings, leaving little in the way of conventional buttons. There's also a digital display in place of dials for the drivers.
The ID Space Vizzion concept recognises the driver based on their key (be it a traditional key or mobile device), adjusting their settings before setting off. A smart climate system will let the driver and passenger make requests such as 'warm feet' or 'cool quickly' to adjust the climate control.
A light strip running between the A-pillars, dubbed the ID. Light, will provide information to the driver. This includes an indication of battery charge level, notifying them of an incoming phone call or recommending when to change lanes. It can also change colours - for example, green for a fully-charged battery or red for braking prompts.
Another highlight is the digital door handles - illuminated touch surfaces which light up as soon as they detect someone approaching with a vehicle key or smart key (on a phone).
A production version of the ID Space Vizzion concept is expected to follow in 2022. Pricing information will be available closer to the time.
Comments
Author

Andrew Brady
Latest