Jaguar reveals ghostly 'see-through pillar' technology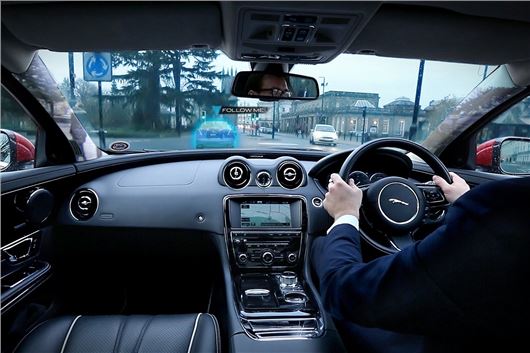 Published 16 December 2014
Jaguar Land Rover (JLR) has unveiled two safety innovations that it hopes will quite literally change the way we see things in the future.
Firstly, its "360 Virtual Urban Windscreen" incorporates 'transparent' A-pillars, giving improved visibility by way of much reduced blind spots at the edges of the windscreen.
And secondly the company has shown a 'ghost car' navigation system that uses a head-up display (HUD) to project an image of a car onto the road ahead, which the driver can follow. This, claims JLR, is a far less distracting way to use a navigation system in a crowded, traffic-heavy environment.
According to JLR the transparent pillars give the driver a "360-degree view out of their vehicle, uninterrupted by the pillars that support the roof," although the images above suggest this is not quite the case because the view is interrupted by the door window frames. Nonetheless, visibility is evidently greatly improved.
And the pillars aren't actually see-through, rather they're embedded with screens that take a live video feed from cameras. Each of the three main roof pillars (A, B and C, meaning windscreen, central and rear screen) utilises the technology, hence JLR claiming a 360-degree view.
The pillars aren't always transparent either, but are triggered by a variety of actions, including the car indicators and sensors that detect both the driver's head movement (when looking over a shoulder to do a lane chance, for instance), and the presence of cyclists or pedestrians close to the car. 
"Our ultimate aim is to reduce road accidents and enhance the urban driving experience. The Jaguar Land Rover research team is developing this technology to improve visibility and to give the driver with the right information at the right time," said Dr Wolfgang Epple, Director of Research and Technology, Jaguar Land Rover. 
"If we can keep the driver's eyes on the road ahead and present information in a non-distracting way, we can help drivers make better decisions in the most demanding and congested driving environments."
The system is designed to be an information tool too, including using the HUD to display fuel prices in the vicinity, available parking spaces, or local visitor attractions.  
Comments
Author

Mark Nichol
Latest