Frankfurt Motor Show 2015: Jaguar F-Pace Breaks Guinness World Record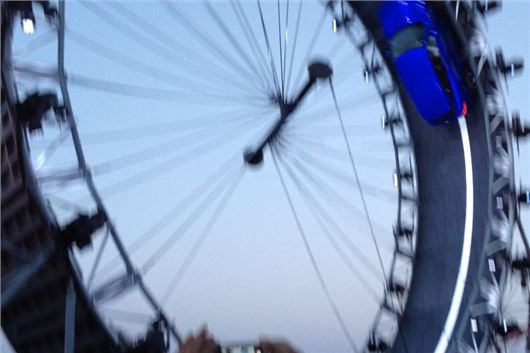 Published 14 September 2015
The Jaguar F-Pace was revealed today in a spectacular pre IAA Frankfurt pre-presentation.
The car defied gravity by performing a Guinness Book of Records breaking 19.8 metre 360 degree loop for the first time in front of an audience of hundreds of journalists. https://www.youtube.com/watch?v=y64JhPtpicA&feature=youtu.be/ 

Presented by Martin Brundle, stunt driver Driver Terry Grant achieved the record-breaking 6.5G turn, entering the loop at precisely 55mph, slowing to 15mph and exiting at 45mph.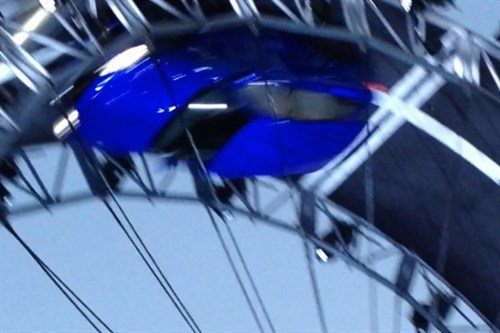 The new Jaguar F-Pace 'crossover' SUV comes with Ingenium 2.0 litre petrol diesel or petrol engines, rear wheel drive or four wheel drive, manual or 8-speed ZF automatic transmissions: or 3.0 litre V6 petrol or diesel engines with automatic transmissions and four wheel drive only.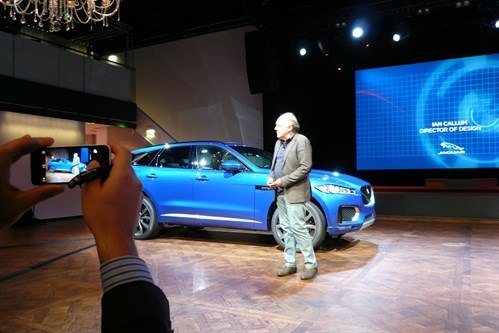 The line up starts with the 2.0 litre 180PS/430Nm Ingenium diesel rear wheel drive 6-speed manual at prices from £34,170, emitting 129g/km CO2 and averaging 57.7mpg combines in the ECDC tests.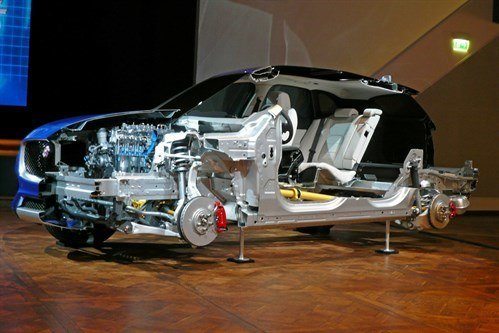 80% of the vehicle structure is aluminium of which 33% is recycled. Doors are steel, rear hatchback is composite, suspension subframes are steel, front cross member is magnesium, suspension towers are die cast aluminium. The complete body weights just 298kg.
Suspension is similar integral link to the XE and XF.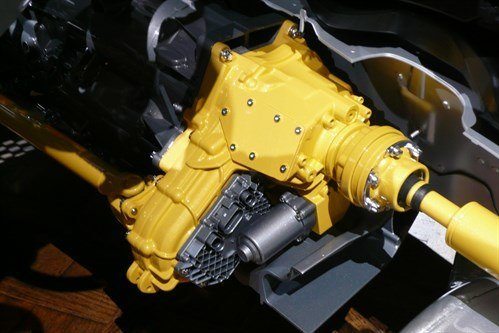 The IDD Intelligent four-wheel drive system with chain driven transfer case eliminates understeer. It is biased 90% rear to 10% front but varies according to grip levels to the opposite of 90% front to 10% rear. It has Dynamic, Eco and Winter modes. An adaptive surface response system to cope surfaces from ice, through snow, wet snow and rain to high drag such as sand. An 'All Surface Progress Control' automatically gets the car out of mud. While a low friction launch control system gives softer throttle response in low grip situations.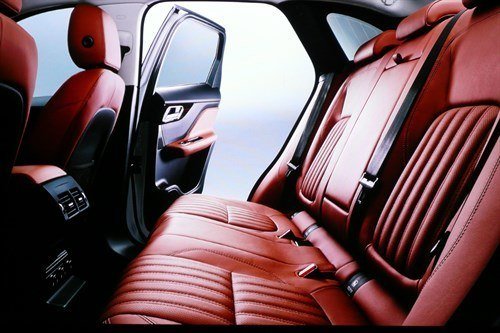 The passenger compartment takes five and with the rear seats folded is 1,825mm long by 1,255mm wide. Load capacity is 650kg seats up to 1,740kg seats down.
Connectivity and infotainment systems are state of the art. The car itself supports a wireless network of up to 8 separate devices. Its satellite navigation systems calculates if you will be late to a destination and can automatically pre-warn the people you are driving to meet. It connects to Google Street View to show you what your destination looks like. Voice control enables you to tweet or select tracks using Spotify. You can even control functions of your car remotely from an Apple watch.
The full engine, transmission and drivetrain range is:
2.0 180PS/430Nm Ingenium diesel with RWD or 4WD and 6-speed manual or 8-speed automatic transmission.
2.0 240PS Ingenium petrol with RWD or 4WD and 6-speed manual or 8-speed automatic transmission (coming later). 
3.0 340PS/450Nm or 380PS/450Nm petrol V6 AWD 8-speed automatic
3.0 300PS/700Nm diesel V6 AWD 8-speed automatic
The 380PS petrol V6 does 0-60 in 5.1 seconds with a 155mph limited top speed. The 300PS diesel V6 does 0-60 in 5.8 seconds and 50-75mph in just 4.5 seconds, yet averaged 47.1mpg combined in the ECDC tests.
Wheels and tyre sizes are:
18" with 235/65 R18 tyres
18" with 255/60 R18 tyres
19" with 255/55 R19 tyres
20" with 255/50 R20 tyres
22" with 265/40 R22 tyres
More at Jaguar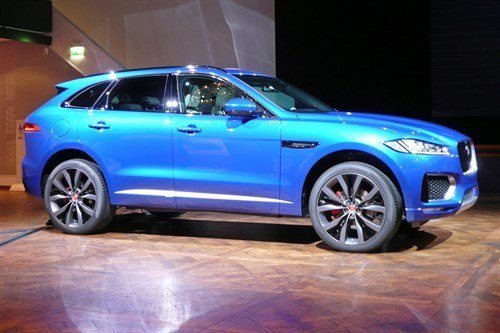 Comments
Author

Honest John
Latest