Today's Annual Crash Statistics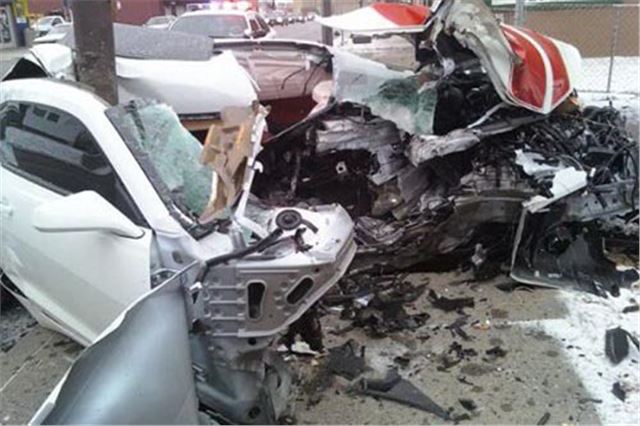 The DfT has reported the contributory factors in UK road accidents for 2010 today - here is the link to the .pdf report.
This article describes the scope and limitations of the information on contributory factors  collected as part of the national road accident reporting system, and presents results from the sixth year of collection.
Failed to look properly was again the most frequently reported contributory factor and was reported in 40 per cent of all accidents reported to the police in 2010. Four of the five most frequently reported contributory factors involveddriver or rider error or reaction. For fatal accidents the most frequently reported contributory factor wasloss of control, which was involved in 34 per cent of fatal accidents. 
Pedestrian failed to look properly was reported in 60 per cent of accidents in which a pedestrian was injured or killed, andpedestrian careless, reckless or in a hurrywas reported in 25 per cent of accidents. 
Exceeding the speed limit was reported as a factor in only 5 per cent of accidents, but these accidents involved 14 per cent of fatalities. At least one ofexceeding the speed limitandtravelling too fast for the conditionswas reported in 12 per cent of all accidents and these accidents accounted for 24 per cent of all fatalities.
Alcohol affected came in at 4%
These statistics suggest that it is time to stop lowering speed limits and drink drive limits, and that the continued pursuit of these elements are at best misguided, and at worst misleading diversions from tackling the real causes of accidents. 
It is high time emphasis was placed on better driver education.
TOP TEN contributory factors:
| | |
| --- | --- |
| Failed to look properly | 40% |
| Failed to judge other's path or speed | 21% |
| Careless, reckless, in a hurry | 16% |
| Loss of control | 15% |
| Poor Turn or manoeuvre | 13% |
| Slippery road (weather related) | 12% |
| Pedestrian failed to look properly | 10% |
| Travelling too fast for conditions | 8% |
| Braked suddenly | 7% |
| Following too close | 7% |
Road deaths down
Today's Department for Transport statistics confirm numbers of people killed in road accidents in 2010 fell to 1,850 a reduction of 17 per cent on the previous year. Seriously injured numbers fell to 22,660 – down eight per cent.          
Despite this decline, the IAM's latest poll reveals that very few of the 2700 respondents in its poll have any faith in road deaths continuing to drop: 25 per cent think they will keep going down. 34 per cent think they will remain the same, and 36 per cent of respondents think that casualty rates will rise a little over the next three years.          
The poll respondents are realistic about the likelihood of getting improved services on their roads with the threat of spending cuts.
70 per cent think there will be a negative impact on the number of police enforcing traffic laws, 84 per cent think road conditions and potholes will worsen, 72 per cent think there will be a negative impact on the focus on road safety education and fewer road safety officers, and 62 per cent think there will be more unroadworthy cars on the road.         
70 per cent think improved vehicle design and technology is the biggest single reason for declining deaths and injuries on our roads and 37 per cent think that more incentives to take post-test training courses will deliver the biggest improvements in the future.          
IAM chief executive Simon Best said: "The value of preventing each fatal crash on UK roads is around £1.8 million, and approximately £200,000 for each serious injury – it's clear that effective road safety initiatives not only save lives but also save the nation money.           "The government should think about the real value of road safety initiatives when it considers its expenditure plans.          
"As more and more driver aids are introduced we need to re-think the way we approach safe driving.  Vehicle technology requires new thinking and an even greater emphasis on the driver as the decision-maker. The challenge now is for us all to treat driving as a skill for life and embrace post-test training."
Contributory factor system
The contributory factor system allows the recording of up to six factors in injury road accidents where the police attended the scene. Multiple factors may be recorded against an individual participant in the accident. These participants include a vehicle, a casualty or an uninjured pedestrian. Factors relating to a driver/rider should be assigned to their vehicle. Any given factor may be assigned to a number of participants. Both accidents and vehicles can have more than one contributory factor attributed to them, therefore percentages in this article will not necessarily add up to 100.
The form used by the police to report contributory factors includes a list of 77 contributory factors. These 77 factors fall into nine categories and these are:Road environment contributed,Vehicle defects,Injudicious action,Driver/rider error or reaction,Impairment or distraction,Behaviour or inexperience,Vision affected by external factors,Pedestrian only factors (casualty or uninjured)andSpecial codes. A copy of the form can be found using this link.
The contributory factors are largely subjective and depend on the skill and experience of the investigating officer to reconstruct the events which directly led to the accident. They reflect the attending officer's opinion at the time of reporting and are not necessarily the result of extensive investigation. Furthermore, it is recognised that subsequent enquiries could lead to the reporting officer changing his/her opinion. The contributory factors are therefore different in nature from the remainder of the STATS19 data which is based on the reporting of factual information. This should be kept in mind when interpreting the data.
It is important to note that it may be difficult for a police officer, attending the scene after an accident has occurred, to identify certain factors that may have contributed to a cause of an accident. In addition, contributory factors are disclosable in court and police officers would require some supporting evidence before reporting certain factors. As a result some contributory factors may be less likely to be reported. Research1 comparing this data to the 'On the Spot' (OTS) study found that in general fewer factors were reported per accident by the police in STATS19 than in the more in-depth investigations carried out in the OTS study. In particular the police appeared to be less likely to report factors that appeared to allocate blame for an accident, such as those relating toinjudicious action
The factorcareless, reckless or in a hurrystood out as being reported considerably more often in the OTS study than in STATS19. 
Most common pairs of contributory factors reported together
Failed to look properly + Failed to judge other person's path or speed 14,929 and 7%
Failed to look properly + Careless, reckless or in a hurry 9,287 and 4%
Poor turn or manoeuvre + Failed to look properly 8,638 and 4%
Slippery road (due to weather) + Loss of control 4,512 and 2%
Failed to judge other person's path or speed + Careless, reckless or in a hurry 4,203 and 2%
Poor turn or manoeuvre + Failed to judge other person's path or speed 4,104 and 2%
Slippery road (due to weather) + Travelling too fast for conditions 3,419 and 2%
Travelling too fast for conditions + Loss of control 3,401 and 2%
Following too close + Failed to look properly 3,371 and 2%
Disobeyed 'Give Way' or 'Stop' sign or markings + Failed to look properly 3,116 and 1%
Following too close + Failed to judge other person's path or speed 3,104 and 1%
Poor turn or manoeuvre + Careless, reckless or in a hurry 2,964 and 1%
Loss of control + Careless, reckless or in a hurry 2,734 and 1%
Swerved + Loss of control 2,221 and 1%
Failed to look properly + Stationary or parked vehicle(s) 1,964 and 1%
Travelling too fast for conditions + Careless, reckless or in a hurry 1,903 and 1%
Exceeding speed limit + Careless, reckless or in a hurry 1,822 and 1%
Exceeding speed limit + Loss of control 1,755 and 1%
Travelling too fast for conditions + Failed to look properly 1,709 and 1%
Sudden braking + Loss of control 1,690 and 1%
Comments