Northern Constabulary
The Northern Constabulary's patch covers Scotland's Highlands along with the Western Isles, the Orkney Islands and Shetlands.
Unfortunately the data we received was limited, but what we did receive shows a low average crime rate with 13 offences per 10,000 cars. Of those offences recorded, 11 account for theft of a vehicle, while just two crimes involve theft of property from a car.  
As with all areas in Scotland, a lack of detailed data means that we are unable to display a heatmap for the region.
On 1 April 2013 Lothian and Borders Police was subsumed into Police Scotland. 
See also: Top 10 Cars Stolen to order / Top 10 Most Stolen Cars / Crime homepage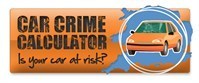 Crimes by type
Offence type
Offences per 10,000
registered vehicles
Theft of
11
Theft from
2
Total
13