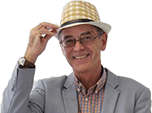 How do I 'left foot brake'?
All advice I see says right foot on accelerator and brake, left foot static. I believe it would be better right foot on accelerator, left foot on brake. What would you advise please?
Asked on by JL, Nottingham

Answered by
Honest John
Right foot for accelerator, left foot for brake. This is the only way to remain fully in control of a car with an automatic transmission and prevent 'runaway automatic accidents' which are not actually 'accidents' at all.