SEAT Ibiza ST 2010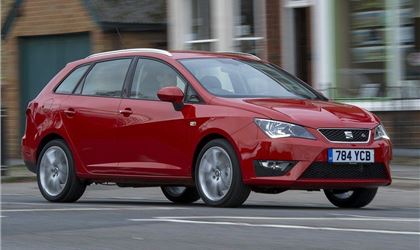 1.2 TDI ecomotive 5dr estate
reviewed by Anonymous on 8 October 2014
5
Tax/Insurance/Warranty costs
5
Cost of maintenance and repairs
5
Experience at the dealership
5
How you rate the manufacturer
Super SEAT
I bought my Ibiza 1.2 ecomotive estate in May 2014 with 2500 miles on the clock for £9000-00. At the time of purchase Spain was in economic recession, therefore it was (and probably still is) the perfect time to buy a SEAT. My car was £5k below the new car list price. However, it is a great car regardless; the discounted prices just make it a better deal. Compared to a VW Polo Bluemotion or the Skoda Fabia greenline, the Seat Ibiza ecomotive is miles ahead purely in value for money. It's purely a matter of personal preference but I think the Ibiza looks better than the staid Polo and unadventurous Fabia.
This is my first diesel and I concur with other owners, it can feel sluggish by comparison with petrol, however, when you put your foot down the car responds adequately. Overtaking may take a bit of adjustment in judgement, but it will be ok as you become more familiar with the diesel engine. Generally, the car drives well, corners well and doesn't wallow about like a big French estate car (The 407 yacht comes to mind).
After 4000 miles I can confidently state the 'Real MPG' is 68. I've filled the car 6 times during 5 months and calculated the real mpg on gallons/mileage. Don't rely on the trip computer, its not accurate – it's only an estimate. 68 mpg is realistic and achievable, although I expect that figure to drop slightly over the winter.
Inside, the Ibiza is comfortable and the hard plastic door cards and 2-tone plastic dash are starting to grow on me. The dash binnacle lights up like a Christmas tree when you insert the key, but generally the layout is uncluttered. I like the 'change gear' symbol reminder, useful for those new to diesel.
Road tax is currently zero for this model, the boot is big and practical and the spectacular 'emocion' red paintwork is such a fresh change from all those dull greys and silvers.
The only concern I have is about the possibility of future problems with the DPF, however that's not specific to SEAT, more a modern diesel engine problem.
Finally, a word about the dealer, Agnew SEAT at Boucher Rd Belfast. My experience was straight-forward and not unpleasant, I would have no hesitation about buying another SEAT from Agnews and can recommend them to potential buyers. They even arranged for a real spare tyre as part of the deal.
Overall, I have to say this is a good car. You could buy something else and do a lot worse, I'm not sure if you'll do better for the price.
reviewed by at6077 on 3 February 2014

reviewed by technispark on 23 January 2014

reviewed by JetMoo on 11 August 2012

reviewed by VAG fan on 24 June 2011

reviewed by joolscd on 13 June 2011

reviewed by Norman Foster on 31 May 2011

reviewed by Norman Foster on 31 May 2011

reviewed by graingerblaze on 25 April 2011

reviewed by Tagsantite on 5 March 2011

reviewed by Bill@10 on 28 December 2010
Write your review
About this car
| | |
| --- | --- |
| Price | £13,725–£19,070 |
| Road Tax | A–E |
| MPG | 47.9–80.7 mpg |
| Real MPG | 78.4% |
Just reviewed...