Mercedes-Benz C-Class W202 1993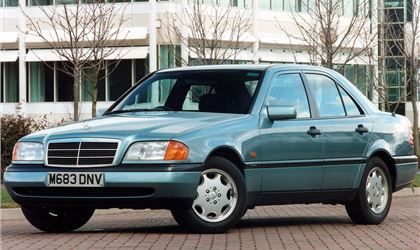 C250 turbodiesel elegance automatic
reviewed by Eureka on 7 December 2014
4
Tax/Insurance/Warranty costs
4
Cost of maintenance and repairs
4
Experience at the dealership
4
How you rate the manufacturer
Superb car that drives better than some far newer cars.
Ive owned the car for 8 years covering many miles with the bonus of never breaking down.
The car has needed the usual service items and age/mileage related suspension parts but other than that has been a superb car.
It is big enough for us as a family of 4 & our small dog with more than enough space for the weekly/monthly shop.
Overall the economy isn't upto modern diesel standards but is fairly good for a heavy automatic car.
The best part of the car for me is its power, the 250td engine does suffer from turbo lag but when its on song its plenty powerful enough.
With my average weekly use it averages 26mpg which is 100% around town in start stop traffic.
On a longer run it is easy to see over 35mpg (even higher if the speed is kept to 60mph).
Overall a superb car let down by one thing. The dreaded Mercedes rust. Overall my car is far better than average but there are some very poor examples out there.
reviewed by Crewe1 on 11 May 2014

reviewed by quartermillionmiles on 28 March 2013

reviewed by lowdrag on 24 February 2013

reviewed by cherryred on 6 January 2012

reviewed by tescodirect on 8 September 2011

reviewed by gdbza1 on 9 June 2011

reviewed by redlorry on 26 February 2011

reviewed by d_taddei2 on 6 January 2011

reviewed by Rich71 on 29 May 2010
Write your review
About this car
Just reviewed...