Jaguar reveals improved XJ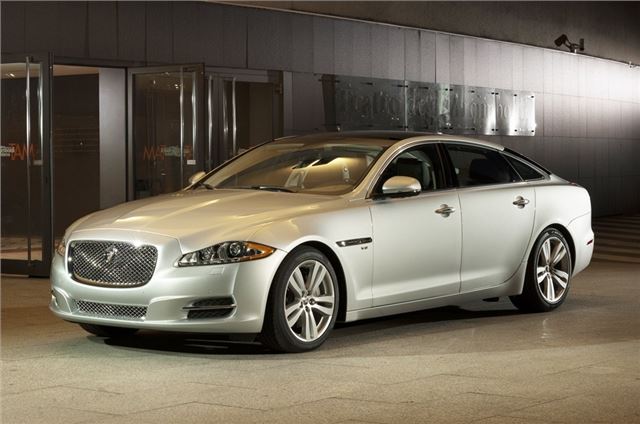 Jaguar has revealed its 2013 model year XJ which gets a host of improvements, the most significant of which is a new 3.0-litre supercharged V6 engine, replacing the 5.0-litre V8. This new engine makes its debut in the XJ and the XF plus it will also power the much anticipated F-Type.
On sale from September prices for the new XJ start at £56,260 on the road which gets you the impressive 3.0-litre diesel version with 600Nm of torque. Like the new 3.0-litre supercharged engine, the diesel now gets a new eight-speed ZF automatic gearbox as standard which also features an intelligent start/stop system to save fuel in traffic. As a result the 3.0 D averages a claimed 47mpg (estimated) with CO2 emissions of 159g/km - an improvement of 14%.

The 3.0-litre supercharged petrol produces 340PS with 450Nm of torque giving the XJ a 0-62mph time of 5.9 seconds which fuel economy is 30mpg. Other changes to the XJ for the 2013 model year include re-calibrated spring and damper settings as well as remapped damper software - all designed to enhance ride isolation and passenger comfort on all road surfaces.
Improvements inside include DAB now fitted as standard plus a new premium sound system. Teaming up with British audio specialist Meridian, Jaguar has developed a 825W sound system. This top-of-the range 20-speaker system comes as standard on Portfolio and Supersport XJ models and is an option on other models.
XJ 13 MY SPECIFICATIONS:
| | | |
| --- | --- | --- |
| Engine Variant | 3.0 V6 S/C Petrol  | 5.0 V8 S/C Petrol |
| Layout | V6 cylinder | V8 cylinder |
| Capacity | 2995 cc  | 5000 cc |
| Power   | 340PS | 510 PS |
| Torque    | 450 Nm | 625 Nm |
| Fuel economy | 9.4 l/100km (30mpg) | 11.3 l/100 km (25mpg) |
| CO2 emissions   | 224g/km | 268g/km |
| Performance (0-60 mph) | 5.7secs    | 4.7 secs |
| Performance (0-100 kph) | 5.9 secs | 4.9 secs |
|   |   |   |
| Engine Variant  | 3.0 V6 Diesel S |   |
| Layout   | V6 cylinder |   |
| Capacity | 2,993 cc |   |
| Power | 275 PS |   |
| Torque | 600 Nm |   |
| Fuel economy | 6.0 l/100 km (47mpg) |   |
| CO2 emissions | 159 g/km |   |
| Performance (0-60 mph) | 5.9 secs |   |
| Performance (0-100 kph) | 6.4 secs |   |
XJ 13MY on-the-road (OTR) Pricing (£)
Standard wheel-base
XJ 3.0 Diesel Luxury
56,260
XJ 3.0 Diesel Premium Luxury
60,060
XJ 3.0 Diesel Portfolio
67,260
XJ 3.0 S/C Petrol Premium Luxury
65,365
XJ 3.0 S/C Petrol Portfolio
72,815
XJ 3.0 S/C Petrol Supersport
91,735
 
Long wheel-base
XJ 3.0 Diesel Luxury
59,260
XJ 3.0 Diesel Premium Luxury
63,060
XJ 3.0 Diesel Portfolio
70,260
XJ 3.0 S/C Petrol Premium Luxury
68,515
XJ 3.0 S/C Petrol Portfolio
75,815
XJ 3.0 S/C Petrol Supersport
95,235
Comments