Geneva Motor Show 2015: Honda's world-beating NSX supercar revealed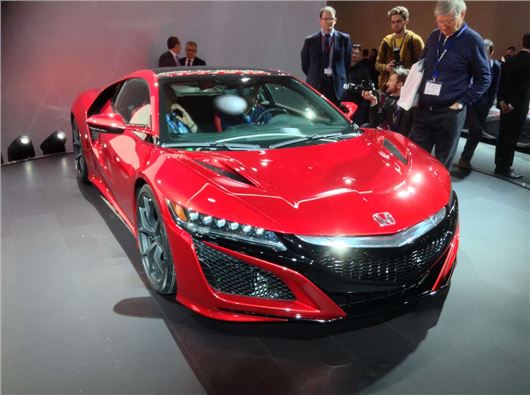 Published 22 February 2015
The Geneva Motor Show hosted the European debut of the production Honda NSX supercar. It's expected to boast over 550PS and cost well into six figures when it comes to the UK late in 2015.
That's "expected" because despite the car above being the final, definite, actual production version of a car in gestation for well over a decade, Honda still isn't saying how much power it has nor how much it will cost.
Order books open this summer, with Honda promising to reveal more technical detail as this year goes forward. What Honda does say is that the name stands for 'New Sports Experience' (where 'experience' begins with an X, obviously), and that it has a twin-turbo V6 engine coupled to a nine-speed dual-clutch automatic transmission.
Nothing too unusual there. But then there are the three electric motors that supplement that setup - the so-called Sport Hybrid Power Unit - which silently assist in propelling the NSX into the hyper-performance elite.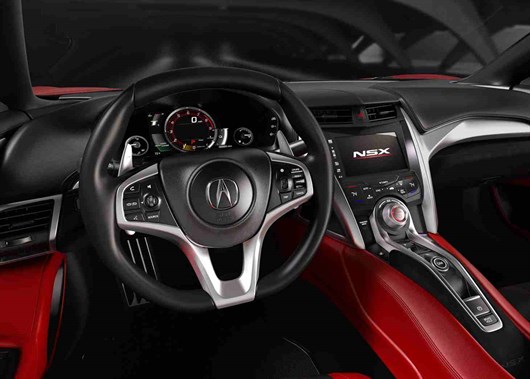 The system employs a rear-drive electric motor that, according to Honda, "supports acceleration, braking and transmission shifting performance." The remaining two electric motors are at the front, "delivering instantaneous torque response and dynamic left-to-right torque distribution."
The result, says Honda, is "zero-delay launch performance and handling response that seems to anticipate the driver's desire," with the company going on to call the NSX's powertrain "the most sophisticated, technologically advanced and intelligent in the supercar universe."
Based on the last of those statements, Honda has created a supercar that could mix it with supercars costing many times more; the NSX powertrain, at this early stage, seems to have the same sort of barely fathomable engineering sophistication as the epochal McLaren P1's.
And it doesn't stop there, with Honda drawing on the original NSX's claim as the world's first all-aluminium supercar to claim "world's first material applications and construction processes" for this new one, which comes 25 years after its eponymous predecessor was unveiled.
Due to be produced in Honda's Ohio factory by a relatively small team of 100 "skilled associates," the NSX features an adaptive chassis switchable between Quiet, Sport, Sport+ and Track modes, with Honda claiming the dynamic experience "maximises the capabilities of the driver." Its Super-Handling All-Wheel Drive (SH-AWD) system biases power to the rear while also providing the safety net of strong, predictable traction.  
Predictably there's no word on fuel efficiency at this stage, although given that Honda's announcement makes no reference to CO2 emissions or any sort of environmental benevolence, we can safely assume that this is a hybrid whose remit is solely performance-based. A rarity.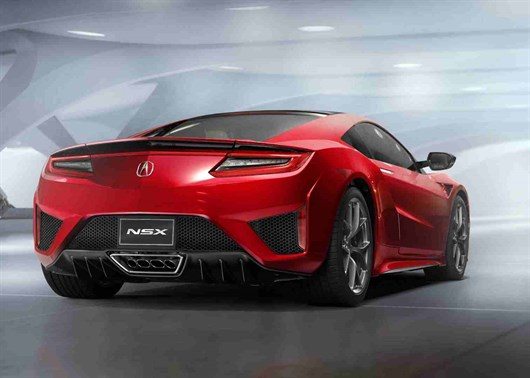 Comments
Author

Mark Nichol
Latest