New car sales stabilise in September


Although new car registrations fell 8.9 per cent in September, demand for new cars has stabilised and will end 2010 slightly up on last year, according to latest figures from the Society of Motor Manufacturers and Traders (SMMT).

The government scrappage incentive scheme (SIS), which ended in March 2010, skewed figures slightly, but September was 16.3 per cent ahead of 2009 with scrappage excluded and on a par with 2008. The full year market is expected to hold at approximately two million, up marginally on 2009.
According to the latest report, the market over the past 12 months has risen 14.0 per cent, that's more than 250,000 units, to a total of 2.11 million new cars. However, over the past three months, demand has fallen 11.0 per cent (or more thanr 65,000 units), reflecting the end of scrappage.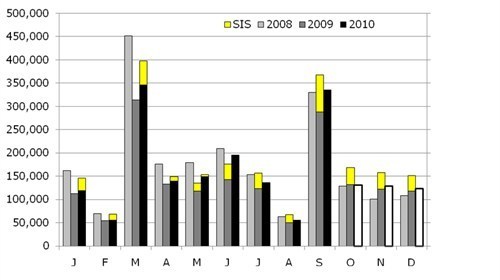 The good news is that the the September market for the new '60' plate cars was 1 per cent better than SMMT had predicted in July, although it did still fall 8.9 per cent to 335,246 units - the second lowest volume for the month since 1999 when twice yearly registrations were established.
"It is important that alongside government's austerity measures, the comprehensive spending review signals a strong growth agenda to boost consumer and business confidence. We're seeing a slow and steady improvement," said Paul Everitt, the SMMT's chief executive.
Diesel and alternatively fuelled cars saw both volume and market share grow in the month. As in August, the Ford Fiesta was the best selling model in September and the year-to-date, although small car demand has waned in recent months.

More: How did new car sales do in August?