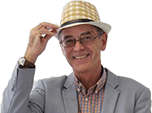 What was the best-selling car in February?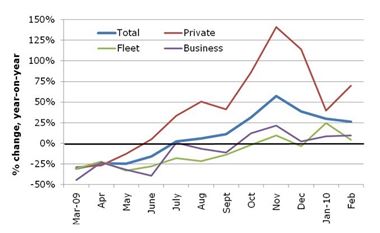 Last month's new car sales figures showed an increase in registrations of 26.4 per cent, according to the latest figures from the SMMT.
During February a total of 68,686 cars were registered, which is an increase of 14,327 on February 2009. Although welcome, the rise follows a particularly poor February 2009, being the shortest month of the year, it's traditionally the weakest for car sales. Plus many buyers put off buying until the March registration plate change. It was 1.9 per cent lower than February 2008.
The trend of small cars dominating the top 10 continues. The largest car in the Top 10 was the BMW 3-Series, while the largest cars from Vauxhall and Ford are the Astra and Focus.
The SMMT forecasts that 2010 is expected to recover slightly, with volumes expected to push above 360,000 units for the new '10' plate. Over the past decade, March has been the strongest month for new car registrations, accounting for 17.8% of annual registrations.
Much of the March recovery will be attributable to scrappage and the scheme accounted for 19.6% of the market in February. Final orders through the scheme must be made by the end of March, or sooner if funds run out. The scheme's impact will diminish during Q2 with market decline expected in the second half of 2010.
It also predicts that new car demand will be building up, after a sustained period of hold-off, but with economic recovery still fragile and uncertainty over the impacts of the Budget in March and a general election in Spring, the outlook for registrations in 2010 is subdued and cautious, with an expected decline of almost 10% to 1.82 million units.
February 2010 Top Ten
1 Ford Fiesta 3,236
2 Ford Focus 3,035
3 Volkswagen Golf 2,586
4 Vauxhall Astra 2,524
5 Vauxhall Corsa 2,391
6 Hyundai i10 1,938
7 VW Polo 1,900
8 BMW 3 Series 1,599
9 Kia Picanto 1,573
10 Peugeot 207 1,422
Sales figures in full
| | | |
| --- | --- | --- |
| MARQUE | Feb 2010 | 2010 to date |
| Abarth | 33 | 101 |
| Alfa Romeo | 224 | 598 |
| Aston Martin | 27 | 79 |
| Audi | 2,957 | 10,849 |
| Bentley | 26 | 107 |
| BMW | 3,141 | 8,359 |
| Cadillac | 3 | 6 |
| Chevrolet | 500 | 1,612 |
| Chrysler | 22 | 140 |
| Citroen | 2,701 | 7,650 |
| Corvette | 0 | 0 |
| Daihatsu | 27 | 49 |
| Daimler | 0 | 0 |
| Dodge | 30 | 51 |
| Fiat | 1,752 | 5,724 |
| Ford | 9,915 | 32,043 |
| Honda | 1,663 | 5,994 |
| Hummer | 0 | 0 |
| Hyundai | 3,007 | 10,279 |
| Infiniti | 1 | 13 |
| Jaguar | 266 | 1,307 |
| Jeep | 89 | 259 |
| Kia | 3,366 | 8,396 |
| Land Rover | 804 | 3,322 |
| Lexus | 91 | 735 |
| Lotus | 18 | 44 |
| Mazda | 1,587 | 4,449 |
| Mercedes-Benz | 1,923 | 6,094 |
| MG | 8 | 30 |
| MINI | 973 | 3,108 |
| Mitsubishi | 396 | 938 |
| Nissan | 2,098 | 7,851 |
| Opel | 0 | 0 |
| Perodua | 29 | 86 |
| Peugeot | 3,533 | 11,912 |
| Porsche | 106 | 566 |
| Proton | 50 | 117 |
| Renault | 3,559 | 9,402 |
| Saab | 84 | 212 |
| SEAT | 904 | 3,196 |
| Skoda | 1,574 | 4,428 |
| smart | 336 | 760 |
| Ssangyong | 18 | 31 |
| Subaru | 69 | 287 |
| Suzuki | 778 | 1,839 |
| Toyota | 3,439 | 10,785 |
| Vauxhall | 7,950 | 23,953 |
| Volkswagen | 7,132 | 22,099 |
| Volvo | 1,378 | 4,024 |
| Other British | 64 | 161 |
| Other Imports | 35 | 120 |
| Total | 68,686 | 214,165 |
Comments