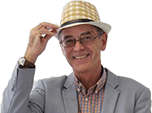 Watch Hugarian GP Live at Mazda Stand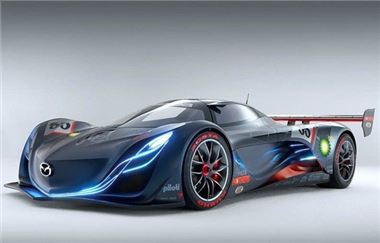 Visitors to the closing day of the London Motor Show – Motorsport Sunday - will be able to watch the Hungarian GP live on a 20-square metre screen. Keeping with the theme, visitors who go along to the Mazda stand will see a concept car that is not a racer, but should be. The Le Mans-like sportscar is called the Furai (pronounced foo-rye) and celebrates Mazda's 40 years in motorsport.
Furai is Japanese for "sound of the wind" and the car described by its creators as "a fully functional 180mph rolling laboratory." Mazda's design team in California started with the chassis of the Mazda triple-rotor-engined AMLS Courage C65 race car which races successfully in the American Le Mans series. To this they added a closed cockpit and elements of the Nagare design language which Mazda is now using on its production cars.
There are no plans to race the Furai, though many believe it would be a very worthy vehicle for Mazda to return to the Le Mans 24-hour race which it won with a rotary-engined car in 1991.
Grandstand view of supercar parades at ExCeL
The Heritage Enclosure has been created by The Super Car Club, which has sourced a mouth-watering collection of exotic and historic supercars from the past 50 years. Each day, visitors to the Show can see a dozen or more of the cars parading on the purpose-built circuit around the enclosure, providing aural and visual thrills four times a day.
Some guests and visitors to the conveniently located Novotel hotel in Docklands have also been privileged to sneak panoramic views of the cars in the Heritage Enclosure of the British International Motor Show, being held at ExCeL London until 3 August. The bar area, on the first level of the hotel and managed by Harpreet Sian, overlooks part of this exciting feature which has created quite a bit of interest from staff and guests. "When the cars go out on their parades, it can cause quite a stir," said Harpreet. "I have heard that some hotel guests who were not aware the Motor Show was taking place have decided to go along because of what they have witnessed from our bar. My only problem has been keeping my team away from the windows too," he joked.
For true enthusiasts though, the only way to appreciate the spectacular display fully with incisive commentary at this dockside setting is to go into the Show and get up close and personal with some of the most luxurious brands motoring has ever seen, like Maserati, Spyker, Ferrari and Koenigsegg.
American brands bring UK debuts and green concepts
Cadillac's new right-hand-drive 2009 CTS makes its UK debut at the British International Motor Show, featuring a single Sport Luxury premium trim level and the choice of 2.8-litre and 3.6-litre V6 engines. A 2.9-litre V6 diesel is due to be introduced next year. The Cadillac stand also features the stunning CTS Coupe Concept and the Provoq Crossover Fuel Cell Concept.
The Corvette ZR1 is also seen for the first time in the UK, delivering 0 – 60 mph in 3.4 seconds and capable of a top speed of 205 mph. First UK deliveries are expected by the end of the year.
A glimpse of HUMMER's greener future is on display at ExCeL London with the HX Concept, a nimble, compact and versatile vehicle featuring removable roof panels, a lightweight body and fuel-efficient 3.6-litre E85 FlexFuel V6 engine.
Honda's all action show entertains Docklands crowds
One of the most dynamic, action-packed and entertaining features at the British International Motor Show is Honda's Dreamscape. Up to 6,000 people at a time can enjoy one of the four daily shows in the dockside Live Action Arena.
Mixing music, song and fun-filled drama, Honda creates a cacophony of heart-stopping, rubber-burning stunts with wheelies, burnouts, handbrake turns and smoking tyres. All of which set out the story of Honda in its 60th anniversary year.
Honda combines its message of environmental friendliness with crowd-pleasing stunts, displaying a diverse mix of bikes, cars, scooters and even Honda's power generators and solar panels. Historic Hondas from the 1960s vie for attention with superbikes, powerboats and ASIMO – Honda's advanced humanoid robot.
The 40-minute show culminates in an impressive finale that showcases 25 Honda motorbikes, boats, quad-bikes and cars. Tickets for the Show cost £5 and can be purchased at the Show or with a Motor Show ticket bought online at
www.britishmotorshow.co.uk
. Show times are at 1100, 1300, 1500 and 1630.
Peugeot shows that driving is child's play at Motor Show
One of the busiest outdoor displays at the British International Motor Show is only open to a privileged few visitors – but there is no charge to go in! To gain access to this exclusive area you have to be a child and between one and 1.4 metres tall. The Peugeot 207 Kid's Driving School is modelled on a similar attraction at the popular Alton Towers and can take up to 72 junior drivers an hour.
After passing the simple height check test, each child is given a short briefing session before getting into the seat of any one of the six electric-powered mini cars. Simply by pressing a pedal, children can drive themselves around a specially built road network in mini versions of the Peugeot 207 whilst getting to grips with everyday obstacles like traffic lights, roundabouts and crossroads!
"This fantastic attraction lets kids drive along the specially designed roads while they learn about the rules of the road in a safe and fun environment," said driving instructor Danny. "Since the Show opened, we have been kept busy with a constant flow of budding young drivers, all of whom have passed with flying colours and received their very own junior driver's licence on completing the course." Parents don't leave empty handed though – half price adult entry tickets to a whole host of resorts and theme parks are being handed out too!
Big world through a small window in Docklands
Surrounding the Land Rover Ultimate Experience at ExCeL London is a stunning display of images taken by globe-trotting photographer Neil Emmerson. In a typical month, he will move from plus 30 degrees Celsius to minus 20, from sand in the Middle East to ice in the northern extremes.
In spite of having a variety of top-spec photographic equipment, the still-frame artist cites his Land Rover vehicle as his most trusted tool – and in many cases his home for extended periods! "My relationship with Land Rover began after a dramatic snowstorm rescue from a hillside farm at my home in Cumbria aged just 11," said Emmerson. "Since then, they have been my vehicle of choice as I know they can cope with any situation I encounter."
Drawing from his past 45 years of life on the road, virtually all the images in this retrospective collection were shot at or around the break of day and captured using Land Rovers. Scenes on display range from wild waterfalls in Iceland to a dentist's queue in Bolivia. The full collection of photography from the artist can be viewed on line at
www.neilemmerson.com/bigworld
Comments