Volkswagen Golf R (2014 – 2020) Review
Looking for a Volkswagen Golf R (2014 - 2020)?
Register your interest for later or request to be contacted by a dealer to talk through your options now.
Volkswagen Golf R (2014 – 2020) At A Glance
The Volkswagen Golf R sits at the top of the performance tree for this hatchback range, yet it doesn't shout about its abilities in the way it looks. Rather, the Golf R does its talking when you get behind the wheel and experience its turbocharged 2.0-litre engine with more than 300PS on tap. This is delivered through a four-wheel drive system to make sure every ounce is used to best effect, and you have a choice of manual or DSG automatic gearboxes. There are also three- and five-door hatches, and an estate for good measure.
Looking for a Volkswagen Golf R (2014 - 2020)?
Register your interest for later or request to be contacted by a dealer to talk through your options now.
For anyone who likes the subtlety of the Volkswagen Golf GTI but wants more performance, the German firm has offered the R version for many years.
Rather than a faster version of the GTI, the R is very much a standalone model and this is emphasised by this top of the tree model having 4Motion all-wheel drive where the GTI makes do with front-drive.
The R is certainly restrained by the standard of rivals such as the Honda Civic Type R or Mercedes-AMG A35, but that doesn't mean there's anything shy or retiring about its performance. When launched in 2014, the three- and five-door hatch and the estate models all packed a 300PS 2.0-litre turbo petrol four-cylinder engine. There was also a choice of six-speed manual or DSG auto gearboxes.
Under the bonnet of the Golf R is a 2.0-litre four-cylinder turbocharged petrol, putting out 300PS and 380Nm of torque. Importantly that torque is available right the way from 1800rpm to 5500rpm, so there is plenty of readily accessible overtaking performance almost regardless of which gear you are in.
In 2017, power was increased to 310PS and there was also the option of a Performance Pack. This did nothing to the power figure but relieved the R of its top speed limiter at 155mph. So, the hatch could march on to 166mph and the slightly more aerodynamic estate could hit 168mph.
The all-wheel drive system does a good job of transferring that power to the road. Acceleration from 0-62mph takes 5.1 seconds with the manual transmission and cornering grip is huge. The R can be driven with absolute confidence, despite its impressive performance, with great body control and accurate steering.
The DSG version needed just 4.6 seconds for the same sprint. In anyone's book, that makes the Golf R a very quick car indeed and one that only the very quickest of hatch rivals could get near, such as the Mercedes A35 and Ford Focus RS in its third generation with four-wheel drive and 2.3-litre motor.
Inside it's as restrained and well-made as any other Golf, with three-door, five-door and estate body styles offered. It is well-equipped, with climate control, a touchscreen navigation system, auto lights, auto wipers and cruise control included as standard, along with selectable drive modes.
Some might find the interior a little too similar to the Golf GTI's, but that's no bad thing in our book as the Golf's cabin is always a comfortable, superbly well built place to pass any journey.
What do owners think of the Volkswagen Golf R (2014 – 2020)? Check out our
Owners' Reviews
from people who live with the car day in, day out.
Reviews for Volkswagen Golf R (2014 – 2020)'s top 3 rivals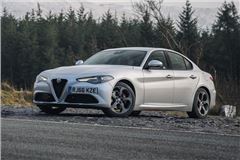 Alfa Romeo Giulia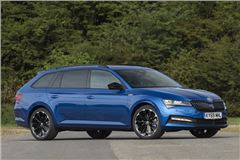 Skoda Superb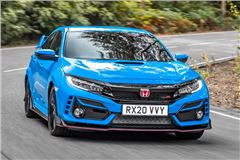 Honda Civic
Ask Honest John
Volkswagen Golf GTI vs Golf R - which is better?
"Which would be most appropriate for everyday use, a second-hand Golf GTI or a used Golf R?"
Both are fine for everyday use. Our money would go on the GTI - it's got a little less power but is arguably more fun than the Golf R. The Golf R is very good at getting you to your destination quickly, but it's not as involving to drive. Your money will go further on a used GTI, too.
Is a Volkswagen T-Roc R a logical upgrade from a Golf R?
"Do you think I should buy new or secondhand Volkswagen T-Roc R? I drive a Golf R but my husband finds it difficult to get into. Thank you."
There are some really strong savings to be had on nearly-new T-Roc R models, as long as you're not concerned about having a factory order or the latest registration plate. £35,000 will get you an ex-demo model with just a few thousand miles on the clock. That's a saving of around £6000 but it'll look and feel like new. If you like your Golf R, the Volkswagen T-Roc sounds like the perfect choice. Also consider a Cupra Ateca or BMW X2 M35i.
Can I get 19-inch all-season tyres?
"My 2016 Volkswagen Golf R is due for new tyres and I would appreciate your advice on tyre choice. It came with Continental Conti Sport Contact 5 which have been good but I would like to know if there is a suitable all-season tyre available? It has 19-inch wheels."
All season tyres don't work with very low profiles because the tyre sidewalls are insufficiently compliant. I'd go with Pirelli P Zeros that work well on the Golf R and Golf GTI TCR and have a bead around the sidewall to protect alloy rims from kerbing. Check Tyres On The Drive (https://bit.ly/2ZlEVaR) and Blackcircles.com (https://bit.ly/2JM6bqG) for sizes and prices and read our Tyre Buying Guide (https://bit.ly/2wsFHBU)
The clutch in my newly bought Volkswagen Golf R is slipping - is the dealer we bought it from liable to pay for the repairs?
"I bought a manual Volkswagen Golf R 2016 at 7500 miles in September this year. I'm the second owner. The clutch has started to slip when going through the gears, but doesn't always do it. The car is with Volkswagen and they have rang saying the private dealer we bought it from needs to pay for the strip down to investigate. They said there's a good chance it's very worn, but if they find a defect in the strip down they will cover the cost. Does the garage we bought it from need to pay?"
That seems to be very fair. Volkswagen only warrants a clutch for six months unless there is a proven defect. But if the car was sold to you in September, then it is fairly safe to assume that the damage was "present or developing" before you bought the car and the dealer who sold it to you is liable under the six month rule: https://www.honestjohn.co.uk/faq/consumer-rights All that said, people don't seem to realise that clutch life of a manual high performance car can be quite short and 10,000 miles is about the norm.
What does a Volkswagen Golf R (2014 – 2020) cost?
See also