Mercedes-Benz G-Class (2018) Review
Looking for a Mercedes-Benz G-Class (2018 on)?
Register your interest for later or request to be contacted by a dealer to talk through your options now.
Mercedes-Benz G-Class (2018) At A Glance
New prices start from
£164,495
Insurance Group 50
The Mercedes-Benz G-Class was replaced by an all-new model in 2018, but not that you'd notice. From the outside, at least, Mercedes's clever ruse seeing the original G-Class, which soldiered on for over 40 years, swapped with another one that looks all but identical. That underlines not just the G-Class's iconic status among buyers, but also within Mercedes-Benz itself, where it's held in high regard. 
Looking for a Mercedes-Benz G-Class (2018 on)?
Register your interest for later or request to be contacted by a dealer to talk through your options now.
Only a handful of cars can claim production runs as long as the original G-Class, or 'Gelandenwagen' often shortened to 'G-Wagen', that wonderfully descriptive Germanic name roughly translating to 'terrain vehicle'.
It might have been built as a tough, dependable 4x4 for commercial and military use, but through its near 50 years of production the G-Wagen morphed into a fashionable, desirable car, more likely to be parked outside the world's most prestigious addresses.
Its three locking differentials and legendary off-road ability not really necessary for the glittering driveways of those buying it, but Mercedes-Benz staying true to its utilitarian roots with the replacement, regardless. 
Indeed, as replacements go, the G-Class's is like getting the Beatles albums digitally remastered. It looks, and sounds, virtually identical, Mercedes-Benz's engineers tasked with making things like the wing-top mounted protruding indicators pass modern pedestrian impact protection laws (they collapse when impacted), while also working to retained G-Class visual identifiers like the exposed door hinges, yet also to make them quiet when driving at speed.
That obsessive attention to detail even saw Mercedes-Benz work on how the doors sound when closing, the current G-Glass making the same satisfying metallic clunk when doing so. It achieved all this while only actually retaining about 10 parts from the original, the spare wheel cover being one, interior sun visors another and the towbar, too. The rest? We'll leave that for you to work out. 
Its replacement was necessary, as the old car was increasingly difficult to get through ever-stricter safety regulations around the world.
To achieve that with the G-Class it's now a bit bigger, but the dimensional changes have been hidden cleverly, and are to the benefit of interior space – which was never particularly brilliant in the original.
Like it, it sits on a ladder chassis, like all true off-roaders, and it's got all the four-wheel drive locking differential hardware and axles articulating suspension underneath to tackle mountains. Literally; Mercedes-Benz's traditional proving ground for the G-Class being the Schöckl Mountain, in Austria, indeed, inside the door jam of every G-Glass there's a 'Schöckl Proved' badge to underline that. 
Few will ever get their tyres dirtier than a gymkhana meet or a game shoot, but like the Barbour jackets and Hunter wellies their owners will be wearing it's about what the G-Class is capable of, rather than actually does that matters.
And it looks cool, the G-Class also somehow managing to escape the anti-SUV scorn its rivals receive, such is its enormous charm.
There's an enormous price tag that comes with it, though, with two versions offered, a more pragmatic G350 d for around £100,000 and a Mercedes-AMG G63 version that pops a 585PS twin turbo 4.0-litre V8 under its bonnet, hangs its exhaust pipes out the side and adds about 50% to the price of the diesel. All a bit silly really, but hugely appealing, too, the G-Class is an icon, and rightly so.  
What do owners think of the Mercedes-Benz G-Class (2018)? Check out our
Owners' Reviews
from people who live with the car day in, day out.
Reviews for Mercedes-Benz G-Class (2018)'s top 3 rivals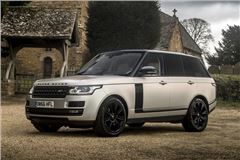 Land Rover Range Rover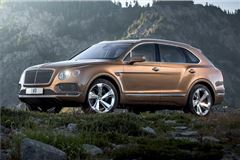 Bentley Bentayga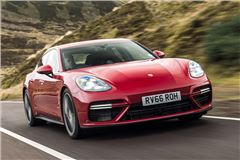 Porsche Panamera
What does a Mercedes-Benz G-Class (2018) cost?
See also