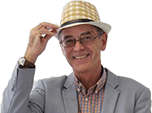 What vehicle can carry a mobility scooter in the boot lengthways?
I have a mobility scooter that takes up a footprint space of four foot by two foot and I would like to get an estate car or SUV that will take the scooter lengthways across the boot of the vehicle instead of having drop one of the rear seat backs. This would then allow me to carry all the two/three rear seat passengers plus my scooter. Are there any suitable vehicles that would meet that demand and if so which ones?
Asked on by Anthony Bowes

Answered by
Andrew Brady
I think you'd struggle to find an estate car or SUV big enough to take your mobility scooter with all the seats left up. Your best option would be a van-based people carrier like the Peugeot Rifter, but even then you'll need the long wheelbase model.
Similar questions

What's the best estate car with a decent flat floor to carry a mobility scooter?

Can you recommend a vehicle I could load with a mobility scooter using ramps rather than having to buy a specially converted vehicle?

We are starting to think about replacing our Skoda Roomster. We like the fact it is more car than van and that it has flexibility for carrying people and things. Any suggestions for a replacement? We don't...
Related models

Easy to use, three separate full-sized centre row seats fold into the floor, i-Cockpit makes it more enjoyable to drive.