Citroen C4 2011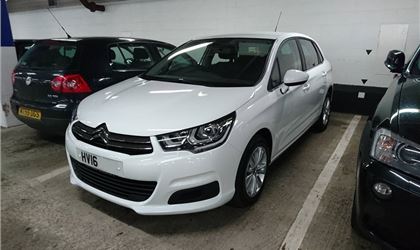 1.6 BlueHDi 100 Feel 5dr Hatchback
reviewed by ciaran1602 on 22 July 2016
5
Tax/Insurance/Warranty costs
5
Cost of maintenance and repairs
5
Experience at the dealership
5
How you rate the manufacturer
An extremely pleasant surprise
I bought this car to get me out of a pickle: essentially a PCP arrangement on my former vehicle that had woefully unsuitable mileage due to a new job. This car was heavily discounted by the extremely professional and helpful team at Yeoman's Fareham and so suited the bill.

Well, it proved somewhat of a revelation to drive compared to my previous 208. The car feels solid and reasonably weighty, with just enough feedback from the wheels to feel satisfying to drive. Most of the time it's fairly sedate and handles with a soft, slightly wallowy behaviour but I personally find this preferable to the "compromise" most manufacturers try to achieve between handling and comfort. The steering is direct and responsive, the gearbox smooth and easy to use and the clutch feels light.

The BlueHDI100 engine is an excellent diesel engine. Don't let the low hp figure fool you, there is enough torque in this motor to haul the C4 along with conviction. I suspect this is heavily aided by having 5 gears rather than six, with the lower three gears being fairly short through to allow you to get up to speed quickly. There's more than enough power for a quick overtake on country roads and though the 0-60 figure is fairly humdrum at 11.something seconds, it feels faster. The car really comes into it's own on a long motorway haul, spinning at approx 2000rpm at 70mp (indicated 73mph) the engine is right within it's torque band if you need to overtake fairly rapidly.

Economy has been excellent. Of course, it is nowhere near as good as the figures officially suggest but I have achieved 55mpg without trying in an even 50/50 split of urban, short motorway driving. On long runs I have got close to 68mpg out of it; combined with the large 60 litre fuel tank it means the car's range is fantastic. Tax costs are nil and the fixed price service plans are competitive.

The car is well equipped for an "average" model. With air conditioning, bluetooth/dab/usb stereo, front electric windows, tyre pressure monitoring, ESP, all the air bags you could need, trip computer, alloy wheels etc. The touch screen sat nav would have been nice but alas the expense. I am surprised that parking sensors are only free on the range topping model however I do not particularly miss them as visibility is good all round.

The real headline is the price; though listed at 17.5k or so, i got the car for the equivalent of £12800 when financed. Citroen's discounts have famously been excellent and this is no different.

I've always had good experiences with French cars and this is definitely the best yet.
reviewed by Anonymous on 7 April 2016

reviewed by Dacul on 2 January 2016

reviewed by OllyCiroen on 21 July 2015

reviewed by legionnaire on 14 April 2015

reviewed by Anonymous on 29 January 2015

reviewed by JDM on 20 June 2014

reviewed by BigJohnD on 28 May 2014

reviewed by gallivanting guy on 17 March 2013

reviewed by stefanpanzer on 17 October 2012

reviewed by alz69er on 14 September 2012
Write your review
About this car
| | |
| --- | --- |
| Price | £14,825–£20,780 |
| Road Tax | A–G |
| MPG | 40.9–85.6 mpg |
| Real MPG | 78.7% |
Just reviewed...