Toyota iQ (2008 - )
Last updated 24 March 2014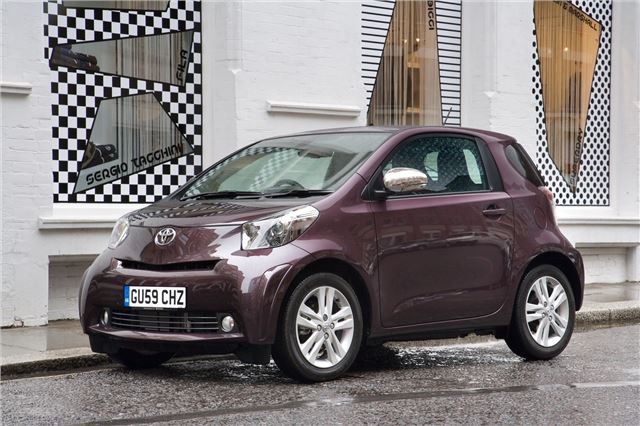 What's good
Euro NCAP, which has developed a new rating scheme which focuses on the vehicle's overall protection performance. The new rating scheme uses a weighted score, combining all aspects of a car's safety performance: adult (50%), child (20%) and pedestrian (20%) protection assessment results with the availability of driver assistance devices (10%). A minimum score of 70% overall is necessary to achieve a 5-star rating. To qualify for inclusion, the devices must be fitted, as standard across 85% of the EU 27 2009 model range. Despite its compact dimensions, the Toyota iQ achieved a remarkable overall weighted score of 79%. Every iQ features as standard, nine airbags – including a world-first, rear window curtain shield airbag, Anti-lock Brakes (ABS), Electronic Brakeforce Distribution (EBD), Vehicle Stability Control (VSC) and Traction Control.
Very close runner up to European Car of the Year 2010 with 337 votes to the VW Polo's 347 votes, despite not a single Japanese on the voting panel.
First in class in City Car category in 2012 UK JD Power Customer Satisfaction Survey.
What to watch out for
Reader criticism of the 1.33 IQ3 with 6-speed box, which echoes criticism of the Yaris with this engine and transmission: "The six gear box on the IQ3 is such that one is forever changing gear and having to change down for the slightest up slope on a motorway and on a slightly steeper slope even down to 3rd gear. The car will just not perform unless one keeps the revs above 3,500RPM and needless to say the fuel consumption then increases dramatically."
16-3-2012: Original 2008 1.0 manual had same engine clutch and transmission as Aygo, 107 and C1, so suffers the same clutch problems and will probably need a new one after 3 years. Toyota may put its hand up and fit this FoC. IQ 1.0 manuals fitted with bigger 190mm clutch from January 2009.
11-10-2012: Can have an EGR problem. More information here on the Toyota iQ forum, and more feedback welcome.
22-1-2014: Synchro between 3rd and 4th failed on a 33,400 mile 2009 Aygo 1.0 base model. Quoted £800 to repair, mostly labour. Same fault as noticed on 107,000 kilometre Vios 1.5 rental car in Thailand. Still driveable.
Recalls
29-1-2010 Sticking Accelerator Pedal recall announced on iQ (Nov 2008 – Nov 2009). Customers who experience the problem should phone 0800 1388 744
0800 1388 744 .
4-11-2010 Toyota GB announced it would recall a number of its iQ models in the UK to carry out a modification to the software used to manage the vehicle's Electric Power Steering (EPS) system. It is working with the Vehicle and Operator Services Agency (VOSA) to contact registered owners and keepers by letter to advise them of the procedure for taking their vehicle to an authorised Toyota repairer for the necessary repair work to be done. The issue affects certain iQ vehicles, produced between 11 September 2008 and 22 October 2010. When driving on certain roadside safety side strips or 'rumble strips', signals received by the EPS sensors may be incorrectly interpreted by the EPS control unit, triggering the EPS warning light. Should this happen, the driver would need to apply extra effort to steer the vehicle. This issue has only been observed in very specific circumstances in Japan. No cases have been reported in Europe. No accidents related to this issue have been reported. The repair involves the update or replacement of the EPS control unit software. The job will take approximately two hours to complete, at no cost to the customer. Approximately 12,000 UK registered vehicles are affected by this recall. Toyota will ensure that vehicles produced before 22 October 2010, but not yet delivered to customers, will be checked and the necessary repair undertaken before delivery.
06/12/2010 R/2010/198 TOYOTA iQ electric power steering sensor may malfunction VIN JTNMC110#0J000114 to JTNMC110#0J001273 build 03/10/2008 to 11/03/2009 06/12/2010 R/2010/198 TOYOTA iQ electric power steering sensor may malfunction VIN JTNML190#0J017449 to JTNML190#0J019081 build 22/01/200929/01/2009 06/12/2010 R/2010/198 TOYOTA iQ electric power steering sensor may malfunction VIN JTNML110#0J000110 to JTNML110#0J026970 build 11/09/2008 to19/03/2009 06/12/2010 R/2010/198 TOYOTA iQ electric power steering sensor may malfunction VIN JTNMH110#0J000109 to JTNMH110#0J003963 build 21/04/200902/11/2009 06/12/2010 R/2010/198 TOYOTA iQ electric power steering sensor may malfunction VIN JTNML110#0J025244 to JTNML110#0J060865 build12/03/200922/10/2010 06/12/2010 R/2010/198 TOYOTA iQ electric power steering sensor may malfunction VIN JTNMC110#0J001274 to JTNMC110#0J003955 build 12/03/2009 to 22/10/2010 06/12/2010 R/2010/198 TOYOTA iQ electric power steering sensor may malfunction VIN JTNMH110#0J003532 to JTNMH110#0J006873 build 20/08/2009 to 22/10/2010 27/06/2011 R/2011/066 TOYOTA iQ braking efficiency could be reduced VIN JTNML110#0J000115 to JTNML110#0J057235 build 30/10/2008 to 19/05/2010
Call
Send SMS
Add to Skype
You'll need Skype Credit Free via Skype
Back: Model History
Next: Driving