Mazda 2 (2007 - )
Last updated 21 November 2013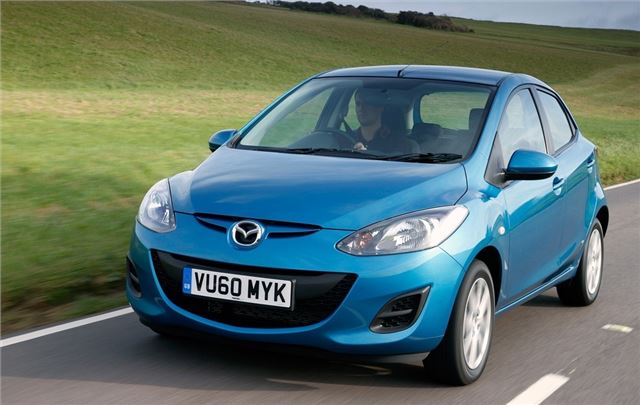 What's good
Enjoyable and fun to drive, economical engine, sensibly priced, feels well built, ride harshness over bumps improved for 2011.
What to watch out for
Diesel reported to be quite noisy.
One complaint of road noise and rattles.
Several reports of rear wheel bearing failures after between 6 months and 36 months.
Spate of reports of alarms going off in early 2010.
18-5-2012: Alloys can oxidise as a result of UK road salt after as little as 2 years.
18-5-2012: Boot switch can fail. R ecommend any purchaser of new or used model to make sure the boot locks and inspect the rubber boot switch. If it is cracked or damaged it may need to be replaced. Replacements cost £47.69, part number d651624bob .
14-9-2012: Not immune from the ABS/ESP brake pressure sensor fault that afflicts a lot of VAG cars and to a lesser extent Volvo S40/V50, Ford Focus, Mazda 3, etc. Mazda dealers have been quoting £1,800 to replace. May be curable at much more reasonable expense by ECU Testing or by Sinspeed.
12-3-2013: Complaint of knocking steering rack that a replacement rack did not cure.
31-5-2013: Another problem with EPAS, this with a 19k mile 2009/59. Light came on 3 times July 2012. Took to dealer. Dealer rebooted software. 2-5-2013 light came on again. "steering column had broken". £1,600 to fix, reduced to £1,000 after contributions from Mazda and the dealer. Reader can probably reclaim full cost under consumer rights.
5-10-2013: Yet another complaint of clunks from steering, this time on a brand new Mazda 2 purchased in February 2013.
21-11-2013: Intermittent metallic rattle heard from engne of 2011 Mazda 2 1.3 after first 9,000 mile service. Became more frequent by 22,000 miles so dealer partially dismantled engine, found some shards of metal in the sump and diagnosed "piston slap" - nothing to worry about.
Back: Model History
Next: Driving