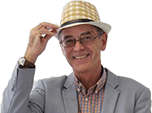 Learning to drive in: A Fiat 500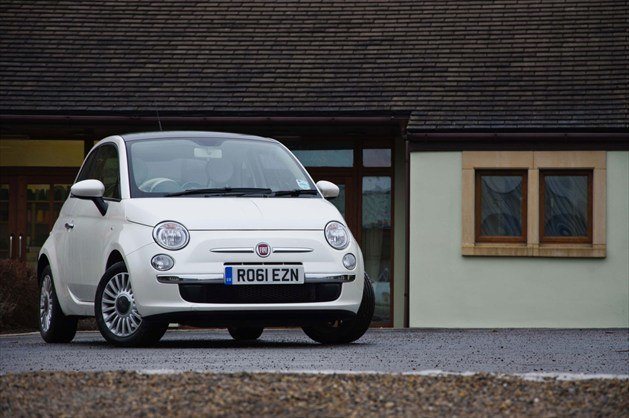 It's safe to say that when you're picking a driving instructor, their car will help with the choice. If your instructor has a rusting old Rover then you'll probably avoid them, and if they have something attractive like the Fiat 500 you'll be on the phone right away.
The 500 has been a popular model for Fiat since it came out in 2008, combining attractive styling and reasonable prices - but is it wise to pick one for your lessons? Well, that's what we aim to find out here!
Getting started
On appearances alone, the 500 is tremendously appealing. It's cute, and the retro-modern styling makes it truly stand out from other cars the same size. The neat touches continue in the cabin, where a colour coded dashboard and attractive combination dial make the car feel special.
The gear lever is mounted high up, so it's easy to find quickly from the steering wheel, much like the i10. The indicator and wiper stalks are nice and simple, without too many complicated twisters and switches to confuse you when you need to turn on lights or wash the screen.
Adjusting the seats is very easy, which is extremely useful when you're going to have to do it every time you get in the car, and the mirror adjustment is simple to get right. Unfortunately the adjuster for the seat height is the same shape as the handbrake and is placed right next to it, so it's worth being careful if you want to adjust the seat when on the go.
On the move
The first thing you'll have to do is move away from a standing start – and the 500 isn't the best car for it. Feeling the biting point through the clutch is fairly difficult at first and until you get used to it there's every chance you'll stall if you have to make a hurried getaway, like for example at a roundabout or some lights.
Luckily the gearshift is precise and positive, so it's simple to find the correct gear and make sure it's properly engaged. The speedometer and rev counter sit together in the dashboard, which is cool when you get used to it but can be confusing at first – you'll have to pay a little more attention to make sure you're reading your speed, not your revs.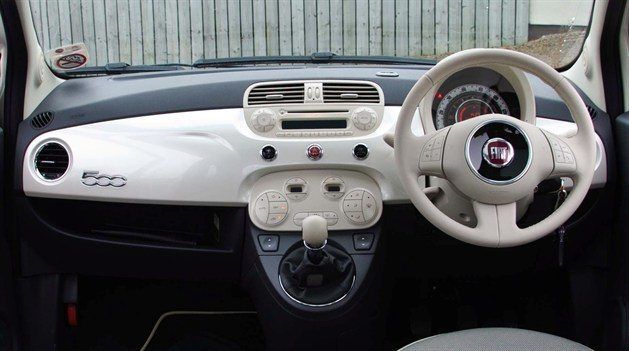 The steering is light, which is fine, but it's perhaps a little too light. Some more weight would give a better feeling of connection to the road, which is important when you're learning. There's a 'City' button which makes it possible to steer with one finger - but you're not allowed to do that, so just don't bother pressing the button!
The mirrors are acceptable. They provide a good view of the road behind, but the wing mirrors aren't easy to set in a position that shows where the rear wheels are while offering a perfect view behind, so they aren't the best for lining up manoeuvres.
The biggest problem of all with the 500 for a learner, though, is the footwell. The pedals are quite cramped and close together, and there's nowhere to properly rest your clutch foot. Again, it's not going to cause a massive problem because you'll get used to it, but at first you'll have to be careful to ensure you don't put your foot on two pedals at once.
Manoeuvres
Manoeuvres like reversing around a corner or bay parking are the hardest thing to perfect, so picking the right car for the job is important. The 500 is short and has a great turning circle, which is essential for good manoeuvrability, but overall it's not quite perfect.
The view out of the rear window isn't fantastic, and looking out of the rear side windows is pretty difficult too, so building confidence and accurately parking the 500 will take a little longer than it would in some other cars. It's not impossible, though.
However, the short length and manageable proportions mean that once you get the hang of parallel parks and tuurning in the road it should be fairly east to get them perfect every time. 
Summary
The Fiat 500 is small enough to be manoeuvrable and has some nice touches, like easy to adjust seats and a well positioned gear lever. Unfortunately the poor rearward visibility and cramped pedals let it down a little.
It is a suitable choice, though, and won't leave you frustrated. All of the issues can be overcome fairly quickly with a bit of practice, and so the 500 is a good learner car, particularly if you want something with a bit of style.
Helpful details
Shift indicator –Helps you change gear at the right time and will assist you on the eco driving criteria of your test.
Gear-lever –it's more or less next to the steering wheel, so changing gear is extremely easy.
Turning circle –Once you learn the cars blind spots and get used to its proportions, the tight turning circle makes it very easy to park.
Unhelpful details
Combined speedo/ rev counter –Cool though it may be, it can be confusing until you're used to it.
Footwell – The pedals are fairly close together, so if you've got clumsy feet you might press two at a time. However, much like the speedo, you get used to it. 
Rear space –The BSM stopped using the 500 because examiners complained about the rear space. It's not cavernous, but it's not as bad as you might think. However, if you know you'll be sharing lessons you might want to pick a five-door car.

Already learning? Visit our Facebook page and let us know what car you're taking lessons in. You'll also find lots of useful information, and you can ask us and other learners anything you want.