What to expect on your practical driving test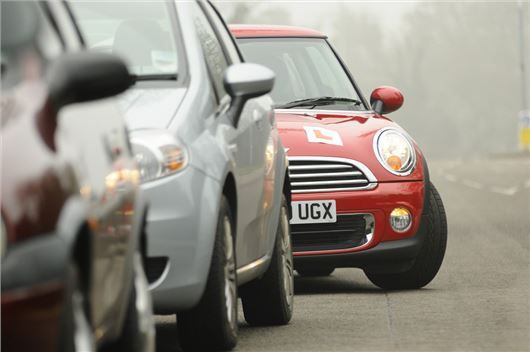 Published 06 July 2017
Obviously, everyone wants to pass their test first time round. You're rewarded with freedom and become extremely popular with your friends whenever they want a lift to town, but a lot of learners fail simply because they aren't prepared well enough.
We've compiled this guide to make things that little bit easier. It's also important to note that the test is set to change on 4 December 2017 - in an effort to introduce more real life scenarios - so we'll be going over the changes as well.
What to take
Before heading to the test centre, it's important to pack for the occasion. In this instance, you'll need your UK provisional driving licence and your theory test pass certificate. Remember, your test will be cancelled - and you won't get your money back - if you turn up without any of these things. And a car, obviously.
How long does the test last?
The test lasts about 40 minutes. At the start of the test there will be an eyesight check. You'll be asked to read a number plate from about 20 metres away. If you fail to read this correctly, you'll fail the test and it will immediately end.
Show me, tell me questions
Next you'll be asked to answer a couple of 'show me, tell me' questions. One 'show me' question, where you have to show the examiner how you'd carry out a check and one 'tell me' question, where you have to explain how you'd carry out the check.
These are to test that you know how to complete basic safety checks on the vehicle - inside the car, outside the car and under the bonnet. Some examples of what could be asked are as follows:
Show me how you would clean the windscreen using the windscreen washer and wipers.

Tell me how you would know if there was a problem with your anti-lock braking system.

Open the bonnet, identify where you would check the engine oil level and tell me how you would check that the engine has sufficient oil.
However, what can be asked and how it can be asked is changing slightly after 4 December 2017. The 'tell me' question will be asked at the start of your test, before you start driving, and the 'show me question will be asked while you're driving.
General driving ability
During your test, you'll drive in various road and traffic conditions, but not on motorways.
You'll be asked to pull over and pull away during your test. These may include normal stops at the side of the road, pulling out from behind a parked vehicle and hill starts. You might also be asked to carry out an emergency stop.
The important thing is safety, so much of what the examiner watches for is that you're aware of your surroundings and possible hazards. Not indicating to show other vehicles and pedestrians your intentions, or looking in your mirrors enough, could result in faults.
Independent driving
You'll have to drive for about 10 minutes by following traffic signs, verbal directions or a combination of both. You can't currently use a sat nav. You can ask the examiner to confirm the directions if you forget them.
Your test result won't be affected if you go off the route, unless you make a fault while doing it. The examiner will help you get back on the route if you take a wrong turn. 
After 4 December, this section is increasing to 20 minutes - or half the test time. Most candidates will also be asked to follow directions from a sat nav. The examiner will provide the sat nav and set it up. You won't need to set the route - the examiner will do this for you.
One in five driving tests won't use a sat nav. You'll need to follow traffic signs instead.
Faults
When you take your practical test, unless you drive perfectly, you'll probably get a few faults during your drive.
You can notch up a total of 15 minor faults before you fail the test. If you accrue serious and dangerous faults, you'll automatically fail the test, regardless of how well you drive otherwise. If other road users are affected, a minor driving fault can turn into a major one; you'll be given a dangerous driving fault only if the examiner or another road user has been forced to take evasive action. 
Reversing manoeuvres are also changing
After the 4 December, the reverse around a corner and turn-in-the-road manoeuvres will no longer be tested, but you should still be taught them by your instructor. Instead, you'll be asked to do one of three possible reversing manoeuvres.
These include: parallel parking at the side of the road, parking in a bay - either driving in and reversing out or reversing in and driving out or pulling up on the right-hand side of the road, reversing for two car lengths and re-joining the traffic.
Comments
Author

Georgia Petrie
Latest