January recall round up: locking transmissions, dangerous doors and sticking throttles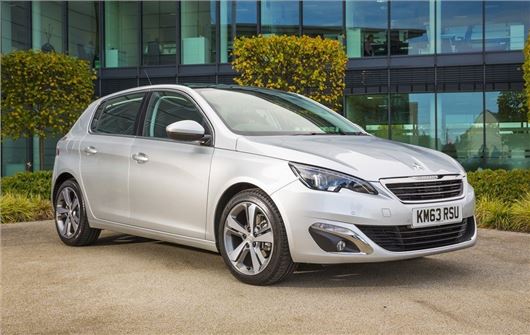 Published 19 February 2016
The Driver and Vehicle Standards Agency (DVSA) announced 58 recalls in January 2016 covering cars, commercial vehicles and motorcycles. We've rounded up all of the car-related problems below, which in January included doors that may open themselves, power loss, fire risks and stop/start faults.
Both the Peugeot 308 and Citroen C4 Picasso are being recalled because the door mechanism can fail, resulting in doors that cannot be opened, cannot be closed or that open themselves, depending on the situation. The recall affects just over 2000 308s and almost 3000 examples of the C4 Picasso.
Small numbers of Mercedes-Benz S-Class Hybrid, M-Class and ML-Class (we think MK-Class, as listed on the DVSA website, is a typo), are being recalled for a transmission fault that can cause the transmission to lock at low speeds. The S-Class and S-Class Coupe are also being recalled because the stop/start system may fail, meaning the engine may not restart.
Various Renault models, including the Kadjar and Megane, are being recalled because a vacuum pump can fail, resulting in the loss of brake servo assistance and a firm brake pedal. It's not just mainstream makers recalling cars though – owners of Caterham 620R models need to take them to a dealer to have a fault repaired that can cause the throttle to stick open when the engine is hot.
You can see the full list of January 2016 recalls below. Click the entries to see full details on the DVSA website. 
| | | | | |
| --- | --- | --- | --- | --- |
| Make | Model(s) | Concern | Build Start | Build End |
| PEUGEOT | 308 (T9) | doors may open unexpectedly | 11/09/2015 | 11/11/2015 |
| CITROEN | C4 Picasso (B78) | doors may open unexpectedly | 18/08/2015 | 20/11/2015 |
| MERCEDES BENZ | S Class Hybrid & M Class & MK Class GLE Hybrid | transmission may lock at low speed | 29/04/2015 | 15/07/2015 |
| MERCEDES BENZ | S Class Hybrid & M Class & MK Class GLE Hybrid | transmission may lock at low speed | 29/04/2015 | 15/07/2015 |
| MERCEDES BENZ | S Class Hybrid & M Class & MK Class GLE Hybrid | transmission may lock at low speed | 29/04/2015 | 15/07/2015 |
| MERCEDES BENZ | S Class Hybrid & M Class & MK Class GLE Hybrid | transmission may lock at low speed | 29/04/2015 | 15/07/2015 |
| TOYOTA | Avensis & Verso | loss of power | 24/10/2008 | 31/10/2008 |
| TOYOTA | Avensis & Verso | loss of power | 24/10/2008 | 31/10/2008 |
| TOYOTA | Avensis & Verso | loss of power | 24/10/2008 | 31/10/2008 |
| RENAULT | Kadjar, Mégane, Scenic, Trafic, (With R9M engine) Master (with 39T Engine) | engine power and/or braking efficiency may be affected |   |   |
| MERCEDES BENZ | S Class Coupe & S Class | stop start engine may not restart | 01/08/2012 | 31/08/2015 |
| RENAULT | Kadjar, Mégane, Scenic, Trafic, (With R9M engine) Master (with 39T Engine) | engine power and/or braking efficiency may be affected |   |   |
| MERCEDES BENZ | S Class Coupe & S Class | stop start engine may not restart | 01/08/2012 | 31/08/2015 |
| RENAULT | Kadjar, Mégane, Scenic, Trafic, (With R9M engine) Master (with 39T Engine) | engine power and/or braking efficiency may be affected |   |   |
| MERCEDES BENZ | S Class Coupe & S Class | stop start engine may not restart | 01/08/2012 | 31/08/2015 |
| MERCEDES BENZ | S Class Coupe & S Class | stop start engine may not restart | 01/08/2012 | 31/08/2015 |
| MERCEDES BENZ | S-Class & S Class coupe | auto stop/start may shutdown without warning | 14/08/2013 | 29/10/2015 |
| MERCEDES BENZ | S-Class & S Class coupe | auto stop/start may shutdown without warning | 08/05/2014 | 10/11/2015 |
| MERCEDES BENZ | S Class Coupe & S Class | stop start engine may not restart | 01/08/2012 | 31/08/2015 |
| RENAULT | Kadjar, Mégane, Scenic, Trafic, (With R9M engine) Master (with 39T Engine) | engine power and/or braking efficiency may be affected |   |   |
| RENAULT | Kadjar, Mégane, Scenic, Trafic, (With R9M engine) Master (with 39T Engine) | engine power and/or braking efficiency may be affected |   |   |
| ROLLS ROYCE | Phantom | side curtain airbags may not deploy correctly | 08/05/2015 | 30/09/2015 |
| VOLVO CAR | S80,S60,V60,V70, XC60 & XC70 | fuel guage may not show fuel level correctly | 24/11/2014 | 17/04/2015 |
| VOLVO CAR | S80,S60,V60,V70, XC60 & XC70 | fuel guage may not show fuel level correctly | 21/11/2014 | 16/04/2015 |
| VOLVO CAR | S80,S60,V60,V70, XC60 & XC70 | fuel guage may not show fuel level correctly | 21/11/2014 | 17/04/2015 |
| VOLVO CAR | S80,S60,V60,V70, XC60 & XC70 | fuel guage may not show fuel level correctly | 21/11/2014 | 17/04/2015 |
| VOLVO CAR | S80,S60,V60,V70, XC60 & XC70 | fuel guage may not show fuel level correctly | 21/11/2014 | 13/04/2015 |
| VOLVO CAR | S80,S60,V60,V70, XC60 & XC70 | fuel guage may not show fuel level correctly | 21/11/2014 | 20/04/2015 |
| CATERHAM CARS | Seven 620R | throttle may stick when engine is hot | 03/06/2013 | 27/06/2015 |
| MERCEDES BENZ | CLA, GLA, A-Class, B-Class, SLK, SLC, C-Class, E-Class & CLS | risk of fire | 28/10/2015 | 19/11/2015 |
| MERCEDES BENZ | CLA, GLA, A-Class, B-Class, SLK, SLC, C-Class, E-Class & CLS | risk of fire | 28/10/2015 | 19/11/2015 |
| MERCEDES BENZ | CLA, GLA, A-Class, B-Class, SLK, SLC, C-Class, E-Class & CLS | risk of fire | 28/10/2015 | 19/11/2015 |
| MERCEDES BENZ | CLA, GLA, A-Class, B-Class, SLK, SLC, C-Class, E-Class & CLS | risk of fire | 28/10/2015 | 19/11/2015 |
| MERCEDES BENZ | CLA, GLA, A-Class, B-Class, SLK, SLC, C-Class, E-Class & CLS | risk of fire | 28/10/2015 | 19/11/2015 |
| MERCEDES BENZ | CLA, GLA, A-Class, B-Class, SLK, SLC, C-Class, E-Class & CLS | risk of fire | 28/10/2015 | 19/11/2015 |
| MERCEDES BENZ | CLA, GLA, A-Class, B-Class, SLK, SLC, C-Class, E-Class & CLS | risk of fire | 28/10/2015 | 19/11/2015 |
| MERCEDES BENZ | CLA, GLA, A-Class, B-Class, SLK, SLC, C-Class, E-Class & CLS | risk of fire | 28/10/2015 | 19/11/2015 |
| MERCEDES BENZ | CLA, GLA, A-Class, B-Class, SLK, SLC, C-Class, E-Class & CLS | risk of fire | 28/10/2015 | 19/11/2015 |
| MITSUBISHI | Lancer Evolution X FQ440 | fuel may leak | 07/05/2014 | 03/07/2014 |
Comments
Author

John Slavin
Latest