UK makes £47,000 a minute from car exports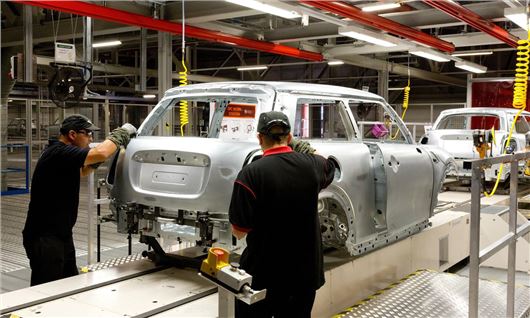 Published 11 June 2014
UK car export values have doubled in the past decade, up from £12 billion in 2004 to £24.8 billion in 2013 – meaning £47,000 is generated for the UK economy every minute by car exports. The UK car industry produced more than 1.5 million cars in 2013 and that figure is expected to pass 2 million in 2014.
On average the wholesale price of cars exported has risen from £10,200 to £20,640 since 2003, which is in part down to the increase in high quality models produced in the UK. Among the most popular cars exported from the UK are the MINI, the Range Rover Evoque and the Nissan Qashqai – but far more exclusive cars like the Rolls-Royce Phantom, McLaren P1 and Range Rover are also built here.
Mike Hawes, SMMT Chief Executive, said: "With booming production volumes and the increasing value of UK car manufacturing, we are enjoying healthy demand from both growing and established markets. We want this success to continue but urgently need more young people to join our industry, working in every area from design and engineering to manufacturing and retail."
Click to find out more about the UK's most in-demand export models.
Comments
Author

John Slavin
Latest