Renault launches 115g/km Eco2 diesel in an Scenic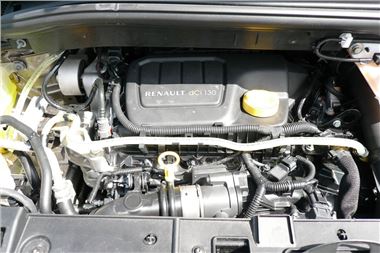 The EC declared war on tailpipe emissions rather than power station emissions. Already it has pulled the EU manufacturer average down to 140 grams per kilometre CO2 in its prescribed tests.
By 2020 it has decreed that this average has to fall to 95g/km. And from 2013 will be fining any manufacturer with a corporate average that exceeds 130g/km. By 2013 Renault confidently expects its average to be down to 120g/km. Partly through its Fluence, Kangoo, Zoe and Twizy electric cars and vans.
And partly through its new turbo diesel dCi and turbo petrol TCe engines. This new 1.6 chain cam 'Energy'' diesel is first of the breed. As well as 130PS it pumps out an impressive 230Nm torque, 80% of which is available from 1,500rpm. It's even flexible at low revs like a modern turbo petrol engine revs and, unlike VAG's belt cam 1.6 diesel, will run down to about 700rpm. It does this through a variety of technologies. It is 'undersquare': 80mm bore and 79.5mm stroke, which is unusual for a diesel engine.
As well as downsizing (and down weighting), it has a low pressure Exhaust Gas Recirculation system. This takes hot exhaust gases after they have passed through the diesel particulate filter, cools them, passes them back through the intercooler at relatively low pressure, then recombusts them at optimum temperature in the combustion chambers.
Multi injection that involves injecting fuel during the combustion process as well as before helps create the necessary temperature to regenerate the particulate filter, however the engine is being used. Renault uses Thermo Management to improve economy and reduce emissions immediately after cols starts by keeping the engine coolant in the cylinder head until it has got to temperature.
A thermo valve then opens the bore water jacked so coolant can circulate through the block and cabin heater. Then finally, when that all reaches optimum temperature, the coolant is allowed to circulate through the radiator. Additionally a Formula1 style water flow circuit is employed to ensure coolant is sent to all cylinder water jackets simultaneously so they are all cooled at the same rate.
A variable displacement oil pump is used to distribute oil throughout the engine more efficiently and thus absorb less energy. It provides maximum flow when the oil is thick at low temperatures, and minimum flow when the oil is at full engine running temperature.
Swirl flaps in the inlet manifold create a cyclone like effect in the combustion temperature leading to more efficient combustion at low temperatures, but at high temperatures the swirl needs to be reduced, helping to minimise CO2, nitrogen oxides and particulates.
Finally, Uflex piston rings, as used in F1 engines, are employed to reduce both lubrication oil and fuel consumption.
The Renault Scenic and Grand Scenic are now available to order with the new 1.6 dCi 130 Energy engine at £20,900 and £22,200 respectively in Dynamique TomTom, fully equipped spec with Carminat TomTom navigation.
Comments