Last Ever VW T2s Arrive in UK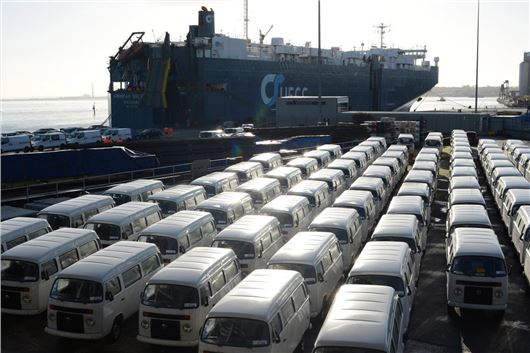 Published 09 January 2014
Killed off by South American safety legislation, production of the rear engined Volkswagen Type 2 ended in Brazil in December, Now the last ever batch of 99 for conversion into campers has arrived in the UK.
The 99 Type 2s were unloaded at the Port of Southampton before being transported to Bristol ready to be converted by Danbury MotorCaravans.
All the T2 Kombis are primered but unpainted shells, ready to be adapted for British roads at Danbury's factory in Yate, Bristol, where they will be converted to right-hand drive and have luxurious interiors installed.
Once the 99 T2s have been trimmed to customer specifications and sold, most as campers, Danbury will concentrate solely on the current front engined VW T5 Transporter for its camper conversions.
The new T5 'Danbury DoubleBack' features an electric slide out rear pod.
Visit the web site www.danburymotorcaravans.com for more information on this and also the last batch of new VW T2 Kombis ever imported with some vehicles still available. But be quick because they are selling fast.
More on the T2 and on Danburys conversions: VW T2 Car by Car entry
Comments
Author

Honest John
Latest