Britain's pothole 'plague' reaches crisis point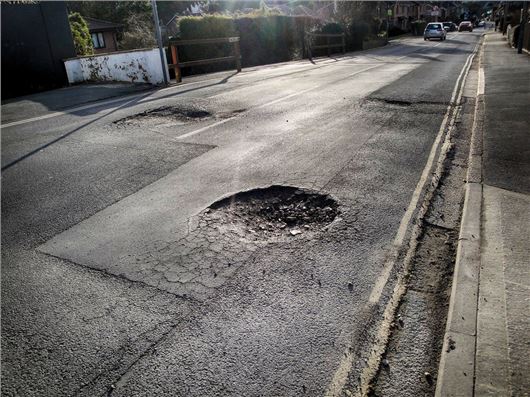 Published 11 October 2013
According to data obtained by Britannia Rescue under the Freedom of Information Act, the UK's roads are now affected by almost 200,000 potholes, or once for every mile of road in Great Britain. Following a series of colder, more snowy winters than average, the state of our roads had deteriorated rapidly, and local authorities are struggling to keep up.
In total, councils have received 32,600 compensation claims in the UK during the past financial year. These range from damaged wheel rims to puncturing tyres and broken suspension as a direct consequence of running on damaged roads. And if you're in Lincolnshire or West Sussex, you're most likely to be affected by pothole damage, judging by the compensation figures, also revealed by Britannia.
The shocking rise in complaints about potholes represents an increase of 79% from the previous financial year. This Local authorities in England, Wales and Scotland paid out a total of £2.5m in compensation for pothole or other road damage in the past financial year.
"We believe that a proportion of motoring taxes should be ring-fenced for the roads and then that sum that is ring-fenced has to be spent on road maintenance and fixing potholes"
- Edmund King, AA President
During the past 12 months, 9% of people say their car has been damaged as a result of poor road surfaces with the average repair costing £140. The most common problems are tyre damage (43%), damaged suspension (34%) and damaged wheel rims (26%). The epidemic is down to a lack of funding - less than 10% of the annual road tax bill is spent on road maintenance, leading to a short-term fix culture, with 23% of councils admitting they usually temporarily fix potholes.
The AA President, Edmund King is outraged by the explosion in pothole numbers. He said: 'We actually describe it as a plague of potholes out there. We've had three pretty bad winters that have deteriorated the roads and many of the local highway authorities just can't keep up. And it is a hazard to pedestrians and motorists and mostly to cyclists and motorcyclists where it really can be a matter of life or death.'
Peter Horton, Britannia Rescue Managing Director, added: 'Local authorities face difficult choices in the roads they prioritise for repair and we now have around 200,000 potholes on UK roads. Motorists should protect themselves and their vehicles by reducing their speed on potholed roads, and also reporting damaged roads to their local council.'
On the issue of government funding for pothole and road repairs, King added: 'We called upon the Chancellor in the spending review to actually allocate more money for road maintenance. So we believe that a proportion of motoring taxes should be ring-fenced for the roads and then that sum that is ring-fenced has to be spent on road maintenance and fixing potholes. It's the number one issue for drivers today.'
---
Top 10 areas for potholes in 2012-2013 (ranked by compensation paid out) *
| Rank | Council | How much the council paid out to drivers in compensation in 2012/2013* | Number of compensation claims for damage caused by poor roads in 2012/2013 |
| --- | --- | --- | --- |
| 1 | Lincolnshire County Council | £358,664.98 | 1,412 |
| 2 | West Sussex County Council | £195,043.50 | 454 |
| 3 | London Borough of Wandsworth | £148,881.00 | 115 |
| 4 | Surrey County Council | £144,336.00 | 2,249 |
| 5 | Cumbria County Council | £104,654.00 | 245 |
| 6 | East Sussex County Council | £99,883.02 | 1,308 |
| 7 | Hertfordshire County Council | £98,847.89 | 1,311 |
| 8 | Hampshire County Council | £70,800.01 | 845 |
| 9 | Leeds City Council | £65,509.00 | 675 |
| 10 | Warwickshire County Council | £55,561.00 | 437 |
Comments
Author

Keith Adams
Latest