Toyota Prius+ (2012) Review
Looking for a Toyota Prius+ (2012 on)?
Register your interest for later or request to be contacted by a dealer to talk through your options now.
Toyota Prius+ (2012) At A Glance
Fortunately, Toyota knows a thing or two about hybrids, so the Prius+ is pretty good at what it sets out to do. This means good economy, plenty of standard equipment and flexible seating for seven people. It's based on the previous-generation Prius, so it's certainly showing its age, but if you favour practicality over excitement, the Prius+ is worth a look. Because it's expensive when new, we'd recommend buying a used example.
Looking for a Toyota Prius+ (2012 on)?
Register your interest for later or request to be contacted by a dealer to talk through your options now.
Even in this age of electrification, seven-seat hybrid vehicles are thin on the ground. We could point you in the direction of the Lexus RX L, but you probably don't fancy spending the best part of £53,000 on a luxury SUV.
For now at least, the Toyota Prius+ is the best car in a class of one. The only seven-seat hybrid MPV you can buy. Given the dwindling popularity of the MPV, it's likely to be the sole occupant of this niche for a little while longer.
Because it's based on the previous-generation Toyota Prius, you need to ask yourself if you really need seven seats. If you don't, the current Toyota Prius or Toyota Corolla Touring Sports would make more sense. They're more efficient, nicer to live with and come with the latest tech.
Not that we're about to declare the Toyota Prius+ null and void in 2020. Although it's clearly on borrowed time, the 1.8-litre petrol-electric hybrid powertrain is smooth and relatively efficient, even if it can't live up to the optimistic fuel economy claims of when it was new in 2012. Up to 48mpg is respectable, but we'd recommend a diesel car if you spend most of your time on the motorway.
It's a good car for the city, where the excellent visibility, light steering and relaxed CVT transmission combine to make driving a stress-free experience. The CVT is frustrating and noisy once you're beyond the city limits, but adopt a relaxed driving style and it's perfectly adequate. It actually drives quite nicely – far better than you'd think.
Inside, the Prius+ offers seating for seven, although the third row is best reserved for children. Although it's possible to slide the middle row of seats forward to provide more room for people in the very back, the Prius+ works best as a '5+2' MPV. There's a huge amount of boot space available with the third row of seats folded down, while the luggage capacity is positively van-like with all five rear seats folded down.
The cabin itself is a little sombre, with the dashboard, doors and centre console finished in hard-wearing materials. It feels built to last, but you won't find any of the fancy materials you might see in a family car with a premium badge. A touchscreen infotainment system is standard across the range, but the display is small and dated.
Even the entry-level Icon model is well-equipped, but we'd recommend the more lavish Excel if you're buying a used Toyota Prius+. In fact, we wouldn't recommend buying a new Prius+. It's too expensive and suffers from steep depreciation. Insist on a big discount if you decide to buy an unregistered example.
Is it worth the money? Based on the sombre cabin, the old powertrain, dull styling and cramped third row, probably not. But if you're after a seven-seat hybrid MPV, this is your best and only option.
What do owners think of the Toyota Prius+ (2012)? Check out our
Owners' Reviews
from people who live with the car day in, day out.
Reviews for Toyota Prius+ (2012)'s top 3 rivals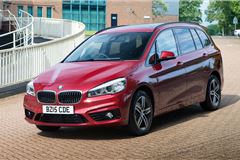 BMW 2 Series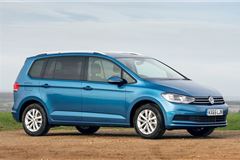 Volkswagen Touran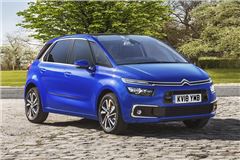 Citroen C4 SpaceTourer
Ask Honest John
Full Electric, petrol or a Hybrid but twith 7 seats
"A family member has a diesel Ford S-MAX. It's nearing time for a newer model and they require seven seats. They have always liked the Ford but London has begun discriminating against diesel. They cover around 12,000 miles per year with some milage inside London and frequent return trips to Maidstone. Occasional trips to Scotland too. What petrol, electric or hybrid seven-seater do you recommend?"
The Skoda Kodiaq is our seven-seater of choice. It's an SUV, available with 1.5- and 2.0-litre petrol engines. If your family member would prefer a people carrier like the S-MAX, we'd recommend a Toyota Prius+. It's a very reliable hybrid MPV. Also consider a petrol Citroen Grand C4 Spacetourer.
Can you recommend an efficient seven seater?
"Can you recommend a reasonably efficient, petrol, seven seater? I have about £12,000 - £13,000 to spend. Thanks."
Have you considered a hybrid? The Toyota Prius+ will be very efficient (officially returning a combined 68.9mpg in the old NEDC fuel economy tests) and ought to be very reliable, too. Alternatively, if you'd prefer a conventional petrol, we'd recommend a BMW 218i Gran Tourer. It uses a very characterful (and efficient) 1.5-litre petrol engine. This officially returns 51.4mpg. Check out Real MPG for an idea of real-world economy: https://www.honestjohn.co.uk/real-mpg/
I want to buy a car to use as a taxi, what's the best option?
"I'm looking to purchase a Mitsubishi Outlander PHEV with 120,000 mileage to use as an Uber vehicle. Please advise if it's a good option. It's that or a Nissan X-Trail diesel. Thanks."
Do what all the professional Uber drivers do and buy a Toyota Prius. They're very reliable and cheap to run. You can get a Prius+ if you'd like more space.
Could you suggest a car to purchase for a taxi?
"Can you please advise on what would be a suitable used car to purchase for a taxi (in Dorset)? Our budget is £10,000. We would need an automatic and would be most grateful for your advice."
As you're based in Dorset, I'm presuming you won't be covering many motorway miles. With that in mind, a hybrid probably makes the most sense. A Toyota Prius or Auris would be a good purchase. There's the Prius+ too, if you'd like a bit more space. Alternatively, consider a Lexus CT 200h if you'd like something a bit more upmarket. They're all extremely reliable cars with low running costs - hence their popularity with taxi drivers.
What does a Toyota Prius+ (2012) cost?
See also