Mazda 3 (2009–2013)
Last updated 11 April 2017
Stylish looks. Excellent steering and handling. Good quality interior. Impressive 2.2-litre chain cam diesel engine. Facelifted for 2012 and even better.
Slightly less spacious inside than old Mazda 3. 1.6 petrol gives ordinary performance. Lot of injector problems occurring with Ford 1.6 turbodiesel.
Updated 16 December 2016
Continuing problems reported with Ford engined Mazda 3 1.6TD (25-10-2016). Limp home again. New fault code "P2453 - Diesel Particulate Filter Differential Pressure Sensor Circuit". Dealer has sent injectors...
Introduction
Development of the Mazda 3 and the Ford Focus always went hand in glove. They share engines, suspension and steering, though not mutually inclusively. Sometimes Ford has been ahead with one component. Sometimes Mazda. What can't be denied is that both cars have been steadily improved. And now, for the new Mazda 3, it's Mazda's turn to be first with the upgraded suspension.
Upfront, the mounting span is increased by 20mm, a stronger crossmember tower has been introduced, the cross arm made thicker and the crossmember bushing optimised for better lateral rigidity. Round the back the multilink 'control blade' suspension has acquired a stronger centre member.
The result is a car that not only rides better, but also steers and handles better than it did before. Better, even, than my Focus III ECOnetic, which I reckon previously set the standard. And vastly better than the Golf Mk IV, particularly in the steering department.
Mazda talked a lot about styling, and while you may have your own opinion about the smiley new front, I think most eyes will be pleased with the profile of the hatch, the rear end of which remains unmistakably Mazda 3. The slightly more rigid, more aerodynamic saloon isn't quite as rumptious, but it's fine in profile.
Mazda 3 2009 Road Test and Video
Mazda 3 MPS 2010 Road Test and Video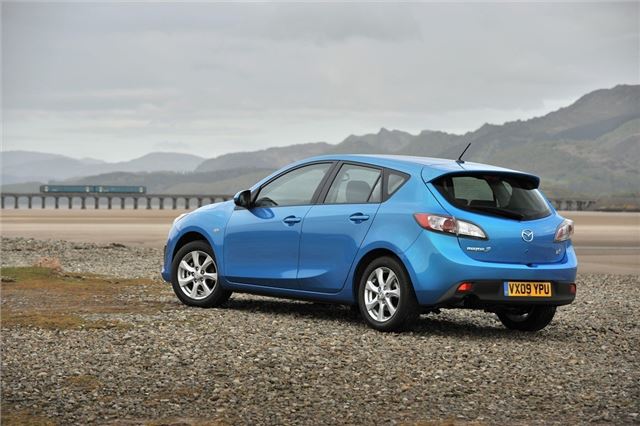 Owners' reviews
Great fun car to drive, lots of extra's and pretty good fuel economy
Suitably impressed so far, but the year is still young.
A potentially good car with reliability failings and very bad dealer experience over nearly 19 years.
Better than we thought it would be
Excellent, enjoyable drive, totally reliable, well equipped and comfortable