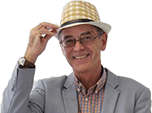 Peugeot 2008 2013 Road Test

Like the Nissan Qashqai before it, the Nissan Juke created a new niche and then had a good run with the market to itself. Those days are now over and this is the latest competition: the Peugeot 2008. It goes on sale in the same month as the Renault Captur and Chevrolet Trax and is a chunky small car aimed at growing families who don't yet need a large-footprint MPVs, but want a funky multi-talented high-riding car.
Being a newbie in this increasingly crowded space means the Peugeot 2008 is going to have to be a bit special. The good news is that the 208-based 2008 is a striking looking car, which should pull in the existing Peugeot customers looking for a larger, more useful supermini, but it needs to be up against some strong alternatives.
The Renault Captur is probably the 2008's sternest rival. But the two cars are very different propositions, even if they are fighting for the same buyers. The 2008 looks classier inside and out, and has limited off-road abilty thanks to its electronic grip control system, available on 1.6-litre models. But it's also far less configurable than the oh-so cool Renault.
Peugeot hasn't released full UK pricing details yet, but the 2008 is expected to cost between £12,995 and £18,995 when it goes on sale during summer 2013. This equates to around an £800 price premium over the 208 model on model, but for that additonal outlay, you're getting what appears to be a far more substantial-looking car. The 2008 will be available in four trim levels, with Peugeot expecting the more luxurious Allure and Feline models taking the lion's share of the sales.
The 2008 is closely related to the 208, and it's also lightweight in construction, with kerbweights from 1045kg. The wheelbase of the two cars are shared, but the 2008's overhangs are longer for a larger boot - it's 360 litres seats-up, and 1194 litres with the rears folded. It is 96mm taller, 25mm wider, has 162mm more ground clearance for more headroom and easier entry and exit.
Inside, the 2008 looks good. Trim and colour combinations are classy and muted, and the low-line dashboard is stylish. In top-of-the-range Allure specification, it comes across as a compact luxury car, and we love the mood lighting, with Rolls-Royce-style LED-lit headlining. The way the instrument surrounds illuminate is also striking and pretty. The interior lacks useful cubby holes that you'd reasonably expect on a vehicle like this, the A-post is bulky and obstructs your view, and the weirdly shaped handbrake takes some time to get used to. Also, the grained plastics might look good, but they do lack solidity.
The driving position is commanding, and forward visibility is excellent. And we like the opera-style seating at the rear - anyone in the back sits higher and enjoys great visibility and acres of headroom. Sadly, the legroom isn't generous for six-footers sat behind other six-footers - and in a crossover like this, it would be nice to see adjustable rear seats, which aren't available in any of the models.
Standard equipment levels are high, with automatic headlamps and wipers, and fully-featured infotainment system. The options list is predictably long, but in an era of personalisation, it's to be expected - you'll pay extra for leather, big wheels, panoramic roof, parking assist and Peugeot Connect - but none of these come at too high a price, although they'll stack up if you get too free and easy ticking boxes.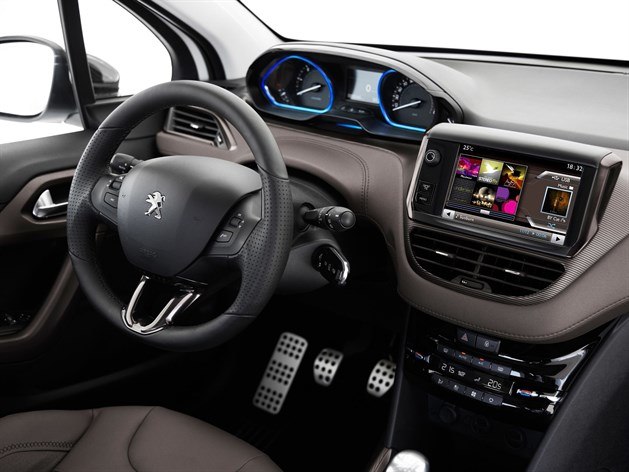 On the road, your first impressions will be clouded by the small wheel and light and feel-less electrically-power assisted steering. We drove the car over a mix of motorways, city and mountainous B-roads, and it was reasonably composed and moderately fun in all situations. The ride quality is good on typical road surfaces, and the body and interior feel solid on rougher surfaces. In corners, there is some body-roll, but the damping is controlled, so the 2008 never gets scruffy in corners.
We tried four different drivetrains, and they were a mix of excellent, characterful and disappointing, depending on which version you go for. The line-up reflects that in the 208, so there is a pair of 1.6-litre diesels, and a smaller 1.4-litre oil-burner, as well as a 1.2-litre, three-cylinder petrol, and a 1.6-litre four pot shared with the MINI. Peugeot anticipates that the 1.6-litre 92PS diesel will take the majority of sales, although with the burgeoning popularity of small, high-efficiency petrols, the 1.2-litre will prove a popular choice, especially when the turbocharged version comes on stream later in 2013.
The 1.2-litre petrol model pushes out 80PS, and you might be forgiven for thinking that it wouldn't go that well. Its claimed 0-62mph time is 13.5 seconds, and its maximum speed is 105mph, which don't sound that impressive, but the numbers belie how perky it feels on the road. It spins up characterfully in a way that most three-pots manage, but retains its smoothness to the red line, meaning you don't mind working it hard to keep up with the flow. Some would say it was a little on the loud side, but we liked its eager nature. And being a lighter engine, meant that the 1.2-litre 2008 felt lighter on its feet.
Curiously, the 120PS 1.6-litre petrol engine was less impressive. We know it's a more than capable power unit in the MINI Cooper, but in the 2008, it's undergeared, sounds unrefined, and is far too busy on the motorway. A six-speed 'box would certainly improve it. The 1.6 also doesn't feel significantly quicker than the 1.2, despite a claimed 0-62mph time of 9.5 seconds and a maximum speed speed of 122mph. The turbocharged triple can't come quickly enough in our opinion.
But in reality, it's the diesel models where most of the action will be. You're offered a choice of two HDI engines and three power outputs - 1.4-litres and 70PS; and 1.6-litres with 92 and 115PS. The entry-level model is capable, and offers acceptable performance thanks to the 2008's lightweight construction, but given that the 92PS e-HDI 1.6 is far more effortless to drive, puts out 98g/km to become the cleanest model in the range, and is the most economical with a combined fuel consumption figure of 74.3mpg, it's worth spending the extra to go for the larger engine.
But the higher powered 115PS e-HDI is the best of the bunch. It's the most refined, and the best all-rounder in the range, and with standard stop-and-start, delivers 105g/km and 70.6mpg combined. But it's the additional muscle that makes it the most appealing - you don't need to work so hard to get up to speed. It also comes with a standard six-speed gearbox, which makes it a far more restful motorway cruiser. And it's this alone that justifies its £600 premium over the 92PS diesel.
Does the 2008 have what it takes to see off the Captur or Juke? We'll have to wait and see until we drive them back to back on British roads, but what we do know is that the 2008 is a likeable addition to the B-segment crossover market, and an appealing upward option for existing Peugeot supermini owners looking to trade-up, without going for something too much larger. In its favour, the drivetrains aren't bad; diesels are excellent, and the 1.2-litre is characterful. But it does score well for its interior, which is classy to look at, has some very appealing trim packages, and is roomy.
The 2008 solid performer. And in answer to our original question, it's a good looking car that should do well with existing Peugeot customers. As for stealing other makers' buyers: It's good, but not great, so it might find that task a little beyond its reach.