Subaru Legacy (2008 - 2014)
Last updated 30 March 2016

Big, solid, honest, comfortable, fine handling and very economical four wheel drive chain-cam diesel estate car, sensibly priced. Unique.
Just a little bit old fashioned. Early cars had DPF problems.
Updated 2 November 2015
Boxer diesel engine of 2009 Subaru Legacy seized at 90,000 miles despite a full service history. Quoted £6,000 for replacement short engine or £12,000 for a full engine which, of course, is considerably...
Introduction
Subaru enthusiasts, pony club members, and anyone living up a muddy lane or above the snow line had been clamouring for this for years. Subaru now expects to sell 85% of Legacy Sport Tourers and 95% of Outbacks with its new 'Boxer' diesel engine.
And so it came to pass, nine years after the Subaru engineers were given the green light to produce the world's first boxer diesel-powered engine, here it is.
Obviously we're not going to be dishing any awards for cutting-edge industry initiatives here, but that's another issue. The key question is whether it's all been worth the epic gestation?
The short answer is yes. Any engine which can pull the architecture of a not-so-inconsequential-sized estate car to a top speed of 126 mph while powering all four of its wheels and still boast nearly 50mpg is surely be worthy of a positive reception.
And if those facts weren't impressive enough, then take the starting prices: a smidgen under £20k will buy the surprisingly well-equipped Legacy TD, or the same entry-level Outback for £21,495.
Subaru Legacy Diesel 2008 Road Test
Next: Model History
Share this

Tweet
Owners' Reviews

Great Car - Shame about the poor engne development!
On 22 December 2014

When running brilliant, unfortunately so many expensive repairs had to be written off.
On 10 November 2014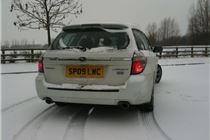 Just goes! Whatever the weather!
On 5 April 2013
Buy a Subaru Legacy from £5,250