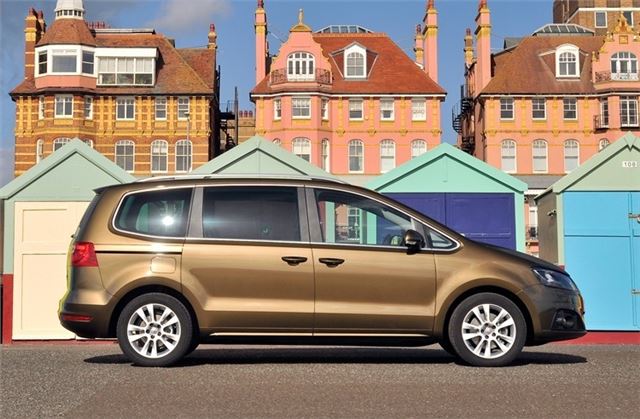 What's Good
Measuring 4,854mm the new 2010 SEAT Alhambra is 220mm longer than its predecessor, while it is also wider by 92mm and 12mm lower.  
Length: 4,854 mm (15' 11"), Width (not including mirrors): 1,904 mm (6' 3"), Height: 1,720 mm (5' 8").
There's plenty of room for adults to sit comfortably, even in the third row, while the large sliding doors (with optional electric operation) allow especially easy entry. Luggage space is more than generous, too.  When configured as a five-seater the new SEAT has 885 litres of load space available, which grows to a cavernous maximum of 2,297 litres if only the front two seats are in use.
Central to the new car's development has been the intelligent and extremely versatile seating concept - the new Alhambra comes with seating for five, six or seven.  Unlike its predecessor if more storage room is called for the second and third-row seats need no longer be removed; instead, they can be sunk easily into the vehicle floor using the "Easy-Fold" system.
The middle row seats can also be arranged longitudinally, with integrated child seats available as an option. Meanwhile the seating position of both the driver and front seat passenger combines the best visibility with a sporty feel and ideal ergonomics.
With its arrow-shaped bonnet, hallmark grille and distinctive front skirt continuing the Arrow Design, the new Alhambra clearly displays its SEAT DNA.  The sleek side profile shows great technical precision, with the sliding doors perfectly integrated.  The muscular spoiler on the rear edge of the roof, the low-reaching rear hatch and the expansive light clusters dominate the rear end.
Beneath its attractive skin, the Alhambra is new in every detail and equipped with state-of-the-art technology throughout.  First and foremost there's the new engine line-up, where the TSI and both TDI power units are equipped with direct fuel injection and turbocharging.  The TSI unit delivers 150 PS, while the two TDI engines offer 140 PS and 170 PS.  Further efficiency measures fitted as standard include a Start-Stop system and brake energy recovery technology.  These guarantee refined pulling power alongside exceptional economy.
With an average fuel consumption of more than 51 mpg and CO2 emissions of just 143 g/km, the 140 PS SEAT Alhambra 2.0 TDI sets a clear benchmark in its class.  The Alhambra TDI is also equipped with an SCR catalytic converter (Selective Catalytic Reduction), making the diesel model one of the world's cleanest MPVs.
Just like the TSI and TDI engines, the optional DSG dual-clutch transmission delivers a perfect combination of sporting character, comfort and efficiency.  But it's the range of state-of-the-art and innovative technologies offered as optional equipment on the new Alhambra that really stand out.  Among the highlights are the SEAT's bi-xenon headlamps with adaptive control and new full beam assistant.  In this system, a sensor detects oncoming vehicles and automatically dips the beam.
Also new is the park/steer assistant, which autonomously manoeuvres the Alhambra into tight parking spaces. A rear view camera delivers an image of the world behind the vehicle while the optional panorama sliding roof has an opening that is 300% larger than a conventional sunroof.  The new car's optional three-zone Climatronic ensures an optimum temperature in all seats while electric motors simplify the operation of the sliding doors and rear hatch.
Standard safety equipment is already well above the industry average.  In the new Alhambra it encompasses seven airbags, including a driver-side knee airbag, and electric child locks on the rear doors.  Also standard are ABS and ESP, including electronic braking assistant, trailer stabilisation and tyre pressure monitoring display.
02-11-10: Fresh from the wheels up, and proving beyond doubt that practical full-size MPVs do not have to be lacklustre to look at, the new Alhambra once again places SEAT at the head of the people carrier class. The largest car SEAT has yet made at more than 4.8 metres stem to stern, the Alhambra also becomes the Spaniards' most luxurious and technologically advanced offering with a raft of clever and important new features that showcase the firm's formidable technical expertise.
Styled by SEAT design boss Luc Donckerwolke and his team in Martorell, today's Alhambra shows how sporty, dynamic and engaging it's possible to make a modern seven-seater with, in particular, SEAT's trademark 'Arrow Design' nose adding a sense of purposeful style to proceedings. That svelte shape also contributes in no small part to the SEAT's exceptional Cd figure of just 0.299, making it one of the most aerodynamic vehicles in its class.
Further back, the car's capacious new shell sports arguably the most obvious distinction between this and previous vehicle to wear the 'Alhambra' badge - two sliding rear doors which significantly improve practicality. Inside, seven individual seats can accommodate seven adults in genuine comfort with even third row occupants benefiting from generous knee and headroom. Today's Alhambra does away with the old-style individually removable seating concept in favour of a clever new fold-flat system that sees all five second- and third-row seats pivot into the car's floor at the simple tug of a lever.
Access to those third row seats, in particular, is now a cinch thanks to the debut of the easy entry slide and tilt second row seats. You want space? Alhambra's got space. Up to a massive 2,297 litres of it, to be precise. While even in five-seat form (with just the third row folded) there's as much as 1,167 litres of load bay on offer. Needless to say, storage around the cabin is typically generous, too, as a profusion of cupholders, tray tables, cubbies and pockets easily swallows the detritus that goes along with family outings.
Beneath the graceful bonnet of the front-wheel drive Alhambra lie a variety of modern engine and transmission options. The counterpoint to one of two top notch EU V-compliant 2.0-litre common rail turbodiesels, of 140 PS or 170PS denomination, is an especially capable 1.4-litre TSI turbocharged direct injection 150 PS petrol powerplant.
Depending on trim level, all three are offered with either a precise six-speed manual or sporty yet flexible six-speed DSG (Direct Shift Gearbox). The result is a seven-seater capable of covering the 0-62 mph sprint in just 9.5 seconds (2.0 TDI CR 170 PS manual) and topping out at 130 mph (2.0 TDI CR 170 PS manual).
At launch, all Alhambras boast some of SEAT's most important eco-minded Ecomotive technologies including Stop/Start and Brake Energy Recovery. Thus, all Alhambras are badged Ecomotive while the 2.0 TDI CR 140 PS manual grabs the honour of being badged E Ecomotive thanks to its range-best CO2 emissions of just 146 g/km. Economy, as you might expect of such a slippery and carefully engineered vehicle, is laudable, too, with as much as 50.4 mpg available on the combined cycle (2.0 TDI CR 140 PS manual).
Available in showrooms nationwide from 2nd November 2011 the new SEAT Alhambra is, then, both a practical and luxurious MPV and, with prices starting from £22,330 RRP, it maintains SEAT's reputation for exceptional value.
25-11-10: 5-STAR EURO NCAP RATING: 96% Adult Protection; 80% Child Protection; 46% Pedestrian Protection; 71% Safety Assist. (96% is an excellent score in the most important category.)
01-03-11: Public debut at the 2011 Geneva Motor Show of new Alhambra 4WD. Offered with a 140 PS 2.0 TDI and six-speed manual transmission, adds a new range of travel possibilities for families, leisure and business drivers. On sale from Summer 2011 but not for the UK market
12-05-12: Diesel Car magazine 'MPV of the Year' for the second time in a row. Further accolades from What Car? Carbuyer.co.uk, Auto Express, Fleet World and Fleet News - all of which named the Alhambra their MPV of the year.
SEAT Alhambra 2010 Road Test and Video