Mercedes-Benz C-Class (2007 - 2014)
Last updated 31 October 2014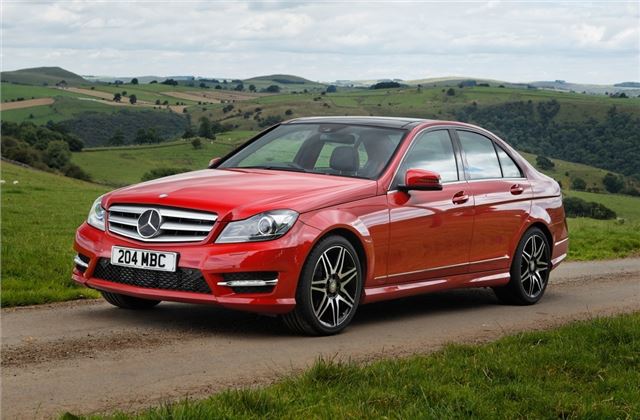 What's good
Euro NCAP 5 stars passenger protection, 3 stars child passenger protection, 2 stars pedestrian protection.
On post 2012 facelift C-Class the COMAND satnav accepts seven figure postcodes.
What to watch out for
The original Comand system satnav did not take a full UK postcodes.
Complaint of noisy electric folding mirrors.
Criticism of the brightness of the instrument display on the 2012 facelift model.
Serious issues with piezo injectors of 220 CDIs cracking in later 2009. Many cars off the road for extended periods. Supply problems of replacement injectors, apparently made in Malaysia.
4-2-2011: Seems to be a widespread problem with automatic transmissions. MB is instructing dealers to replace the transmission valve control body, but there is a shortage of parts.
2-3-2011: Battery drains over about 2 weeks seems to be a problem.
27-8-2011: Problem of premature wear of timing chain sprocket for balancer shaft of M272 and M273 V6 petrol engines. Mercedes Star bulletin about this. Big job. Can cost £4,000.
20-5-2012: Several reports of brown stains appearing on alloy wheels of C-Class at 2 - 3 years old.
22-5-2012: Paint problem after 4 years on front and rear bumpers of solid red painted examples.
23-5-2012: Yet another complaint of corroded alloys. Cou,d be that rusting of the steel wheel bolts is what causes the brown stains. Corroded wheel bolts is quite an old complaint, previously not thought significant enough to record.
16-7-2012: C350 has propensity to blow 477 H7 dipped beam bulbs.
7-9-2012: J ust after the 3 year warranty had expired, the steering column of a 2008 C220CDI had to be removed for worn or faulty 'bushes' to be replaced. MB met 95% of the £700 cost, most of which was labour. Automatic tranmission recently began sticking in 3rd gear and juddering or lurching at low speed. Repaired at a cost of £396.
14-9-2012: Strange problem of indicators flashing the wrong side. Might be due to moisture ingress to one of the side repeaters.
19-4-2013: Uresolved dashboard rattle irritating some owners. Apparently MB is aware and is developing a kit to fix it?
31-10-2013: Sticking gearchange on 3 year old C250 Blue Efficiency CGI estate automatic turned out to be the torque converter, which was replaced under warranty.
2-12-2013: Report of MoT Advisory for rusting brake piped on 45k mile November 2007/57 C220 CDI.
13-12-2013: Plastic interior door handles of W204 C Class seem to be breaking regularly. The first to fail is the drivers because it is the most used. Because these are an integral part of the door panel and not available separately, the cost to replace is £374 (inc VAT), plus fitting. Up to 75% is offered in 'Goodwill' in Germany. Nothing so far in the UK.
29-12-2013: Glycol contamination of automatic transmission fluid via the transmission heat exchanger can still sometimes occur, necessitatiing a new radiator and heat exchanger and flushing out and changing of ATF.
30-4-2014: Rusted brake pipes reported on 2007 Mercedes W204 C320, replaced at 45k miles, then at 66k miles paint on rear wheelarches flaked off and surface corrosion set in (see photo).
26-8-2014: Another injector failure reported on 2011 S204 Mercedes C220 CDI Blue Efficiency.
31-8-2014: Oil pump failure reported on 126k mile 2007 Mercedes C220 CDI.
31-10-2014: On Mercedes C220 CDi Sport Blue Efficiency, engine "locked up" at 28,000 miles, 3 months out of warranty. Had previously needed replacement piezo injectors, but because it has been serviced by an independent, MB denied any responsibility.
Recalls
13-10-2010: MB is recalling around 85,000 Mercedes Benz C- and E-class models in the US to fix a problem with power steering systems, the US traffic authority NHTSA said. MB told Agence France Presse that the recall is likely to be extended to other countries. The NHTSA added that a problem with the steering system's pump could lead to a loss of fluid leading to a loss of power assistance when parking. Daimler stressed that drivers retained control of the car even in the event of a power steering failure. MB said it will fix the problem in 2010 and 2011 models this month by re-tightening a faulty fitting.
07-01-2011: Diesel ML, C, E, S and R class: Fuel may leak. VIN from WDC1641211A626833 to WDD2183232A000277
26-01-2012: Diesel C Class , CLS Class, E Class, S Class, R Class, G Class, GLK Class and GL class: Fuel may leak. VIN from WDD2210261A374759 to WDD2210262A395344
26-01-2012: Diesel C Class , CLS Class, E Class, S Class, R Class, G Class, GLK Class and GL class: Fuel may leak. VIN from WDD2040011A512447 to WDD2043032F646730
1-3-2012. Alerted to Urgent Safety Recall for Mercedes Benz diesels. This relates to a possible diesel fuel leak which may develop at the fuel filter assembly. The dealer will replace the fuel filter.
21-1-2014: Heard of TSB to replace the Piezo electric injectors of 2.1 litre 250CDIs if customers complain of engine malfunction light coming on. Goes back to at least 2010 W204 C-Class.
30-4-2014: Just-Auto reports that Mercedes-Benz USA, is recalling 252,867 model year 2008-2011 C300, C300 4Matic, C350, and C63 AMGs built from 26 January 2007, to 13 July 2011. A poor electrical ground connection may result in the dimming or failure of the tail lights. MB USA is notifying owners. Dealers will replace the bulb holders if not previously updated and replace any corroded connectors, free of charge. Parts are not currently available. Owners will be sent an interim notification in June. A second letter will be mailed when parts are available, currently expected to be in August or September. Owners may contact Mercedes.
Back: Model History
Next: Driving
Share this

Tweet
Similar Reviews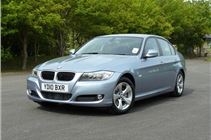 BMW 3 Series E90 2005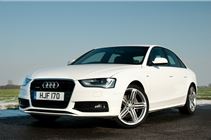 Audi A4 2008
Lexus IS 2005
Owners' Reviews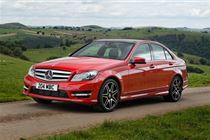 Mechanically robust, engine with DPF very demanding, a lot minor but very annoying problems (cracks on artificial leather seats, problems with rear lights, unrefined manual transmission)
On 28 August 2014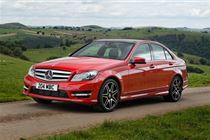 This is the best all-round performer I have ever had.
On 17 July 2014