Featured review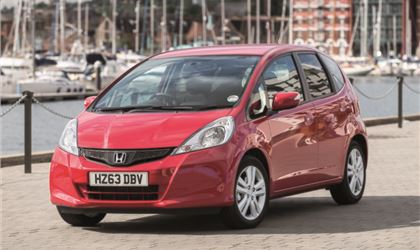 reviewed by Anonymous on 29 November 2021
4
Tax/Insurance/Warranty costs
5
Cost of maintenance and repairs
4
Experience at the dealership
4
How you rate the manufacturer
A wonderfully versatile car that's easy to live with, but lacking in engine flexibility.
Having owned my Jazz for 2.5 years now (coming up from a 2001 Toyota Yaris as my first car), the Jazz has almost converted me into liking Hondas more than Toyotas, so it must be doing something right! Overall this has been a very good car for me, with a logically-designed interior, an insane amount of space in a car the same length as a current Ford Fiesta, and very low running costs, however the 2nd-Gen Jazz does have some strange engineering decisions that do detract from the car's all-round usability.

Inside, the interior feels very thoughtfully designed, with features such as the electric mirror controls and climate controls placed near to the steering wheel, making them easy to reach practically without taking your hands off the wheel. The stereo has a nice basic CD player and aux-input (no complex touchscreens here), and the sound quality is perfectly adequate for everyday music listening. It's the little practicality touches that really impress, though - the door bins are huge, there's two gloveboxes, the cupholder divider can be removed to turn the area into a large cubby and the back seats feature the genuinely useful "magic seats". The boot is huge for a car of this size, and usefully square in shape, with the back seats folding completely flat - a godsend for transporting numerous boxes when moving house as I've done numerous times while owning this car!

On the road, however, are where my main complaints with this car lie. While the manual gearbox has a lovely, slick throw action, the clutch is infuriating, with a long travel and an insanely high bite point, making stop-start traffic a chore. Not helping matters is the complete lack of torque below about 2,500 to 3,000rpm (depending on when the i-vtec changeover happens), which combined means you can almost stall the car if you simply try to set off with a reasonable amount of revs. The gear ratios from 1 to 4 are strangely long, but gear 5 is oddly short - at 70mph the engine's at over 3,500rpm and quite noisy. Thankfully at motorway speeds the ride, while jittery at low speeds, does settle down to make the Jazz a surprisingly comfortable car for longer journeys...at least in the ride department. I have quite long legs, and there simply isn't enough leg-space in the front footwell, causing leg aches after less than an hour of driving.

Despite these annoyances though, there's a lot to like about the Jazz. As well as the previously mentioned positives, it gets a very impressive real-world 50mpg combined, V.E.D tax is a fairly low £125 per year, and mechanically it hasn't put a foot wrong during my ownership period. If you do mostly short journeys but need good space in a simple, small and reliable package, the 2nd-Gen Jazz is an excellent choice.
Top 5 most reviewed models
Top 5 best reviewed models
Write your review
Just reviewed...