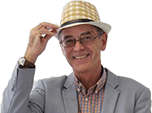 Top 10: Large estates for £25,000
The estate has been somewhat forgotten in the rush for SUVs and crossovers but there are still plenty of options if you've got around £25,000 to spend. Here is our run-down of the best.

7


Toyota Corolla Touring Sports
With up to 598 litres of luggage space with the rear seats left up (depending on spec), the Toyota Corolla Touring Sports isn't the most practical estate car to feature here. It'll be reliable and cheap to run, though, and our £25,000 budget will almost stretch to a 1.8-litre hybrid in Icon trim.
Comments