Volvo V60 Cross Country 2019 Road Test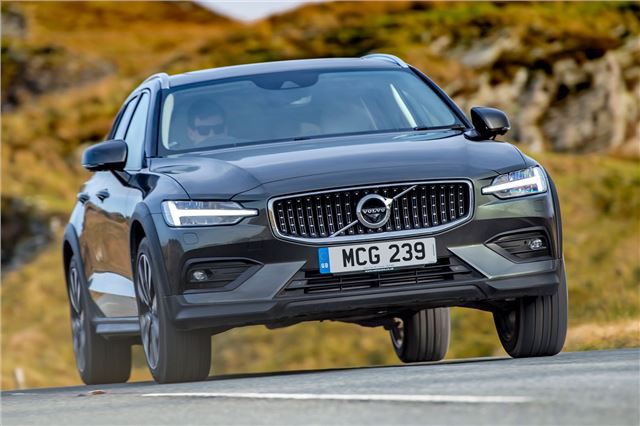 In a world obsessed with SUVs, the four-wheel-drive estate car is in danger of becoming extinct with both Audi and Subaru moving away from rugged estates towards SUVs. That leaves the Volvo V60 Cross Country almost in a premium class of its own.
Volvo could easily concentrate its efforts on its SUV range. The XC40, XC60 and XC90 are all flying off the shelves - deservedly - but they're not for everyone. There's still a small group of people who'd prefer the practicality and understated looks of an estate model, but need the ability to transverse the occasional field or tackle a rural road in bad weather.
Enter the V60 Cross Country. Based on the standard V60 in entry-level Momentum trim, the Cross Country sits 60mm higher and comes with four-wheel-drive as standard. There are the usual aesthetic upgrades, too - black plastic wheelarch mouldings and the like. Unique 18-inch alloy wheels are bespoke to the Cross Country while, for the time being, the V60 Cross Country is only available with the D4 diesel engine and eight-speed automatic gearbox. A petrol T5 model is expected later in the year.
Few people will find the D4 lacking, though. It's a grunty engine, with plenty of torque - ideal for those off-road excursions. It's fractionally slower than the front-wheel-drive model with the same engine (8.2 seconds to 62mph compared to 7.9 seconds), but it's comfortably potent enough for joining motorways and overtaking traffic on rural roads. You can tell it's a diesel, with that distinctive grumble during acceleration, but it's no less refined than you'd expect from a premium car.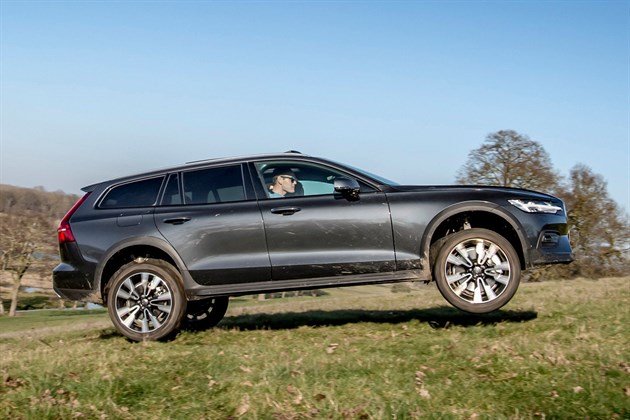 The automatic gearbox can be a little hesitant at times and the slightly vague steering of the standard V60 is amplified in the Cross Country, but we'd happily live with both of these issues in return for the jacked-up estate's excellent ride quality. It's quite possibly the perfect car for UK roads, soaking up lumps and bumps without being overly wafty.
As well as the usual V60 driving modes (Comfort, Eco, Dynamic and Individual), the Cross Country also features an Off Road mode. This operates at up to 25mph tweaking engine responses to aid progress in slippery conditions. We tried the Cross Country on a private off road course and were impressed at how difficult it is to lose traction - it'd feel unstoppable in the snow. We even managed to jump it over an obstacle without any complaints from the car. It's easy to see why rugged Volvos are popular with the police.
If you're expecting the interior to be full of tacky reminders that you're driving a lifestyle vehicle, you might be disappointed. It's largely the same as the standard car. That suits us, though - it's a lovely, minimalist interior that can be specified with some interesting colour and trim combinations.
The large, portrait infotainment screen in the centre of dash is the same as that used across the Volvo range. It's easy and intuitive to use thanks to its tablet-like pinch/zoom/swipe functionality although - annoyingly - Apple CarPlay and Android Auto are a £300 optional extra. A 12.3-inch driver's information display replaces the conventional dials behind the steering wheel.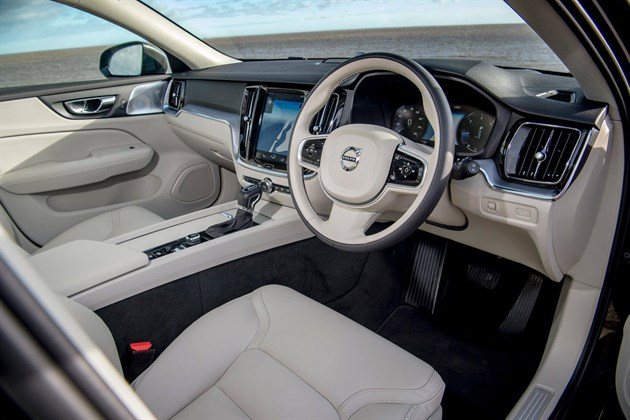 The driver's seating position is excellent. Volvo's seats are known for their comfort, and you could easily spend a long period of time in the Cross Country without suffering any great aches or pains. The lack of electric seat adjustment is one of a handful of reminders that the Cross Country is based on the entry-level model, but it can be specified for an extra £600.
The four-wheel-drive system doesn't hinder interior space at all, so you get the same large 529-litre boot as the standard car. There's a powered tailgate to aid access, while the rear seats can be easily dropped for more space. With them left up, there's more head and legroom in the back than many mainstream German alternatives. Spec the optional panoramic sunroof for an airy cabin - although it does slightly eat into headroom.
Only around 10 per cent of V60 sales are expected to be the Cross Country. That's a shame, as we think it's possibly the highlight of the range. Not everyone will need its off road capability, admittedly, but we like its chunky looks, and the way its suspension copes with broken roads is impressive.
You could even argue a case that it represents good value for money. Like for like, it's around £3300 more expensive than the Momentum on which it's based. And for that, you get four-wheel-drive, suspension that feels like it could cope with the surface of the moon (at speed) and the knowledge that you're doing the whole Volvo estate thing right. Sounds like a bargain, right?
The Volvo V60 Cross Country is on sale now.