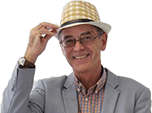 Volkswagen T5 Caravelle 2003 Road Test
Sat, 06 Dec 2003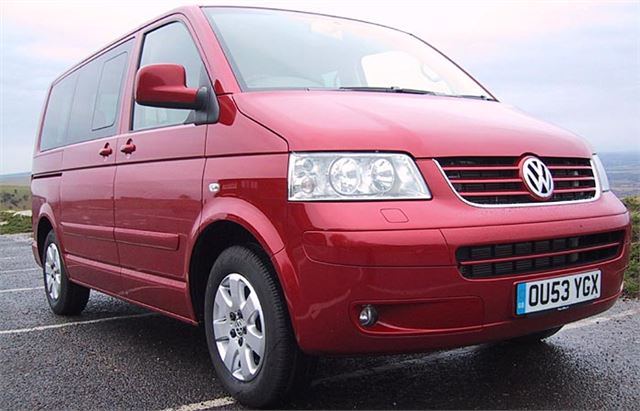 Honest John is very pleased with what he finds under the bonnet of the 2003 VW Caravelle.
Remember the old Audi straight five TDI? It appeared in the Audi 100, the 100 A6, the Volvo 850TD and early V70 TD, and, of course, in the VW T4 Caravelle.

A great engine, especially with the six-speed box. But marred by an injector pump that had a habit of slipping out of timing, a timing belt that was a real pig to replace, and a water pump that could seize, fling off the belt and introduce valves to pistons.

No such worries with the straight-five T5 Caravelle. Because it has half a Touareg 5.0 V10, with a gear-train driven camshaft plus all essential ancilliaries. It's one engine that, touch wood, is probably incapable of self-destruction,

Which is why, when fitted to commercial vans, VW will come up with a warranty/maintenance package that GUARANTEES it for 200,000 miles over 5 years.

We tried the new engine with 130PS and 174PS outputs and, while the 130 is pretty much what you'd expect from experience of the T4 2.5TDI, the 174 is indecently and almost worryingly quick.

The huge advantage of the T4 and T5 is the height you sit to drive them. You see over, rather than through the car in front and can see a lot further ahead than its driver can see. So, like truck and Range Rover drivers, you spot hazards early and have more time to deal with them.

You need it. Because the 174 is a van capable of 117mph, and the forthcoming V6 will do nearly 130. That's arguably too fast for the sort of vehicle it is. Because despite ABS with ASR and EDL and ESP, on a greasy surface you just don't feel you'd have the sort of control you would have over a low -riding saloon, estate or sports car.

Okay, the obvious answer is keep the speed down to the limits, which is what you would do with seven members of your family aboard. But you would still benefit from the vastly superior acceleration and hill climbing ability of the 174, which, used judiciously, can be a safety factor.

The reason for buying a Caravelle isn't the number of people it will carry, which is restricted to seven. It's the comfort in which they will be able to travel and the amount of luggage they will be able to take with them. A bit of sliding and turning of seats and the table soon converts the back into a comfortable parlour for five. If you need more luggage space, you simply slide the rearmost seats forwards a bit. And, if you want a vehicle capable of the occasional overnighter, you can buy a 'Sleep Pack' of mattress and curtains turning the whole of the back into a nice big double bed.

A small criticism is the ride comfort. Off the motorway you are aware of a constant pitching movement. Nothing like as bad as old-fashioned vans and buses, but there in the background nonetheless.

Should you buy one when a Previa or Grande Espace is a fair bit cheaper? Up to you. I do think from their specification the gear train cam 2.5 litre diesel engines should be virtually everlasting, so that's a huge plus point. The floorpan is galvanised so the 174 should be an excellent basis for a powerful motorhome. And if you want to carry eight or nine, you can always opt for the non Caravelle, commercial spec Shuttle eight or nine seaters.


SjB's impressions of a T5 Shuttle

Build and Reliability

Not a glitch over 1020 miles driven in six days. Amazingly for something with such huge openings to weaken the vast body shell - these including two heavy and enormous sliding doors - not even a squeak or rattle. As an example, most cars have some slack in the backrests of adjustable seats, and these often shudder on uneven surfaces when unoccupied. Those in the Shuttle were not only completely rigid, but the release mechanism had a nice tactile feel and reengagement was a reassuring, unforced, perfectly engineered, 'clunk' at exactly the point that felt natural. The same quality engineering applied when folding the backrests flat: They locked. Solidly. I'm not a fan of recent VAG products, finding the Golfs, A3s, and Passats I have driven to be overrated, but despite having most of its switch gear lifted from the former, this 13k mile vehicle - bearing signs of hard work - felt more tactile and youthful than many a new car I have driven. A minor gripe is the cheapo soft grey plastic for the door steps (you have to step up and in so they are frequently trodden on) and front door interior closure handle; the former scratched easily and looked low rent, and the latter bent as the door was pulled, being single skinned plastic with only a rolled lip to impart strength.


Practicality

Many excellent design features abound, but also a few niggles. Excellent 'captains chairs' for both driver and front seat passenger with a good range of adjustment and perfect springing for my 76kg body weight. Steering wheel is both tilt and reach adjustable too, over a wide span. Pedals were nicely weighted and well positioned. Seat fabric appeared durable as well as pleasant to the touch and in a light airy grey. Rear passengers sit in two rows of three, with the nearside second row seat being 'quick released' to allow easy access and egress for third row passengers. Usefully, this 'quick release' seat locks when tipped forwards, allowing asymmetric load carrying of awkward shaped objects (a tree in my case!) whilst still carrying six passengers plus driver. Both rows of rear seats had easily activated emergency releases as well as runner releases to allow temporary van conversion. The latter is also aided by four excellent, stout, lashing points in the corners of the load bay.

Where the Shuttle really knocks other MPVs in to a cocked hat though is being able to carry a full compliment of passengers and their luggage; the 'boot' behind the rear seats is truly huge, and diagonally swallowed my mountain bike (front wheel quick released) with ease. Such a huge boot doesn't come at the expense of passenger leg room either, this being more Exec jet than Cheapo jet in allowance. Rear seat passengers commented that the padding and support was good, though they missed not being able to properly recline the seats a few degrees to slumber. Passengers also commented that they liked the 'fly screens' as we nick-named them, namely the sun blinds that scrolled up out of the side window lower ledges. They also welcomed having their own air conditioning controls and separate blower motor, though on the highest of the three speeds it drowned out front seat conversation with third row passengers. In 30 degree summer heat, the air conditioning coped perfectly well despite the green house nature of all large MPVs such as this.

The AM/FM/Cassette stereo system only had two speakers but was perfectly adequate for the job, and sounded half decent for driver and front seat passenger. Musical fidelity was largely lost on second and third row passengers though.

The ciggy lighter / 12v socket is placed nice and high up on the dashboard, making power supply for my iPAQ based sat nav system a doddle without over extending the coiled lead.

Good headlights, with well defined dipped beam and powerful main beam, plus electrical beam aim adjustment via thumbwheel.

It's worth bearing in mind at this point that all the convenience features I have described came on what was the base model.

What I didn't like was having a tailgate instead of two vertically hinged rear doors. The tailgate is absolutely enormous, and needs a very considerable free area behind the vehicle before it can be opened. This was a pain on the car ferry as well as in public car parks, and would be a mega-pain if towing a trailer or caravan. Although the tailgate has a useful strop to pull it back down, even this was so high that several members of our party couldn't reach it and had to call for help! To give an idea of size, the Volvo XC90 parked next to us at Stansted Airport looked like a kiddie's car, with our roof line towering above it.

I also wasn't a fan of the soft blue backlighting for the instruments, finding that in true darkness what should have been a quick glance at the instruments became more of a considered 'look'; they might look cool, and got plenty of "wows" from the kids, but are not as practical as traditional white lighting.

I also didn't like the fact that the gear lever obstructed the PRNDL indicator for this right hand drive vehicle. Yes, it has a digital repeater in the instrument cluster, but I was not conditioned to look at it and despite six days of determined trying to convert myself, still am not!


Refinement

For such a huge sound chamber, very good, and better than expected. Typically diesely under load, though rarely intrusively so, and whilst not as tuneful as Volvo's D5, this five pot motor is much less gruff than humdrum four cylinder diesels. In 60MPH main road cruising mode the engine was hardly audible, remaining so up to 70MPH. Above this speed the engine became exponentially more intrusive until above 85MPH when it was the dominant noise source. Wind noise was well contained for such a barn of a vehicle, as was tyre noise and wing mirror induced noise. What was nice was the way that when lifting off the throttle, engine noise just melted away; the last vehicle I drove that exhibited this behaviour in such a pronounced way was 627bhp of Mercedes Mclaren SLR, so it's in good company! Outside the vehicle, diesel clatter was however very pronounced and I felt like a delivery driver when turning up at home in the wee small hours, neighbour's curtains twitching.


Engine and Economy

Excellent! A fantastic piece of engineering that blows the power plant in every van and minibus I have previously driven in to the weeds. The 2.5 TDI motor is effectively half of a Toureg 5 litre V10, and VW are so confident of reliablity that despite being fitted to what is effectively a commercial vehicle it comes with a 5 year / 200,000 mile drivetrain warranty (as also pointed out in the Caravelle road test on this website). The engine is available in two states of tune, namely 130PS with 340Nm and 174PS with 400Nm. Mine came with the lower state of tune, despite which it proved extremely capable of hauling this barge along at a most un-van like lick, whilst pretty laden and still returning 31MPG. The latter was in fact returned despite spending five hours in first gear and at idle whilst touring a safari park, and an entire day doing touristy things in often heavy traffic on the hilly Isle of Wight. I can but imagine how the higher tuned engine behaves, but even with 'only' 340NM, I never ceased to be amazed how despite the load on board, the Shuttle would pull up steep hills without a downwards gear change, speed bleeding off not one jot.


Gearbox

Straight to the point; though probably helped by the considerable kerb weight, this was the smoothest changing automatic I have ever driven. Totally, totally, seamless in operation, the six speeder keeping the engine spinning exactly where needed, completely eliminating the typical modern diesel narrow power band. Although it had a Tiptronic override, I found this of little use other than when calling for engine braking; this gearbox is best left to its own devices, thus completely removing any temptation to drive it like a petrol engined vehicle and rev it. Just sit back, and let it gather its skirts up between 1500 and 3500RPM, with the occasional foray to 4000RPM under sustained kickdown. In fact, I'm sure that this well programmed transmission with lock-up of the torque converter at the earliest opportunity helps account in no small measure for the excellent fuel economy; this despite autos normally giving away efficiency to their manual counterparts. Away from rest, you've had four gear changes in the time of a blink, engine spinning at the torque peak almost as if a CVT is fitted.


Performance

This was not a boy racer vehicle, though the fifteen odd seconds for nought to sixty belies a surprising ability to main road overtake and more than keep up with motorway traffic. No discernible difference between empty and laden! Two-pedal getaways (left foot brake and load the torque converter with right foot application of throttle for a fraction of a second before releasing the brake) were surprisingly and startlingly nifty.


Driving

Largely terrific visibility, though reversing required good observation before starting the manoeuvre given that it was easy for small objects (An Elise or MX5 for example!) to disappear from view. I didn't hit anything, but plentiful dings showed that others had. Mirrors were excellent, as was the turning circle; if VW can turn a Shuttle on a relative sixpence, why does my V70 need an oil tanker captaincy certificate before being allowed to do anything other than drive in a straight line? A real "sublime versus the ridiculous" contrast.

Ride was typically MPV lumpy, being choppy from the rear axle when unladen, and vertically "bouncy bouncy" from the front, sitting as you do almost directly above these wheels. Things calmed down considerably when even just half laden, and main road or motorway cruising was surprisingly comfortable and composed.

Handling was again typical of the MPV mould, being inert and distant on turn in, whereupon things firmed up. Power steering weighting was good however and struck a good balance. With careful approach lines, speeds, and control application, the Shuttle was also easier to make progress in whilst maintaining a degree of comfort for rear sear passengers than some MPVS I have driven. The most important factor in this is to briefly pause - however briefly this may be - between direction changes. This technique is good practice in any vehicle, but the Shuttle really responds to it.


Summary

A very capable vehicle that does exactly what it was designed to do. Far from being drudgery, my six days hauling holidaying friends around was actually a lot of fun, and if I wanted an MPV as an MPV - not a fashion statement - this would beat the "Shalhambraxy" and its ilk hands down, especially in more comfortable Caravelle configuration.