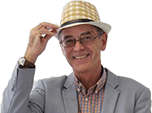 Volkswagen T5 California Camper 2010 Road Test
Sat, 29 May 2010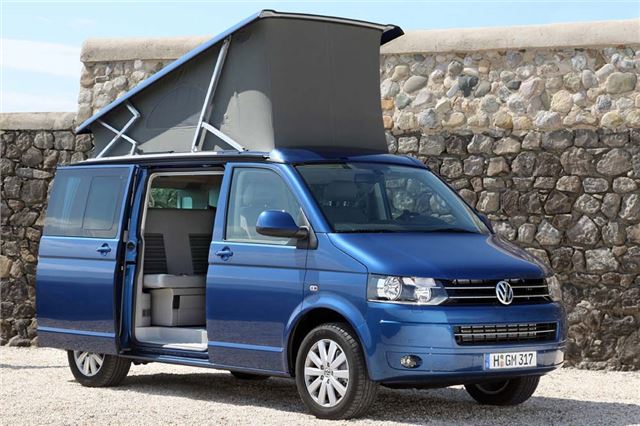 Our experienced camper tester Martin Gurdon gets to sleep in the latest factory converted VW T5 Californina.
Back in the now dimly remembered ear of 'Cool Britannia,' purveyors of motor caravans desperately tried proving that their products weren't terminally naff.
Fast forward fifteen or so years and they're still at it. Although many of their offerings remain trimmed with materials and finishes that seem to mix Travelodge and Moulin Rouge, the publicity that accompanies them often goes on about the hip, happening, lifestyle opportunities they will, allegedly, open up.
Perhaps van makers should stop apologising, and embrace the Middle English territory which is rightly theirs, and the generations of people with happy memories tied up with their products.
The nearest thing to a trendy camper probably wears a VW badge and has a rear engine (visit our Danbury road test and video to see how you can buy one of these design classics new), but the people who built those famous vehicles also makes a camper version of its current, rather good T6 Transporter van.
The  Transporter has just been given a facelift, with new, Golf-like front lamp clusters and revised engines, majoring on a range of four-cylinder, 2.0 litre diesels that take over from well-liked, 2.5 litre five-cylinder motors, but beat them comfortably in terms of performance, economy and emissions. The new ones are Euro 5 compliant, and VW reckons are about 20 per cent more efficient overall.
Oddly, VW's very German camper is called the California, and its clever, minimalist interior, with its subdued wood effect surfaces, alloy table and designer folding chairs, owes more to IKEA than MFI. It's also been designed and built in house, which VW claim makes it unique. Potential rivals are van conversions from independent coach builders.
This gave the California's creators access to a Cecil B. DeMille-scale research and development operation, second-to-none knowledge of all the safely and other laws that govern new vehicle designs, and of course the thing is screwed together on VW's own assembly line using bespoke parts.
A cursory glance round the interior reveals a lack of sharp edges, and kitchen and storage units made from veneered light alloys that save weight and will absorb impact in an accident.
The California's designers clearly had a ball finding clever ways to create storage spaces and cubby holes, and the systems that swivel the front seats, and turn the rear bench into a bed are simple and neat.
There's a powerful auxiliary heater, and plenty of 'that's clever' features, from the way the stainless cooker top and sink are formed from a single pressing, to myriad concealed lights. That heater is worked by a multi function control that sits above the rear view mirror and also actuates the electric raising roof.
This rises like a giant bellows and makes the California a true four-birth van. Lowering it takes practice, and careful study of the rather stern instructions. It needs to expel a lot of air, so windows need to be opened, and if a stop/start approach isn't adopted it seems to get is stays in a knot and won't close properly, thanks to bits of canvas going out of shape. Familiarity would probably make it easy to use, but I managed to provide neighbours on a Sussex campsite plenty of harmless amusement trying to make it behave.
My wife and our dog came too, and although the latter quickly grew to love this exotic wheeled kennel, the former did not. Both the dog and I slept soundly, but my partner found the bed 'bloody uncomfortable,' which wasn't my experience, but then I'm an insensitive bloke.
Neither of us were enamoured with the California's cooking and refrigeration arrangements. Accessing the top loading fridge always seemed to involve shifting stuff from its lid, and where was the oven and grill? The California costs £37k plus, and provides just two gas rings. Perhaps VW expect the well-heeled empty nesters who are likely to buy something like this to eat out most nights.
If they're driving to those restaurants, the journey will be no pain at all. Our van's 1,968cc, 177bhp engine was smooth and refined, and provided a pleasing stream of torquey power from low revs. Ours was mated to a seven-speed DSG, twin clutch transmission. I've sometimes found this two pedal auto/manual override system slightly flaccid in other VWs and Audis, but in the California it worked like a charm, and really suited the vehicle. For those who prefer changing gear conventionally, a six speed transmission is also available.
The high seating position offered the endless amusement of peering over walls, and generally being nosy. The steering is pleasantly direct, if a bit low geared at parking speeds –manoeuvring this big vehicle can sometimes bit a little involved- and although our example had alloy wheels and low profile tyres, it rode surprisingly comfortably. For the record, any driver wanting to get the cutlery to make a bid for freedom by cornering hard, will find the top-heavy California rolls a fair bit, but handles well, something helped by its neat, space-saving independent rear suspension.
Despite having an optional, retractable shop-style awning attached to one side, the California was surprisingly free of wind noise, and overall made for a very pleasant travelling companion.
VW claims you could use it as a daily driver, which is true, but the California's bulk might become irksome after a time. Better to have it as a long-lived, weekend plaything and holiday companion, as long as you camp close to some nice restaurants or eat more salad.        
PRICES
140PS TDi                             £36,965,
180PS BiTDi                        £41,865,
180PD BiTDi DSG                           £43,515,
4Motion                                 £44,465.
California SE DSG equipment specifications
80 litre fuel tank with secure flap
Body coloured bumpers, exterior mirrors and
protective side moulding
Chrome trim on radiator grille
Clear glass headlights
Covered sliding door guide
Insulating double glazed glass in living area
(except sliding window)
Jack and tool kit
Mirrors: convex on passenger's side, aspherical with
outer wide angle section on driver's side
Pop-up aluminium roof (electro-hydraulically
activated) with 2 attachment rails for roof luggage
rack system (roof load max 50 kg), exterior mounted
stay arm, self-furling bellows and 3 zip vents
 Right side sliding door
 Roof load rack preparation
 Self supporting and galvanised full steel body
Tailgate, double glazed
Tinted cab windows
Towing eyes, front screw-in and rear fixed to body
2 silicone-damped grab handles above cab doors
and grab handle at 'A' pillar, left
 2 storage compartments in driver and passenger
door, lower holds 1.5 litre bottle
 2 sun visors, folding and pivoted with vanity mirror
and document pocket
 Blackout for night use on windscreen and cab doors
 Carpet floor covering
 Centre console
 'Crete' fabric seat covers
 Dash mounted gear lever
 Drinks holder
 Driver and passenger swivelling seats with lumbar
support and armrests
 Fabric push-on frame insert to shade door window
 Front floor mats
 Hook on lower dash on front passenger side
 Interior entry steps, illuminated
 Interior light and two reading lamps in overhead
console, with switch-off delay
Leather covered steering wheel, handbrake grip
and manual gear knob
 Lockable glove compartment
 Open storage compartment in dash panel including
mobile phone holder
 Storage compartments in dash panel beneath
outer air vents
 Storage compartments in outer side of driver
and passenger seats
 Storage net on lower dash passenger side
 Storage pockets on front seat backrests
2 folding chairs (stored in tailgate)
 Clothes cupboard and storage compartment, rear left
 Cooler 'Waeco': 42 litre capacity, cooling system
compression unit
 Draw curtains for side windows, rear left
 Drinks holder
 Flexible worktop (attached to kitchen
cabinet, adjustable)
Floor with plastic safety cover
Flourescent light and 5 LED spotlights,
switched individually
 Folding table (stored in sliding door)
 Fresh water container, approx 30 litres: filling
outside vehicle, rear left, with access for cleaning;
with electric pump
 Gas cooker: 2 burners, burner power approx
1000W/1800W, power from 2.8kg gas cylinder
(not supplied), energy consumption rated
approx 140g/hr
 Interior entry step with automatic illumination
switch-off
 Kitchen unit: sink/cooker combination with height
adjustable safety cover, sink: stainless steel with
height adjustable single tap (with switch for water
pump) and removable washing-up bowl, drawer for
cutlery, storage space with 2 sliding doors
 Light in luggage compartment (tailgate activated)
 Reclining bench/bed, adjustable and tilting: backrest
adjustable to 3 positions, folding, articulated and
adjustable headrests, storage compartment under
bench seat, removeable integrated seat belts, sleeping
area 114 x 200cm, together with bed cushions
Roof bed (120 x 200cm) with gas-spring supported
pivoting mechanism: ventilation windows in sides
(closable) on left and right, mosquito net, comfort
slatted frame, foamed plastic padding (55mm),
insertable child safety net and flexible halogen lamp
 Safety tank valve: gas pressure regulator, shut-off
valve for gas feed
 Sliding windows with flyscreens
 Waste water tank: protected against freezing in
passenger compartment, capacity approx 30 litres
4 12V sockets in living area
Air conditioning dashboard, manually controlled,
with dust and pollen filter
 Electric windows, front
 Electrically adjustable, heated and folding
exterior mirrors
 Heated front seats
 Heated washer jets, front
 Instrument illumination, dimmable
 Instrument panel includes: brake fluid level, brake
pad wear indicator, coolant temperature display,
digital clock, fuel gauge, rev counter, trip computer,
speedometer with total mileage and trip counter,
warning lamps for handbrake applied and
door/tailgate opening, windscreen washer fluid
level indicator
 Parking heater with radio remote control
 RCD 310 Radio/CD player with 8 speakers and
AUX-IN socket
 Remote central locking with deadlocking and internal
locking button, 2 remote keys supplied
 Separately controlled heating system for living area
 Side sliding door with power latching
 Steering column, height and rake adjustable
 Tailgate with power latching
Vented moulded trim above side windows
in passenger compartment
Warning buzzer for lights left on
Windscreen wiper with 2-speed operation
and variable intermittent delay Roof bed (120 x 200cm) with gas-spring supported
pivoting mechanism: ventilation windows in sides
(closable) on left and right, mosquito net, comfort
slatted frame, foamed plastic padding (55mm),
insertable child safety net and flexible halogen lamp
Safety tank valve: gas pressure regulator, shut-off
valve for gas feed
Sliding windows with flyscreens
Waste water tank: protected against freezing in
passenger compartment, capacity approx 30 litres
 2 reversing lights
3rd brake light
ABS: Anti-lock Braking System
 Airbag for driver and passenger with passenger
airbag deactivation
 Airbags, side and front curtain
 Anti-theft protection: alarm with interior and
tow away protection, deactivation switch for both
functions on 'B' pillar, breaksafe steering wheel lock,
electronic immobiliser, locking wheel bolts
 Childlock on sliding door
 Dual tone horn
 EBC: Engine Braking Control (not with 4MOTION®)
 EBD: Electronic Brakeforce Distribution
 EDL: Electronic Differential Lock
 ESP: Electronic Stabilisation Programme including
Active Rollover Protection (ARP), brake assist
system, maximum brake support, prefill and Rain
Brake Support
 First aid bag and warning triangle
Fog lights, rear and front with cornering lights Halogen main headlights with daytime
running function
 Headlight range control
 Head restraints, height and tilt adjustable
for all seats
Hill hold control
Rear view mirror anti-dazzle function
 Seat belts, 3 point inertia reel integrated into
rear seats
 Seat belts, 3 point with height adjustment
and tensioners for front seats
 Side mounted indicators
TCS: Traction Control System
 12V system
 12V to 230V adapter (in kitchen cupboard)
 230V system with battery charger
 AC inverter with 230V socket
 Alternator 180Ah
 Batteries: 72Ah, 2 auxiliary batteries (maintenance
free) with cut-off relay for powering living area
(cooler etc.)
 Battery charger (current and voltage regulated)
 Central electronic system with waking alarm function
in cab above interior mirror for control and status
check of: battery charge level, battery capacity, cooler
(digital temperature setting), outside temperature,
fresh water supply (3 settings), waste water level
(3 levels), charger display, activation of electric
pop-up roof, parking heater display and control
 Charging via alternator or battery charger
 Circuit breaker (FI/LS 0.001/13A)
 Cooler: power consumption – approx
50W @ 100% on-time, average on-time approx 30%,
running noise under 35dB (A), classification ***
(to -18°), operation electric 12V
 Earthed mains socket in living area
 Fuses for power consuming devices in living area
Supply via CEE outlet on outer side, rear left
ENGINES/TRANSMISSIONS
1,968cc, four-cylinder diesel six-speed manual/seven-speed DSG: 140PS (138BHP) 340Nm torque @1,750-2,500rpm
(BiTurbo 180PS (177BHP) 400Nm torque @1,500-2,000rpm)
DIMENSIONS
Length: 4,892mm (16.4")
Height: 1,995mm (6.5")
Width: 1,905mm (6.2" (not including raised roof?)
Weight: 3,000kg
Fuel tank 80litres
Turning circle 11.9m
Steering lock to lock. 3.3 turns
PERFORMANCE, FUEL CONSUMPTION
AND CO2 EMISSIONS
140PS 2.0 TDil 6sp man : 0-62 15.7 seconds; top speed 106mph, economy 36.7 mpg (combined) CO2 emissions 203g/km.
180 PS 2.0 BiTDi 6sp man: 0-62 12.4 seconds; top speed 117mph, economy 36.2 mpg (combined) CO2 emissions 205g/km.
180 PS 2.0 BiTDi DSG: 0-62 12.4 seconds; top speed 117mph, economy 34.9 mpg (combined) CO2 emissions 214g/km.
180 PS 2.0 BiTDi 4Motion: TBC.
CONSIDER AGAINST
Wentworth RV T5 conversion
Danbury Active/Royale/Surf T5 conversion
Jerba Tiree T5 conversion
Bilbo's Motorhomes T5 conversion
Rainbow Conversions T5.
More at VW California