Volkswagen Touareg 3.0 TDI 2018 Road Test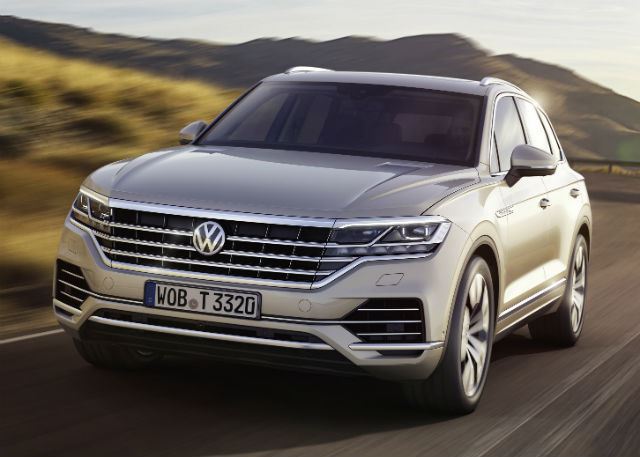 Since its launch in 2002, the Volkswagen Touareg has always been the choice of the more conservative SUV buyers. While it's had its own discrete style, it's never been as brash as the likes of the Porsche Cayenne or Range Rover Sport.
The third-generation model - on sale in the UK in June - takes a slightly different approach. Sure, it's not as in-your-face as the Lamborghini Urus or Bentley Bentayga (both of which it shares a platform with). But it's bigger and wider than before, with a huge chrome grille intended to signify the Touareg's place at the top of Volkswagen's model hierarchy.
You can decide for yourself whether you like the look. We're much more interested in some of the technology on offer - and there's a lot of it. Starting inside, there's a huge 15-inch touchscreen display in the centre of the dash, which merges into another 12-inch display replacing the conventional analogue dials behind the steering wheel.
As is becoming the norm in new cars, there are very few buttons. Everything is controlled by this central infotainment system, which itself operates like an iPad. It detects your fingers as they approach the screen, while you can swipe and pinch to flick between menus. Although there's lots to take in, it's an intuitive system to use that we're sure wouldn't cause too much confusion after a period living with the Touareg.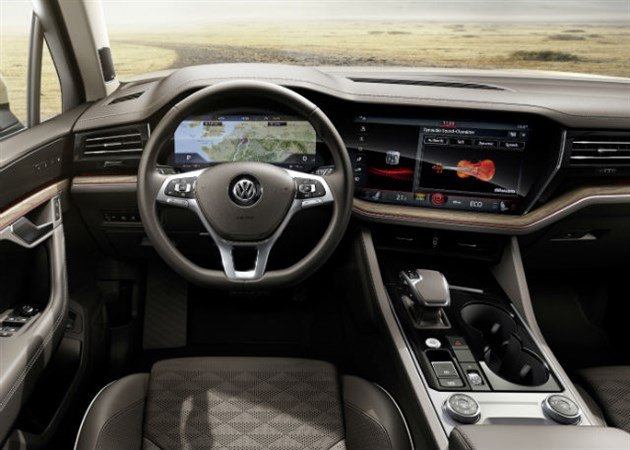 Infotainment aside, the rest of the interior is all rather lovely. The seats are award winning, apparently, and they certainly feel very comfortable to us - with massage functions and all the adjustment you could possibly need to find a suitable seating position. There's plenty of room in the rear, too - indeed, the back seats slide back and forth so you can decide whether you'd prefer more legroom or extra boot space.
Talking of which, the Touareg's 810 litres of luggage space is generous, although the rear seats don't fold entirely flat. There's no option for seven seats, either - no doubt doing so would mean it would tread on the toes of in-house rival, the Audi Q7.
At launch, there's a choice of two V6 diesel engines with 231PS or 286PS while a 340PS V6 petrol follows in the autumn. A 4.0-litre V8 diesel producing 421PS will arrive in the future. It's the 286PS diesel that we drove on the launch, and found it to be a very smooth and refined unit. Occasionally we detected a slight delay from the eight-speed automatic gearbox (frustrating when trying to join a roundabout or overtake another vehicle), but generally there's little to criticise in terms of the engine.
There's a host of on-road and off-road drive modes: from Eco to Sport for on the road and Snow to Expert for off it. While (like many buyers, no doubt) we're yet to try the Touareg off road, we found it best left in Normal or Comfort mode when on tarmac. Having said that, there's not a huge noticeable difference between the modes, it's just opting for Sport means the automatic transmission holds onto gears longer than is really necessary and the suspension provides a slightly less forgiving ride.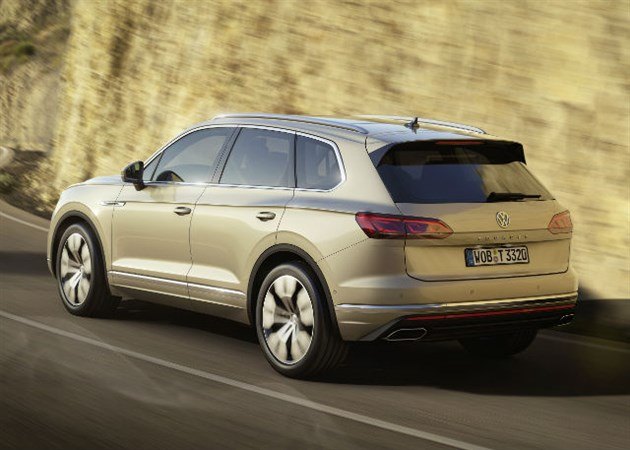 How well an SUV handles isn't a prime consideration for the majority of buyers, yet we still expect them to be fairly car-like to drive. As SUVs get bigger and bigger, car makers are having to invest more in clever technology to fight against physics. The Touareg comes with all-wheel steering to make it feel more agile around town, while trick active roll compensation means it remains remarkably composed in bends. It's not as fun to drive as the Porsche Cayenne, obviously, but you could easily forget you're driving a two-tonne SUV.
When you're off winding roads and just want to cruise on the motorway, the Touareg creates very little fuss, riding smoothly and transferring little wind and road noise into the cabin. We like the adaptive cruise control which, as well as detecting other traffic and slowing down/speeding up as necessary, even uses data from the navigation system. This means it will slow down and accelerate as the speed limit changes - and even slow down if it detects a bend or roundabout ahead.
Around 40 per cent of drivers across Europe use their Touareg for towing, says Volkswagen, and with up to 600Nm of torque and a 3.5-tonne towing capacity, we suspect the latest Touareg will continue to be a firm favourite with caravanners. It's also helped by a very clever trailer assist system, which lets you take your hands off the steering wheel and reverse a trailer using the pedals and the rotary mirror adjustment knob on the driver's door. It sounds bizarre but it makes manoeuvering a trailer much simpler than having to continually wind steering lock on and off.
UK prices and specification for the new Touareg are yet to be announced, but Volkswagen has hinted at a start price of around £49,000. That puts it only £2,500 less than the cheapest Audi Q7 and £7,000 below the Porsche Cayenne. We suspect the Audi Q7 will prove very tempting for most buyers, but the latest-generation technology on offer in the Touareg means it might be a better buy than rivals such as the Volvo XC90.