Volkswagen Polo BlueMotion 2012 Road Test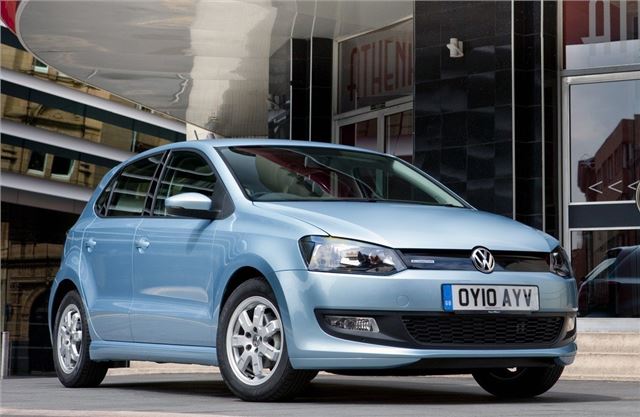 It seems that blue is the new green for Volkswagen. The brand was one of the first to really promote its most efficient models, badged BlueMotion, which are all about high fuel economy figures and low CO2 emissions. The badge is found on most Volkswagen models, even big stuff like the Touareg. However, the pinnacle of the range - for the moment at least - is the Polo BlueMotion.
That's not surprisingly really given than it is currently Volkswagen's smallest and lightest car - until to the Up arrives in 2012. The Polo is also an award winner, it was European Car of the Year in 2010. But there have still had to be some significant changes to the Polo in order to get economy up and most crucially, especially in the UK, CO2 down to below 100g/km.
Getting emissions under this key figure means that you don't have to pay any car tax. Zero. Every year. Plus if you venture into central London (surely sheer madness in a car) you'll find that the Polo BlueMotion is exempt from the congestion charge zone, although you do have to pay a one off registration fee of £10, so the first trip isn't technically free.
But the stand out figure is fuel economy. The Polo BlueMotion averages a claimed 80.7mpg and even if you drive it with all the wild abandon you can in a Polo, it will still give you 50-60mpg. So how has Volkswagen managed it? Well obviously there's the frugal TDI engine.
The BlueMotion is powered by a 1.2-litre TDI which is a three-cylinder unit that produces 75PS – not much to get excited about but with 180Nm of torque there is decent mid-range power. On paper the 0-62mph time of 13.9 seconds is best described as 'leisurely' but this Polo isn't about performance of the acceleration kind, its forte is economy.
That explains the rather odd gear ratios. To help fuel economy the Polo BlueMotion is fitted with a tweaked five-speed manual gearbox with longer gearing in third, fourth and fifth which keeps engine speeds down and helps improves efficiency. It does make the green Polo a little odd to drive. Despite being a diesel with reasonable torque, you do have to give it some revs when pulling away from a standstill, or it feels like it could stall.
But get it into third gear and the little Polo turns from mundane urban green machine into a little rocket. It pulls so well you can embarrass plenty of larger cars that perhaps think the BlueMotion should be ambling along at a sedate pace. And on the motorway it's a genuine revelation. In fourth and fifth there's plenty of power in reserve and it will happily cruise along at 70mph to 80mph with no problems. In fact it will go even quicker if you ask it, with no fuss.
Even overtaking is an option occasionally, if there's a decent stretch of road ahead. It's not exactly the most refined of motorway cruisers, but is reasonably quiet at a steady speed and you rarely need to change out of top gear.
It's not a bad looker either. In fact there's even a hint of GTI about it. Volkswagen has fitted it with a sports styling kit which includes sports bumpers, side skirts and a larger rear spoiler, to improve aerodynamics. The wheels aren't very GTI though. The BlueMotion gets 15-inch alloys with low rolling resistance tyres plus it has 'sports' suspension (surely a contradiction) lowered by approximately 15mm to reduce drag.

And as is the norm on all green cars – and increasingly common on standard cars – the Polo gets an engine start/stop system that automatically cuts the engine in traffic, when you put it in neutral, and then restarts it as soon as you put your foot on the clutch. The system isn't the smoothest – it's never going to be with a three-cylinder diesel engines – but once you get used to it, it's not too bad at all.
The only fly in the BlueMotion ointment is the price. The three door version costs £14,995 (the five-door is £15,615) which is £1125 more than a standard Polo 1.2 TDI. It does come with extra equipment such as cruise control, front fog lights, a multifunction computer and a leather steering wheel but that's a considerable hike in price. Especially when you consider that the standard 1.2 TDI is still economical with a claimed 72.4mpg and CO2 of 104g/km.