Volkswagen Passat GTE Estate 2019 Road Test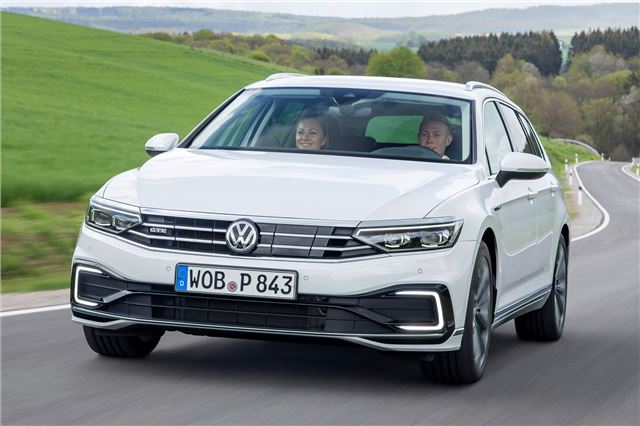 The Volkswagen Passat GTE is a plug-in hybrid that's expected to start at around £37,000 in estate form and account for around a quarter of all Passat sales in the UK. And deservedly so - it combines excellent performance, practicality  with a generous real-world electric range and all the practicality and comfort we've come to expect from the Passat.
So what's new about it? Aesthetically, very little. There are new lights and revised front and rear bumpers to cater for them, along with 'Passat' lettering spread across the tailgate. Inside, there's an updated infotainment system, and a revised virtual cockpit in place of conventional dials. There's not a great deal that's going to convince you it's time to part exchange last year's model.
The big news is that the GTE now has a bigger 13kWh battery fitted as standard, meaning the electric range has been increased from 31 miles to 34 miles. This doesn't sound like a huge difference, but the old figure was from the outgoing NEDC fuel economy tests, while the new figure is from the new WLTP tests. This means it actually ought to get close to 34 miles in the real world, whereas before you'd have been lucky to see 20 miles.
That means you can charge the car at home and travel up to 34 miles under electric power alone before the 1.4-litre TSI petrol engine kicks in, provided you don't mash the accelerator to the floor every time you leave a set of traffic lights. If you cover 100+ miles a day, you'd still be better with a diesel, but the GTE is well suited to a short commute or dropping the kids off at school, while still being able to tackle a long journey without having to get acquainted with the UK's flaky charging infrastructure.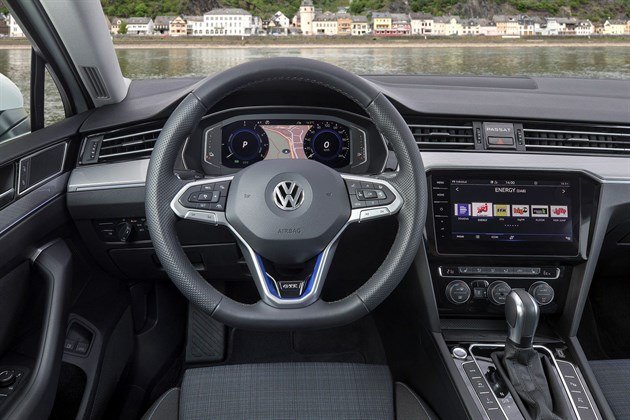 In hybrid mode, the GTE can charge its own batteries under deceleration, while there's also the option to save battery charge if required. This is ideal if you know the end of your journey is in a city centre or you want to approach your destination in silence.
While the electric motor supports the petrol engine under regular driving, selecting GTE mode primes the petrol engine and electric motor to provide extra performance, also firming up the suspension (when optional adaptive chassis control is fitted) at the same time and piping in a throatier false engine sound via the speakers.
The Passat GTE is no BMW 3 Series to drive, but it's surprisingly quick and can overtake with ease. There's little in the way of body lean in the bends, however, thanks to the GTE's weight being positioned low down in the car, and it's very refined with little in the way of wind and road noise. This means you can cover long distances, while feeling relatively fresh when you reach your destination.
When it comes to charging, the fastest charge the GTE can handle is 3.6kW. This means there isn't much point paying to use a rapid charger at a motorway service station - even at its quickest, it takes four and a half hours to charge the battery. This is fine if you're using a home wallbox, while a domestic three-pin socket can top the battery up in only an hour longer.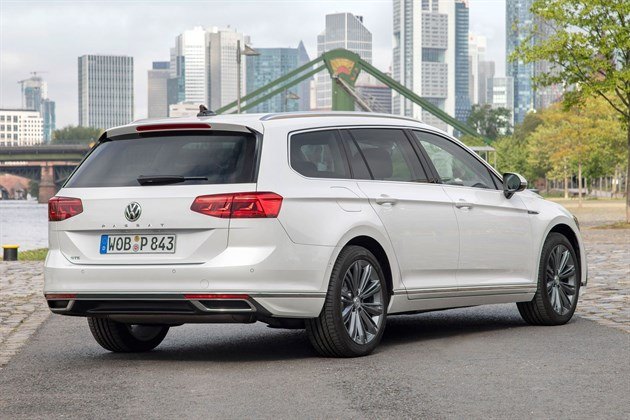 Along with the revised plug-in hybrid engine, the Passat now has a whole heap of new technology. The clever adaptive cruise control will now use GPS data to slow down when approaching bends or entering a lower speed limit, while the lane-assist feature can now recognise grass at the edge of a lane, preventing you from veering off if there isn't a white line at the edge of the road. It works well, although we found it reluctant to stay in the centre of a lane in slow-moving traffic.
Technology and plug-in hybrid gubbins aside, the Volkswagen Passat GTE is a very likeable family car. It's the estate model we've tested here, which has just as much space in the back as the regular Passat estate. The boot is a useful 483 litres, while there's plenty of room in the back for transporting adults. Indeed, with generous legroom and large side windows providing an airy feel, being transported in the back of a Passat estate is surprisingly pleasant.
Up front, it's not quite got the wow factor of the Mercedes-Benz C350e, but it feels well made and more premium than mainstream alternatives like the Ford Mondeo. The seats are extremely comfortable, and the media system is simple to operate and easy to navigate.
The updates for 2019 are minimal, but the Passat continues to be one of the best all-round estate cars on sale. Its interior feels well-made and premium, and it's a comfortable long distance cruiser. With a longer range for the plug-in hybrid model and added technology, it's now easier than ever to recommend a Passat GTE.
The Volkswagen Passat GTE Estate is on sale in July with deliveries expected from September. Prices are expected to start at around £27,000.