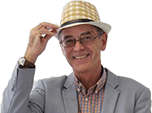 Volkswagen Golf GTI TCR 2019 Road Test

The VW Golf GTI TCR is a collectible run-out version of the Golf VII GTI, based on the Golf TCR race car with 290HP, 380Nm and the DQ500 7-speed wet clutch VAG DSG.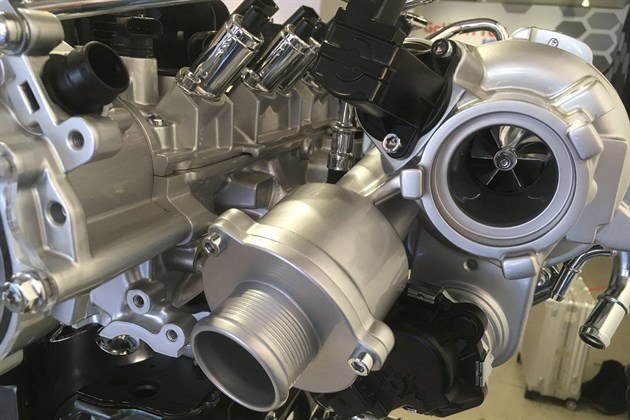 It has a sophisticated EA888 chain-cam engine with indirect as well as direct fuel injection, an integrated exhaust manifold and the turbo bolted straight onto the head for peak PPF efficiency.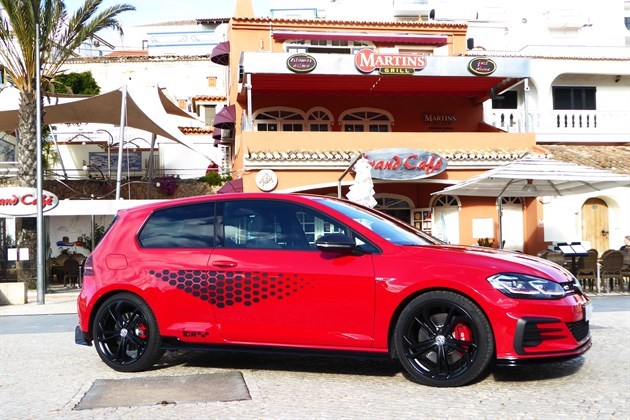 It comes with 3-doors or 5-doors; upgraded wheels, brakes and trim and is fully equipped inside with special bucket seats and a steering wheel with a 12 o'clock red stripe at the top.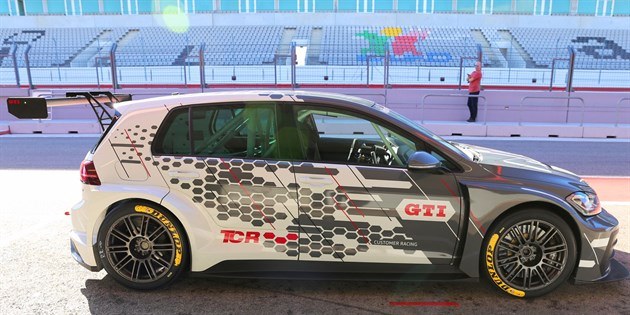 TCR (Touring Car Racing) is a race series for production model based cars started in Europe in 2015. There are about 500 cars running of which 100 are Golf TCRs. Full race Golf TCRs can be purchased in base spec with a 7-speed DSG for 95,000 Euros. (More for a 6-speed sequential gearbox.)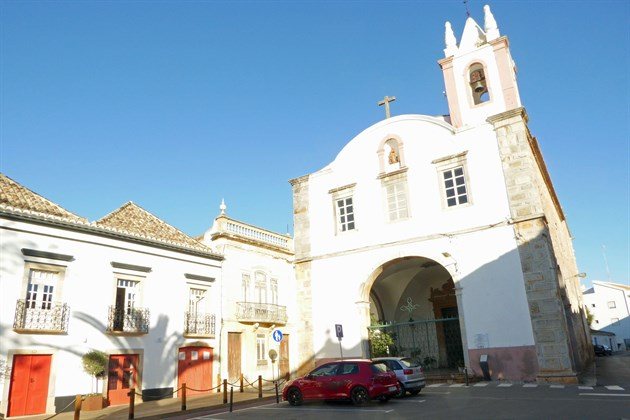 But here we're driving the road car, even though we did get to drive it on the (rather tricky) Portinau Circuit in Portugal.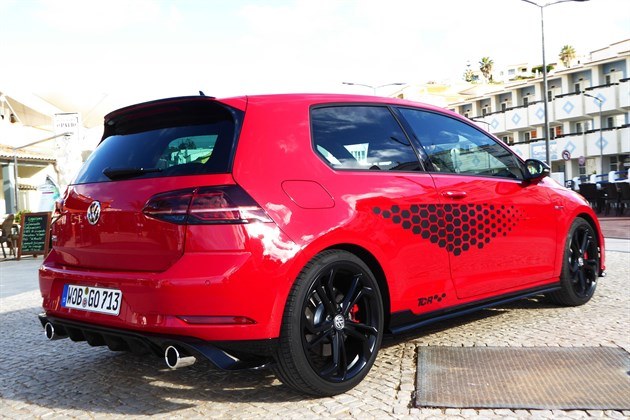 Bimbling along, there's always the threat of performance to come from the rumblings of the twin-exit pipe stainless steel exhaust system, but it's not obtrusive.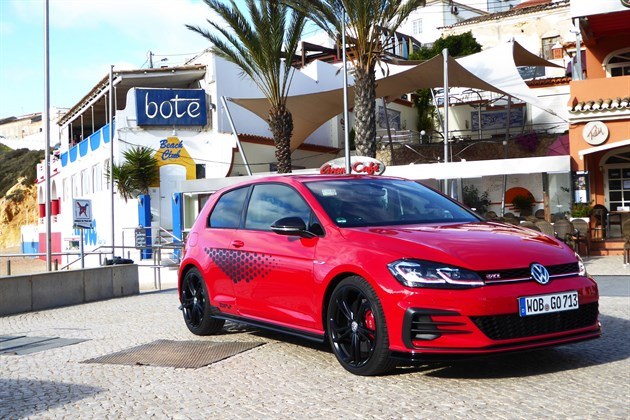 The 7-speed DQ500 is virtually vice-free. Still not quite as smooth as the latest generation 8-speed torque converter autos, but perfectly easy to get along with. Switch the lever over to Sport mode to shift manually and the gearchanges are super-smooth. Just don't expect the box to hold a lower gear over 6,500rpm. Self-destruction is not part of its repertoire. The fact is that, unless on a track, most drivers will simply leave it in auto most of the time. You don't buy a dog and do the barking yourself.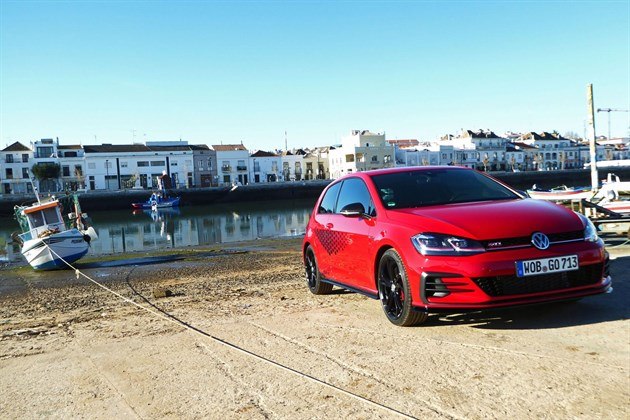 Ride on the Reifnitz option pack 19-inch wheels with 235/35 R19 Pirelli P-Zero tyres was perfectly acceptable on relatively smooth Portuguese roads, even over the speed humps. However, you don't get a space-saver with the 19s as standard so, unless you buy one, you need to be prepared to get stuck with a flat if you hit a pothole out in the back of beyond.
And even on the decent Portuguese roads there wasn't much point in pushing the car to its limits for fear of upsetting someone, especially the otherwise friendly Policia. That's why VW had hired the tortuous, undulating Portinau race track for four laps in a TCR behind an instructor in a Golf R estate.
Instead of the 225/35 R19 P-Zeros on the road cars, the track TCRs were fitted with sticky Michelin Pilot Sport Cup 2 semi-slicks that come as part of the 'Pretoria' option pack.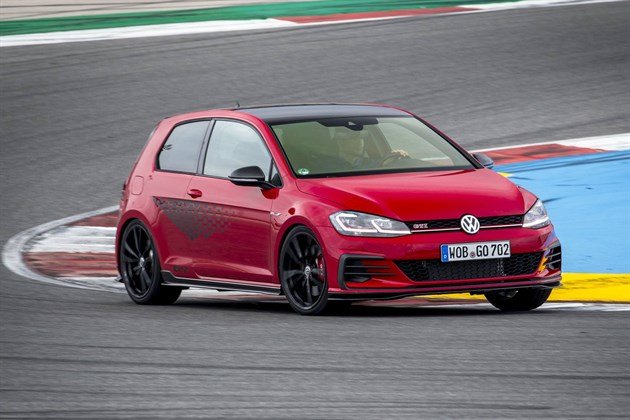 I'm no race driver, but with a guy in a Golf R in front showing me the lines and the braking points, I could appreciate the feel of the car and the level of grip at cornering speeds you'd have to be nuts to try on public roads. Remember, this is a front-wheel drive car, not a quattro, but, even so, it hung on in there as much as I needed it to and I had no silly moments. I admit, that, rather than paddle, I left it in Sport auto, and there were a few times it picked the wrong gear, but the object of the exercise here was to get the lines and the braking right rather than play at being Gordon Sheddon. We did hit 200kmh on the main straight (125mph).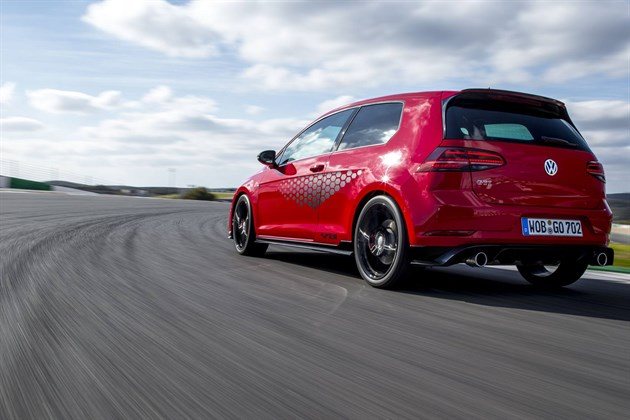 I guess that more than a few Golf TCR owners will be taking them on track-days and with the Pretoria option pack they'll have fun (though they'll probably order a second set of 19s with P-Zeros, or even the standard 18s). Quite how well the car will work in the snow, or on all weather tyres I won't speculate.
UK prices are yet to be confirmed, but the standard car on 18-inch wheels is 38,950 Euros, so VW UK is saying "about £34,000" for the 3-door. Almost every TCR buyer is going to want one of the 19-inch wheel option packs (that derestrict the top speed from 250kmh to 260kmh), so that needs to be costed too.
WLTP average mpg is 42.16mpg yet, even driving sensibly from one photo location to another, the dash meter only registered 25.92mpg.
But if you just need one car, have to carry more than yourself and your partner, and still want to have some serious fun from time to time, it's the ultimate GTI.
And because the Golf Mk VII is on run-out, all the bugs are out of the model range, and GTI end-of-line specials traditionally hold their money, you can justify it.
More at Volkswagen