Volkswagen Golf 1.5 TSI 2020 Road Test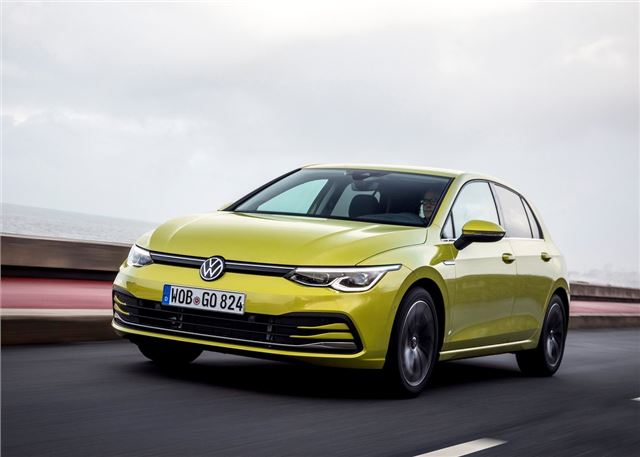 Meet the new Volkswagen Golf. Same as the old one? Well, not quite. While the Mk8 might boast a similar silhouette to its predecessor, Volkswagen has worked overtime to make sure its family car keeps its 'best-in-class' title. But is it enough to see off a strong challenge from rivals? Let's find out.
From the side, the car is unmistakably a Golf, but the Mk8's more aggressive C-pillar design pulls the car's door lines up, giving it a sleeker, sportier look. At the front it's easier to tell the two generations apart, with a revised grille while there are new-look headlights front and rear. Critics will no doubt moan the styling is little more than a facelift, but would-be buyers are sure to welcome a shape they know and love.
While the latest Golf might not look all that different on the outside, on the inside it's a world apart from its rivals. And as mothers everywhere say, it's what's on the inside that matters most. The German carmaker's engineers have put the hours in to create a cockpit that looks, feels and responds more like a smartphone than a dashboard. That means an all-digital dash… it's the future.
Sound familiar, well it's something you might recognise from the Toureg and the Audi A3. But it's streets ahead of any of its direct rivals (yes Focus, we're looking at you). And that makes the Golf the first car to offer this kind of tech in this sector. We love it, and you will too – unless you prefer the safe-cracking rotary dial-only operation of the Mazda 3. In which case, it's time to go and watch re-runs of Old Top Gear on VHS.
It does take a bit of getting used to. In-car buttons are few and far between and almost anything you need to do is done via the standard 10-inch touchscreen. There's quick access buttons for park assist, driving modes and climate control, but for the latter adjustment is made via digital slider.
The Golf has got a few tricks up its sleeve, too. Inspired by the ever-growing popularity of smart speakers like Google Assistant and Amazon Alexa, Volkswagen has 'hello Volkswagen'. Granted, it'd be better if it had a familiar feeling of a name rather than a company, but it works the same.
Like this. Me: 'Hello Volkswagen, my feet are cold'. Smart speakers detect whether it's the driver or passenger that's speaking and then direct a blast of hot air in the relevant direction.' Neat. But here's a spoiler alert: there are no hidden question of the day quizzes.
With the Mk8, we also wave goodbye to some familiar names. Gone are the S and SE badges. Trim levels have been simplified so entry-level Golf 'Golf' trim comes with more standard kit than the outgoing model, with a lane keeping system as well as single-zone climate control.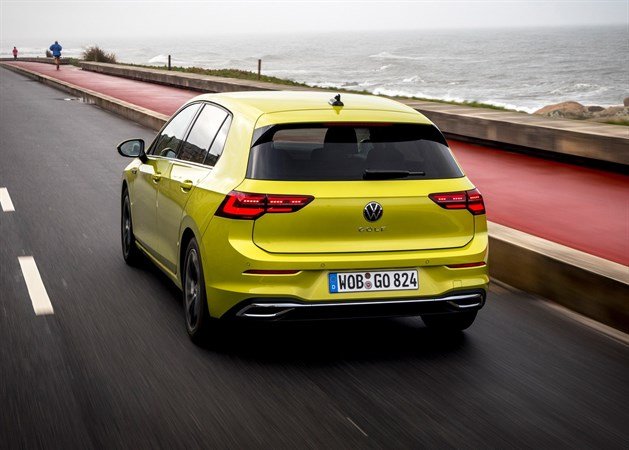 Next up is Golf Life, which adds 16-inch alloys, puddle lighting and wireless phone charging. From there, the line-up splits with Style offering more focus on comfort and driver aids while the Golf R-line promises to, ahem, tear up the putting green with its sportiness. Oh and it's five-door only from launch… presumably until the 'cooking' GTI arrives.
It's hard to write a Golf review without mentioning the diesel emissions scandal that hit the company – and Volkswagen has come out fighting. Diesels now get a double-dose of AdBlue to reduce emissions by up to 17 per cent. But the big news is the launch of a mild hybrid.
The eTSI offers three power options (that's 110, 130 and 150PS, fact fans) but all you really need to know is that they're good and they come with a dead spot at the top of the brake pedal as standard as part of the regenerative braking system. Or something.
Perhaps unsurprisingly, it's the naked petrol edition that is expected to shift the most units. Available in 130PS and 150PS guises, now's probably a good time to find out how it rides and handles. The answer? Just like a Golf.
It's got grip where you want it, is a bit nose heavy, and has an overly aggressive lane-keeper to make sure you don't take the racing line, but apart from that it's a Golf. And that means it's brilliant. Of course, some will always prefer the slightly more dramatic 'on the edge' feeling of Focus handling. That used to be me - but not any more.
The new 2020 Golf Mk8 is available to order in the UK in February with deliveries expected to follow in Spring. Prices are to be confirmed.