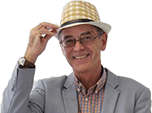 Toyota Yaris 2017 Range Road Test

The first shock about the 2017 Toyota Yaris is the post-Brexit price hike. The basic 1.0 litre 3-cylinder 5-door Active model at £12,995 is now £2,400 more than it was in July 2014. So it's put on more than 800 pounds a year.
This is tempered slightly by the jump from a 69HP 1.0 Icon at £14,495 to the new 111HP 1.5 engine at £15,295 only costing £800. But the most expensive Excel 1.5 litre Hybrid is up from £17,695 to £19,295, and that's a lot of money for a little car.
The new Fiesta is going to be that sort of money too, so it makes the top model new Suzuki Swift 110HP Boosterjet automatic seem almost absurdly cheap at a projected price of less than £15,000.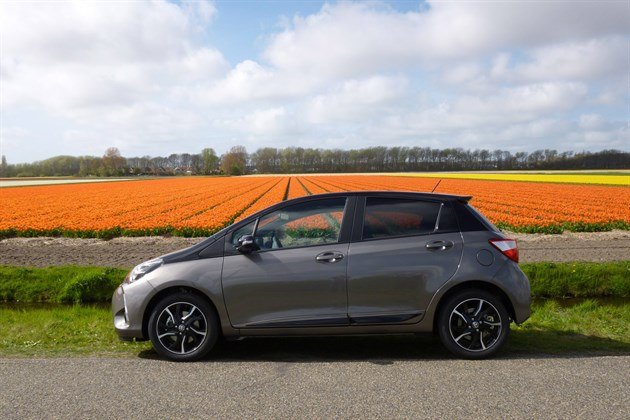 However, your money is safe because, as with the Swift, forthcoming Fiesta and the new KIA Rio, all Yaris models now have a Toyota Safety Sense laser Pre-Collision System that prevents running over pedestrians, a Lane Departure Alert and Automatic High Beam, plus rear seat belts force limiters and pretensioners, rain-sensing windscreen wipers, power front windows, Bluetooth and a six-speaker audio system.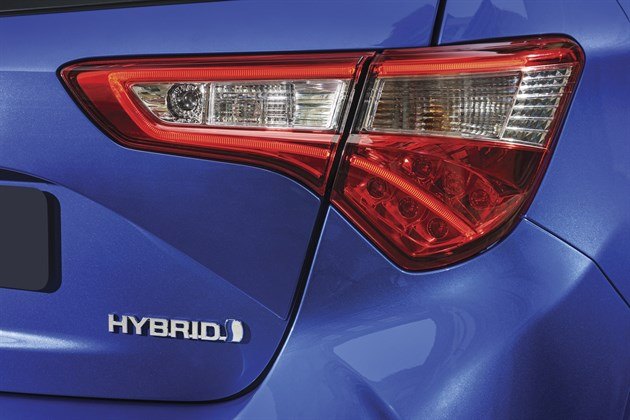 New lights front and rear freshen up what used to be a rather anonymous body, while attractive new paint combinations endow the car with an aura of quality. The gunmetal grey and black of our lead car looked particularly high-end.
Interiors are now pleasingly plusher than before with soft feel panels on the dash and door panels. Though, unfortunately, the Touch and Go satnav screen isn't angled towards the driver and can be obscured by sunlight.
Hybrid models all get automatic air-conditioning and projector headlamps. The Icon grade has new-design 15-inch alloy wheels, cruise control, air conditioning and a 4.2-inch colour TFT multi-information screen.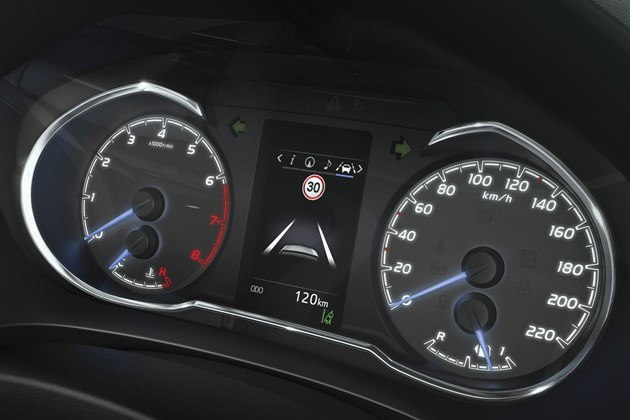 The system also includes Road Sign Assist that recognises and reminds the driver of road signs such as speed limits. There are also a lot of improvements to the refinement of the Yaris Hybrid that Toyota believes will take 40% of UK Yaris sales, in line with the 42% it takes of European sales.
The Icon Tech grade takes this a stage further by including Toyota Touch 2 with Go satellite navigation and access to online services.  Front parking sensors are added.
Design grade comes with 16-inch alloys with a contrasting black and machined-face finish, plus a honeycomb mesh grille, piano
black side mouldings, rear privacy glass and a rear spoiler. As the name implies, Bi-Tone gets you two-tone exterior paintwork.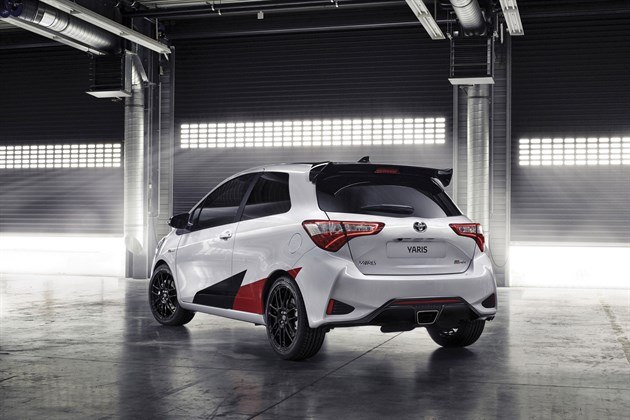 Later in 2017, we'll see a hot hatch of the Yaris called the GRMB, built with input from 'Gazoo Racing Masters of Nurburgring'. It will have a supercharged 1.8 litre engine with more than 205HP, Torsen limited slip differential and 17-inch wheels. As we found with the C-HR, these people are very good at what they do, managing to combine rid comfort with outstanding handling. However, the GRMB was not available for testing.
We got our hands on a Hybrid, a 1.5VVTi CVT-7 and a 1.5VVTi 6-speed manual. There is virtually no change to the performance of the 3-cylinder 1.0VVTi covered in 2014 here.
The Hybrid is certainly more refined than I remember back in 2012 and in 2014, making it a genuinely acceptable downsize from an Auris or Avensis class of car. It goes, steers and rides sweetly and silently and, because we ended up doing a lot of reversing between flowerbeds and ditches, we recorded running on electric power for 56% of the time of our test.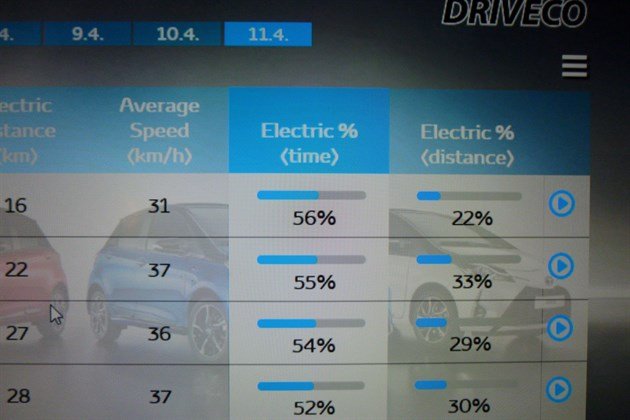 Only 22% of the mileage, though, being soundly beaten by another pair of drivers who ran on electricity for 55% of the time and 33% of their mileage. Proof, if ever it were needed, that the Yaris Hybrid is at its best in suburban or urban environment rather than pounding across country.
Next up, the 1.5VVTi CVT-7 that seemed to take off with considerably more alacrity, but had a curious habit of holding the lower gears to 2,500rpm. Switching over to manual and using the paddles I could get it to hold 7th down to 1,500rpm, but as soon as I returned to automatic drive it settled back to 2,500rpm. Not bad, though, and because the engine is specifically designed to meet a Real Driving Cycle rather than the NEDC lab tests, the claimed 60mpg potential is credible.
Lastly, the 1.5VVTi 6-speed manual, and this was a bit disappointing. Pulling 25mph per 1,000rpm in 6th, but a bit whiny when stretched and lacking any significant torque it reminded me strongly of Honda's 1.5VVTi in the HR-V. As in Hondas, it's an engine that works far better with the CVT automatic transmission than with a manual.
Back to the money, whatever the Bank of England's concerns, most new cars 'sold' to private individuals these days are on Personal Contract Purchase. You pay a deposit. You make a monthly payment. And at the end of the contract period you have the option of buying the car for a price agreed at the outset, using any equity left in the car to do a deal with the dealer for another PCP, or walking away (after paying for any damage you inflicted on the car).
Examples, each after a £2,733 deposit, are £159 a month for a Yaris Icon 1.5, or £165 a month for a Yaris Icon Tech 1.5 or a Design 1.5.
However, this is just a bare bones example. If considering this path, you need the deal properly explained to you by a qualified Toyota financial advisor.
Toyota is clearly trying to position the Yaris at the aspirational end of small cars against the Audi A1, VW Polo and Honda Jazz rather than the Ford Fiesta, Vauxhall Corsa and Citroen C1. It offers the only petrol hybrid in the class and, while the Yaris lacks the versatility and practicality of the Jazz, the 1.5 CVT-7 goes and handles much better. Without branding it as an older person's car, it certainly offers sufficient comfort, perceived quality and safety to appeal to retired couples slimming down to one car.
I'm going to be recommending the Yaris Hybrid to a lot of my Telegraph readers.
More at Toyota