Toyota Corolla 2019 Road Test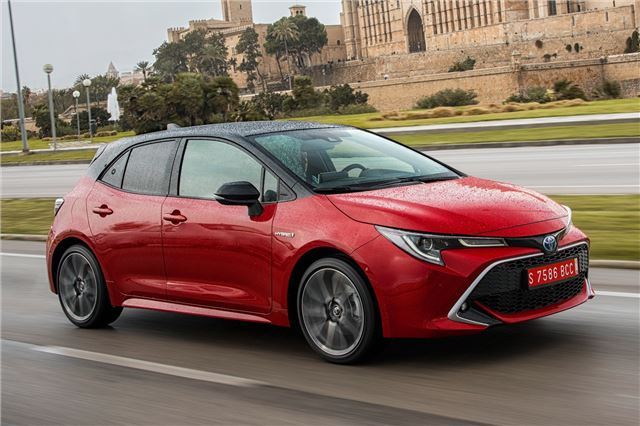 'Corolla' is a name that across 11 previous generations and 46,000,000 sales (yep, that many) has garnered an enviable reputation for solidity, reliability and durability. But also a not-so-enviable fourth quality: pure monotony. That's why Toyota binned it back in 2006. Problem was, it turned out the Auris was just as boring. And so we've come full circle, with Toyota reviving its world-beating nameplate, but hoping to build on it with a large helping of that hitherto elusive quality: personality. "No more boring cars," as Toyota boss Akio Toyoda recently demanded.
It's worked. Surprised? Us too. The Corolla is by some distance the most interesting family hatchback Toyota has made for the last two decades, at least, all the while being as sensible as can be in cost and practicality terms – the former especially so for company car drivers. It's not perfect, obviously, but we'll come back to that.
Firstly, this Corolla has two hybrid options to choose from: the standard 1.8-litre petrol electric that's already found in the Prius and CH-R, and a new 2.0-litre version with around 50 per cent more power and, therefore, a transformative dynamic effect. Is it a revolution? No. But it gives the Corolla genuine driver enjoyment in a way that the 1.8 simply doesn't. There's a 115PS 1.2-litre petrol-only base model too, though we've not driven that one and it'll make up a fraction of sales. No diesel.
Based on a new chassis that's much stiffer than the Auris' before it, and sitting on sophisticated multi-link rear suspension, the Corolla is surprisingly convincing at the cornering thing – sharp initial turn in, lots of grip. But with that it also has beautifully judged ride quality (or so it appears for now - we've not driven it on the UK's generally poor tarmac yet), which simultaneously smothers the road while serving up a bit of feel through the tyres.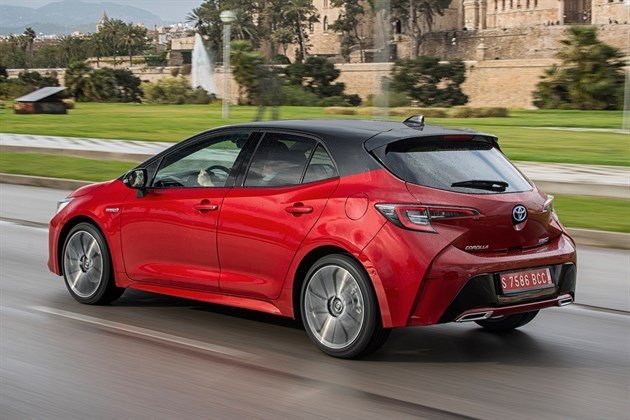 Plenty of hybrids suffer from crashy ride quality because of the necessity to stiffen the suspension to deal with the system's extra weight, but the Corolla all-but eradicates that. In addition, light steering and a general sense of refinement – the sort that just can't be attained in the average chuntering diesel hatchback – make the Corolla a very pleasant place to be. Especially at low speeds.
That's the thing though. The 1.8 hybrid, all 120PS of it, still tarnishes the experience by being sluggish and noisy at anything more than light load. The long-winded drone you must endure while it's dragging the car up to speed well and truly bursts the refinement bubble. This is where the 2.0-litre comes into its own. With 180PS it's much more responsive, the engine is every bit as quiet at low speed, and in practical terms the extra power means you don't have to deal with the gearbox noise for anywhere near as long, because the car gets up to speed much more quickly.
The necessity of a CVT-type gearbox in these things means you'll never get as much enjoyment from a hybrid Corolla as you will from a well set up turbocharged petrol car with a twin-clutch automatic – a TSI and DSG equipped Volkswagen Group car, say. But the 2.0 Corolla is the closest any hybrid has ever come.
And then there are the running costs. For company car tax payers it's almost a no brainer – you'll save thousands in tax over three years compared to a petrol or diesel equivalent, basically – but even fuel economy alone should make you feel like you're making gains every mile. The numbers vary quite a bit depending on wheel sizes, but the new, stricter WLTP economy test has the 1.8 hatchback returning anything up to 65.9mpg, and the 2.0-litre 60.6mpg, with 76-89g/km CO2. Nothing with a conventional petrol or a diesel engine can get close to those figures, and even taking 20 per cent away from those mpg numbers for real life makes for decent reading.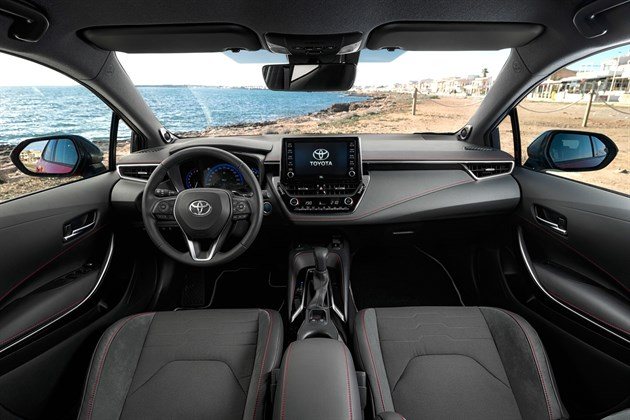 It's a little on the pricey side, as per most of what Toyota does, though it's very well equipped from the bottom of the range, with even base cars getting alloy wheels, climate control, a central touch screen, proper LED headlights and a full complement of safety features. Many of them, including automatic lane keeping, are optional from Ford, Volkswagen and Vauxhall, for example.
The cabin looks lovely too, relatively simple but effective and with that much lauded sense of solidity, even down to the thunk that the doors make when you close them. Again though, not perfect – why Toyota insists on using '90s style rocker switches and LCD panels remains a mystery. Also, you'll have to learn to avoid smacking your knee on the protruding dashboard panel when you get into either side. A painful detail. Oh, and the infotainment isn't the most intuitive – not quite Renault unintuitive, but not VWG clear either. And there's no Apple Carplay or Android Auto as yet, but we're assured it's coming.
It's not that big either. Not cramped but ostensibly smaller inside than a lot of the other family hatchbacks you might be considering, especially in the headroom and rear legroom departments. Same goes for the boot: decent litre rating, and a twin level boot floor is available, but it's not a selling point – you'll find bigger elsewhere.
That said, the Corolla goes on sale in three body styles. There's a saloon if you like the Eastern European look and less practicality, or the pretentiously named Touring Sports estate. The estate and saloon both have a longer wheelbase than the hatch, all 60mm given to rear leg space. Like the hatch, the estate isn't a class leader in boot terms, but it's at least been well thought out – standard twin level, reversible floor and a hidden compartment big enough for a decent sized luggage case.
Ultimately it's pleasant to report that the Corolla is not as depressing as it could have been – it's not depressing at all in fact. It could have been a less practical Prius, ultimately. Instead it's a hybrid that can be legitimately recommended – the 2.0-litre one, anyway – to someone who wants more than just low tax rates and fewer visits to the fuel station. It's solid, comfortable, good looking, practical enough and…quite unexpectedly…half decent to drive.
The Toyota Corolla is available to order now, priced from £21,300.