Toyota Camry Hybrid 2019 Road Test

Ever since I drove a Toyota Camry Hybrid for 20 minutes on a test track I've wanted to drive one further. The car made perfect sense to me. Good ride and handling from its 'Toyota New Global Architecture' underpinnings. A big 4-door body, 14mm longer than a Mondeo saloon. Likely legendary reliability from a drivetrain that simply doesn't wear out. Emissions under 100g/km. And WLTP fuel economy up to 53.3mpg. What's not to like?
In the past, Toyota Camrys in the UK were middle class retirement cars, bought to last the owner until his driving days were over. In other parts of the world they were 'private hire' airport taxis, or respectable cars for senior civil servants who couldn't be seen to drive a flashy Audi, BMW or Benz. Camrys were undemanding to drive, with over-light power steering that put a damper on any pleasure. Their retired owners never needed to replace them and, in status obsessed Britain, no one under 65 wanted to be seen in one unless they were being driven somewhere by Uber. So, like supersize Peugeots, Renaults and Nissans, the Camry died a death.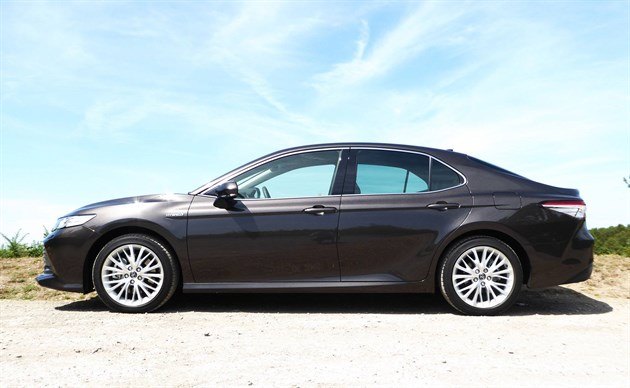 A couple of generations later, the Camry is back, now with the dual blessings of a self-charging hybrid drivetrain and a TNGA chassis. With a combined engine and electric motor output of 218PS and combined torque of 423Nm, it goes well. 0-60 in 8 seconds isn't hanging about. It rides, steers and handles very well (probably better on 17-inch wheels with 55 profile tyres). But what would it be like on a 650 mile round trip involving 500 miles of motorway 100 miles cross-country and a handful of local journeys? 
Would it annoy? Would it irritate? Would it wilt? I found out.
With multi-adjustable power seats, it's easy to get comfortable. The controls are all to hand. And it probably has the most unflawed console I've ever sat beside: Big, comfortable armrest at the right height. Huge storage cubby underneath it.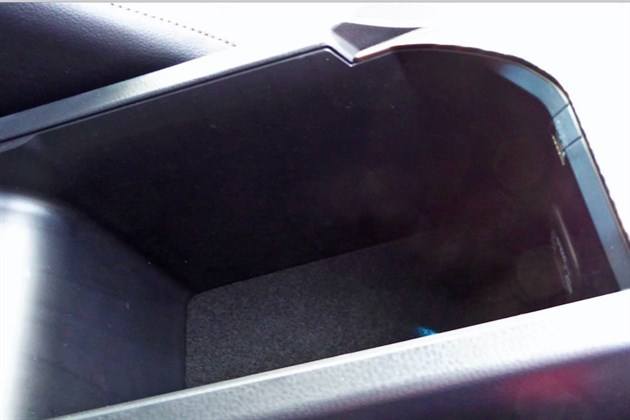 Two cupholders. And a 6" x 5.5" inductive charger tray big enough to take the largest smartphones and that's also handy to stash a sandwich.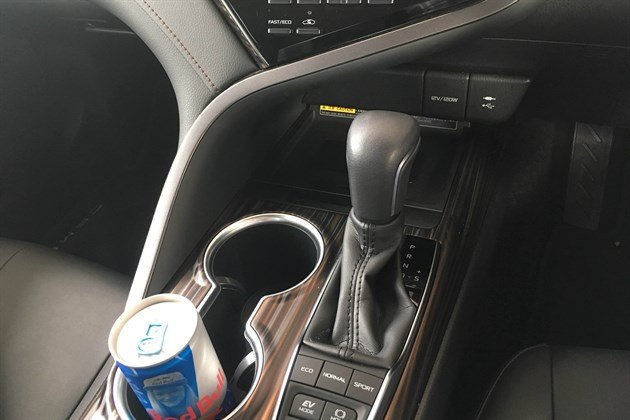 My ageing iPhone SE paired up quickly and intuitively. I had a bit of trouble finding Radio 4 because the menus were full of pop music stations, but I got there.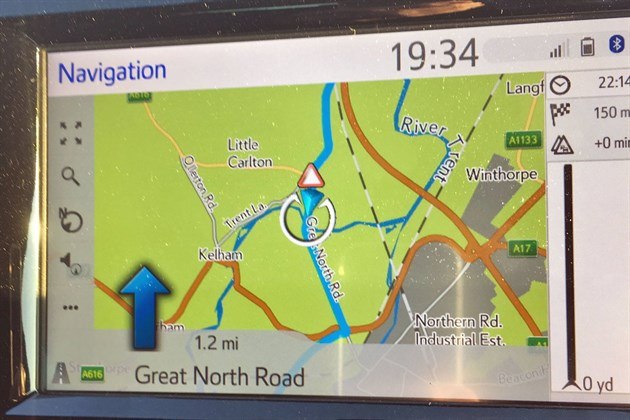 The satnav gives early and unobtrusive warning of impending speed cameras. The screen is a bit small compared to the impressive displays in current model Peugeots and Citroens. But it takes postcodes no problem, diverts you around hold ups and repeats turn by turn instructions in the driver's TFT display.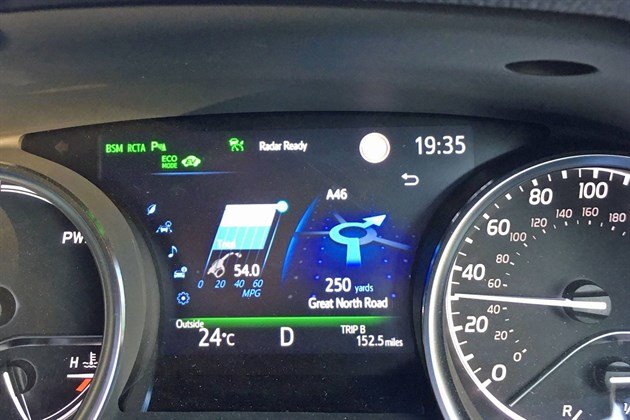 The door pockets are cleverly shaped to take various sizes of bottles, and papers and cards and all the other stuff you have to stick in them.
The 524 litre trunk is several 'Goodfellas' deep and a very impressive 1,620mm (5' 4") wide behind the wheelarches, golfers and anglers please take note.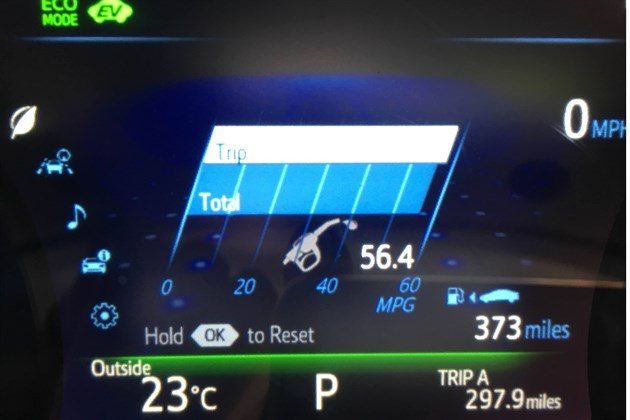 In theory, I beat the WLTP fuel economy figure with 56.4mpg over 297.4 miles on the dash meter, and, interestingly, the average did not diminish over the last cross-country section of the journey because every uphill stretch and every full throttle overtake was balanced by regeneration on the downhill sections.
But, while the 297.4 reasonably accurately reflected the total distance of my regular journey, I'm not so sure about the speedo. On a long, flat, boring section of the A1 I found myself creeping past a BMW X5. I guessed we both must have set the cruise to 70 so thought I'd better check my true speed in case my speedo was under-reading.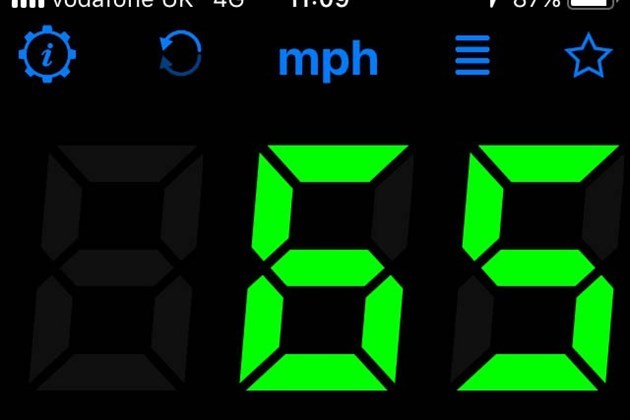 It wasn't. GPS showed my true speed at 70 on the clock as just 65mph.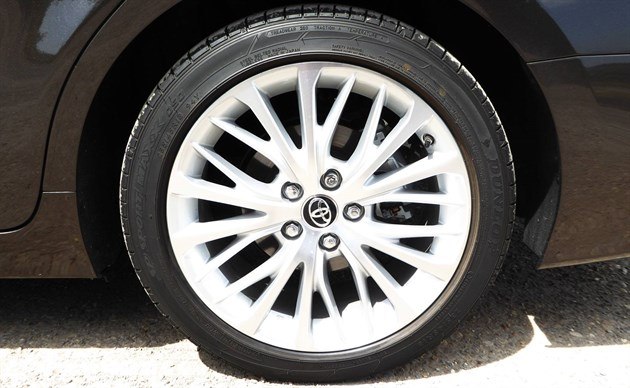 Handling and roadholding on the 235/45 R18 tyres is fine. Actually better than a Mondeo. Plant your foot had and there's a little bit of torque steer, which isn't really surprising from 423Nm through the planetary transmission to the front wheels. And the steering is lovely: exactly the right weight, feel and ratio whether you're driving quickly or bimbling through a town.
Unlike Toyotas of the past, the active cruise control works simply and well, in 5 mph increments. However, you do need to set the radar distance to 'close', then the car brakes for you as and when necessary. Pull out to overtake and the combination of 218HP and 423Nm torque hauls you back up to your pre-set speed quickly.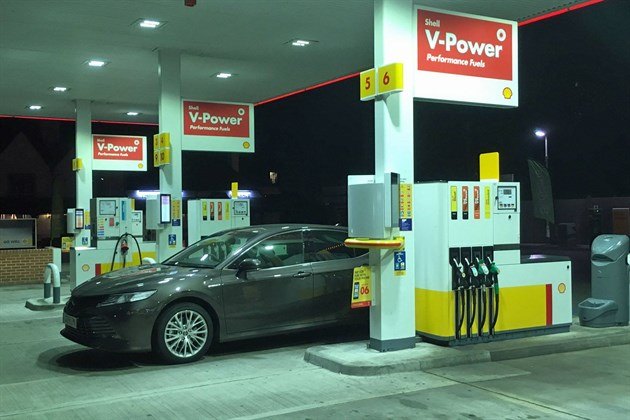 I brimmed the tank for the third time at 650 miles to work out the Real MPG, which came to 54.71, still beating the WLTP combined figure of 53.3. 
Once private hire operators cotton on to Prius reliability, low running costs and 400,000 mile longevity in a car the size of a E-Class, I predict significant sales to the carriage trade.
And for anyone who wants an big, quick, fine riding, decent handling, economical car that isn't trying to say anything about their status, the Toyota Camry Hybrid has to be first on their list.